Women For Tri Announces 20 Races That Will Provide a Total of 500 Additional Women the Opportunity to Compete in the 2020 IRONMAN 70.3 World Championship in Taupо̄, New Zealand
June 27, 2019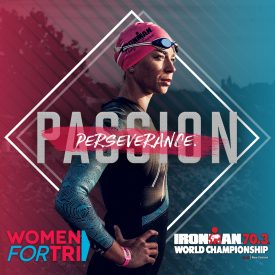 TAMPA, Fla. (June 27, 2019) – Women For Tri®, a program of the IRONMAN Foundation®, today announced that a total of 500 additional women will earn an invitation to race in the 2020 IRONMAN®70.3®World Championship taking place in Taupо̄, New Zealand on Nov. 28-29, 2020. Slots will be awarded to top finishing female athletes at 20 select races worldwide. The additional slots will be utilized by Women For Tri, launched by IRONMAN in 2015, to welcome and empower new female triathletes to be a part of the sport's continued growth in high-level competition.
"With the introduction of our two-day world championship format, there is an opportunity for more high-achieving female triathletes to earn a spot to the IRONMAN 70.3 World Championship," said Andrew Messick, President and Chief Executive Officer of IRONMAN. "As we continue to bring this pinnacle event around the world, the athletes that represent the Women For Tri team will help continue to grow the sport globally."
Following the standard IRONMAN 70.3 World Championship rolldown ceremony at the 20 select races, 25 additional slots will be awarded to the next most qualified women, proportional by age group, creating a deeper field of female athletes while maintaining the integrity and prestige of an IRONMAN 70.3 World Championship event. The program launches in Ireland at IRONMAN 70.3 Dún Laoghaire on Aug.  25, 2019.
| | | |
| --- | --- | --- |
| Event | Date | Country |
| IRONMAN 70.3 Dún Laoghaire | Aug. 25, 2019 | Ireland |
| IRONMAN 70.3 Sunshine Coast | Sept. 8, 2019 | Australia |
| IRONMAN 70.3 Lake Placid | Sept. 8, 2019 | United States |
| IRONMAN 70.3 Weymouth | Sept. 22, 2019 | United Kingdom |
| UnitedHealthcare IRONMAN 70.3 North Carolina | Oct. 19, 2019 | United States |
| Subaru IRONMAN 70.3 Coquimbo | Oct. 19, 2019 | Chile |
| IRONMAN 70.3 Arizona | Oct. 20, 2019 | United States |
| IRONMAN 70.3 Shanghai Chongming | Oct. 20, 2019 | China |
| IRONMAN 70.3 Langkawi | Oct. 26, 2019 | Malaysia |
| Bicycle World Texas IRONMAN 70.3 Waco | Oct. 27, 2019 | United States |
| IRONMAN 70.3 Western Sydney | Nov. 24, 2019 | Australia |
| IRONMAN 70.3 Taupо̄ | Dec. 7, 2019 | New Zealand |
| IRONMAN 70.3 Indian Wells-La Quinta | Dec. 8, 2019 | United States |
| Standard Bank IRONMAN 70.3 South Africa | Jan. 26, 2020 | South Africa |
| IRONMAN 70.3 Dubai | TBD | United Arab Emirates |
| IRONMAN 70.3 Puerto Rico | March 15, 2020 | Puerto Rico |
| IRONMAN 70.3 Florida | April 19, 2020 | United States |
| IRONMAN 70.3 Marbella | April 26, 2020 | Spain |
| IRONMAN 70.3 Pays d'Aix | May 17, 2020 | France |
| Subaru IRONMAN 70.3 Victoria presented by Jim Pattison Subaru | TBD | Canada |
All net proceeds from the registration revenue of the 500 additional slots will go towards supporting Women For Tri's TriClub grant program. To date, nearly $300,000 has been awarded by this program to TriClubs around the world to support women's engagement initiatives, including bringing first-timers into the sport. Since its inception in 2015, Women For Tri has seen an 18% increase in female participation in IRONMAN and IRONMAN 70.3 events, totaling more than 71,000 female athletes globally.
The IRONMAN 70.3 World Championship is the pinnacle event in the global IRONMAN 70.3 series. The 2020 IRONMAN 70.3 World Championship race in Taupо̄, New Zealand will be a two-day event with the professional and age-group women racing on Saturday, Nov.  28 and the professional and age-group men racing on Sunday, Nov. 29. The Great Lake Taupõ District is rich in history and is one of the world's most unique and picturesque areas. Located within a short drive of New Zealand's main centers, the Great Lake Taupõ district is at the epicenter of the North Island. Situated in the center of the North Island of New Zealand, you will find fascinating volcanic landscape and a cultural heritage dating back to the arrival of Māori in New Zealand in the 14ᵗʰ century. The Great Lake Taupõ District is one of the most pure, beautiful and unspoiled areas in the country and encompasses the lakeside towns of Taupõ, Turangi, Kinloch and Mangakino. As a popular year-round destination, it houses the largest freshwater crater lake in Australasia, geothermal attractions, and the mountains and ski areas of Tongariro National Park, a dual World Heritage National Park. Throughout the 2020 IRONMAN 70.3 qualifying season, nearly 5,000 athletes will qualify to race in the 2020 IRONMAN 70.3 World Championship by way of more than 100 IRONMAN 70.3 races around the world.
For questions about Women For Tri programming, please contact [email protected]. For media related inquiries, please contact [email protected].
###
About Women For Tri
Women For Tri®, a program of The IRONMAN Foundation launched by IRONMAN in 2015, works to increase female participation at all levels of triathlon. The program seeks to identify and diminish primary barriers to entry and mobilize triathlon advocates to encourage and engage female athletes across all race distances and representing all athletic abilities. Since inception, over $300,000 in grants have been awarded to triathlon clubs supporting female participation initiatives. Women For Tri embodies the heart and soul of what makes the sport so rewarding: testing your ability, overcoming challenges, and realizing the full depth of your potential in the most widely recognized test of endurance – triathlon. Learn more at www.womenfortri.com and join the Women For Tri online community of 55,000+ female triathletes at www.facebook.com/groups/WomenForTri.
About the IRONMAN Foundation
The IRONMAN Foundation®creates positive, tangible change in race communities by engaging athletes and volunteers to participate in programs that demonstrate service through sport and commitment to community. Since 2003, over $50,000,000 has been provided through IRONMAN charitable giveback programs including the IRONMAN Foundation to more than 8,300 local, regional, national and global nonprofit initiatives. Through these partnerships, IRONMAN and Rock 'n' Roll Marathon Series athletes are powerfully linked to the community and together we leave the IRONMAN legacy behind in our race communities long after event day. For more information on IRONMAN Foundation programs, including Team IMF, Community Fund, Rock This Town™, Your Journey Your Cause, and Women For Tri, visit www.ironmanfoundation.org.
IRONMAN 70.3 World Championship:
In 2006 the inaugural IRONMAN®70.3®World Championship was held in Clearwater, Florida becoming another test for the world's elite triathletes. Since that auspicious beginning, the IRONMAN 70.3 World Championship has grown in stature and popularity moving first to Henderson, Nevada in 2011, where athletes encountered a more challenging terrain and then to Mont-Tremblant, Quebec—its first stop on the new "global rotation" for the championship. The event reached European soil for the first time ever in 2015, with Zell am See, Austria, hosting an epic and memorable event. In 2016, the race moved from the mountains to the beaches of the Sunshine Coast in Queensland, Australia. Last year, the event returned to the United States, taking place in Chattanooga, Tennessee, becoming a two-day race for the first time. In 2018, the event reached the African continent for the first time and was hosted in Nelson Mandela Bay in South Africa. More than 185,000 athletes participated in a season of qualifying races for the championship, a series which consists of over 100 events in locations such as Australia, Brazil, China, Germany, North America, South Africa and Switzerland. Approximately 4,500 athletes from around the world were registered to compete in this prestigious race. Participants in the Isuzu IRONMAN 70.3 World Championship ranged in age from 18 to 78-plus, and represented over 100 countries, territories and regions. The race moves to Nice, France for 2019 with qualification events already underway. In 2020, the event will move to Taupõ, New Zealand where there is a long and storied IRONMAN history that spans 20 years. For more information, visit www.ironman.com/worldchampionship70.3.
About The IRONMAN Group
As part of Wanda Sports Group, The IRONMAN Group operates a global portfolio of events that includes the IRONMAN®Triathlon Series, the IRONMAN®70.3®Triathlon Series, 5150™ Triathlon Series, the Rock 'n' Roll Marathon Series®, Iron Girl®, IRONKIDS®, International Triathlon Union World Triathlon Series races, road cycling events including the Velothon®Series, mountain bike races including the Absa Cape Epic®, premier running events including the Standard Chartered Singapore Marathon and The Sun-Herald City2Surf®presented by Westpac, trail running like Ultra-Trail Australia™, and other multisport races. IRONMAN's events, together with all other Wanda Sports Holdings events, provide more than a million participants annually the benefits of endurance sports through the company's vast offerings. The iconic IRONMAN®Series of events is the largest participation sports platform in the world. Since the inception of the IRONMAN®brand in 1978, athletes have proven that ANYTHING IS POSSIBLE®by crossing finish lines at the world's most challenging endurance races. Beginning as a single race, IRONMAN has grown to become a global sensation with more than 230 events across 53 countries. For more information, visit www.ironman.com.
About Wanda Sports Group
Wanda Sports Group is a leading global sports events, media and marketing platform with a mission to unite people in sports and enable athletes and fans to live their passions and dreams. We have significant intellectual property rights, long-term relationships and broad execution capabilities, enabling us to deliver unrivalled sports event experiences, creating access to engaging content and building inclusive communities. We offer a comprehensive array of events, marketing and media services through three primary segments: Mass Participation, Spectator Sports and Digital, Production, Sports Solutions (DPSS). Our full-service platform creates value for our partners and clients as well as other stakeholders in the sports ecosystem, from rights owners, to brands and advertisers, and to fans and athletes.
Headquartered in Beijing, China, Wanda Sports Group has more than 60 offices and 1,600 employees around the world.