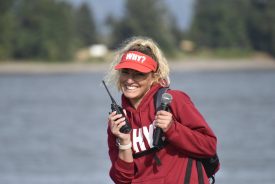 Best season ever - more racers, more funds raised and a greater difference in the community.
Vancouver, WA – On Sunday November 18th, WHY Racing events hosted a No-Frills 5K, Brunch and their Year-end Awards Ceremony. The event started with a scenic run along the new Vancouver Waterfront Development on a beautiful fall morning. Athletes followed Pink Arrows in honor of the upcoming arrival of a new baby girl for Shantina Fox, WHY Racing's event director. Athletes then enjoyed a wonderful brunch catered by Warehouse 23.
The awards ceremony started with Sherri McMillan, the founder of WHY Racing events, giving a state of the last year. McMillan reported that "it's been a great year with 2318 more athletes crossing their finish lines in 2018. "That's so exciting for us in such a competitive market. It tells us that you appreciate what we're doing and are telling your friends. Our motto is Slow and Steady Pace Wins the Race!"
WHY Racing also gave away 975 free entries to various At-Risk groups including Kids, Veterans, Breast Cancer Survivors, athletes with disabilities, and athletes recovering from drug and alcohol addiction. McMillan adds "We experience so much joy watching these athletes cross the finish line who may not have been able to do so otherwise."
WHY Racing events additionally partnered with various non-profit groups in 2018 including Team in Training, Police Activities League, Pink Lemonade Project and various other schools, clubs and teams resulting in over $1.2 million dollars being raised through their events. "The fact that our fun runs and triathlons can help do so much good in our community is about as rewarding as it gets!" says McMiilan.
McMillan thanked their partners including Deschutes Brewery, IQ Credit Union, Franz Bakery, Kind Snacks, Humm Kombucha, Visit Central Oregon, Northwest Personal Training, PeaceHealth, and many more and announced their exciting new partnership with Foot Traffic, a locally owned and operated Specialty Running shop with 5 locations throughout Portland and Vancouver. "Our athletes appreciate the free beer, the awesome meals, the free race photos and we couldn't do any of this without our partners so thank you so much for believing in our mission"
McMillan thanked the thousands of volunteers who have helped support their events throughout the year commenting that the "WHY Volunteers are the best on the planet!" She also thanked her WHY Team for doing all the behind-the-scenes hard work and managing the chaos of race management.
WHY Racing also awarded their 2018 WHY Series Champions
Top Male Triathletes:
Blair Bronson
Aaron Seipel
Kory Gray
Top Female Triathletes:
Remy Maguire
Madison Wick
Alexandra Cohen
Top Male Duathletes
Cory Erickson
Kevin Cashatt
Kevin Krieger
Top Female Duathletes
Jodie Bolt
Tanya Appuhn
Cora Sturzl
WHY Racing also awarded their Club Championship awards. They recognized Team in Training awarding them the Inspiration Award for inspiring the greatest amount of people into the sport of running and triathlon. They awarded the Service Award to the Vancouver Run, Grub and Chug group for the greatest amount of volunteer hours. Last, Portland Triathlon Club was awarded both the Performance Award for the fastest performances throughout the year and the Overall Club Award for their overall support of the sport of running and multisport.
Once the Awards Ceremony was complete held a drawing for incredible prizes including Rudy Gift Certificates, Xterra bags, an Active Get-away Dream Vacation to Bend Oregon courtesy of Visit Bend and two Performance A2 Racing Bikes courtesy of AJ Alley. Athletes were literally jumping for joy at their luck!
McMillan finished the ceremony by reporting on their initiatives for 2019 including Kids 17 and under will continue to race their 5K runs for FREE and adding that many of their Kids Triathlons will also now be free! In addition, Junior athlettes will be able to race Adult races at 50% off normal registration fees. McMillan commented "We want to start kids young and teach them that exercise can be fun. If we can provide a venue that is family-friendly and enable a family to register, train and race together, an entire family can be positively impacted."
McMillan also announced a new event for WHY Racing, The Lucky Triathlon, to be held in Woodland WA at Horseshoe Lake and will be offering an Olympic, Sprint & My First Tri Distances, a Sunset 5K/10K and a Kids Tri.
It seems like WHY Racing has enjoyed a fair share of great luck in 2018. You know the saying "The harder you work, the Luckier you get!"
About Why Racing Events:
Why Racing Events is a multi-sport event management organization that offers athletes of all ages and abilities, from the elite level to the back-of-the-packers, the chance to successfully complete a racing event. They host a series of 12 events every year from March to October throughout Washington and Oregon, including children's races, fun runs, trail runs, half marathons, marathons, duathlons and triathlons. Their races vary in size from 1000 to 5000 participants. They are committed to providing a positive experience to everyone involved while raising awareness and funds for important community causes. Find out more information about Why Racing Events at www.whyracingevents.com
###
Contact Information
Sherri McMillan
Founder and CEO
sherri@whyracingevents.com
www.whyracingevents.com
360.798.4744
***********************************