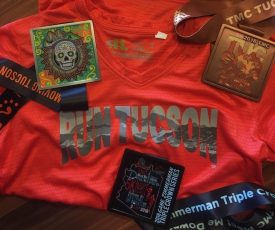 Virtual Participation Enables Runners and Walkers Around the World to Celebrate Gabe Zimmerman and Earn Commemorative Awards
For the third year, the organizers of the Gabe Zimmerman Triple Crown have announced that runners and walkers can participate in the three-race series from afar, earning give-away shirts and special commemorative medallions.
Over 800 participants from 14 states and the District of Columbia have already signed up for the three-race series, whose first leg is Saturday night, June 2nd at the TMC Meet Me Downtown 5k Night Run/Walk.
The first 2018 Virtual participant, Craig Frank, completed his virtual 5k on Memorial Day weekend, before being redeployed to South Korea in June, where he will complete the final two legs.
The 2018 Gabe Zimmerman Triple Crown is a three-race series held in Tucson, Arizona to honor the memory of Gabe Zimmerman, an aide to U.S. Representative Gabrielle Giffords, who was murdered in the political shooting that took seven lives in January 2011.
With the blessings of Gabe's father, Ross Zimmerman (co-founder of a long-standing Tucson-based trail running group), and his mother, Emily Nottingham (a long-time trails advocate for the state of Arizona), and with the support of the Arizona Daily Star and Julia Strange from Tucson Medical Center, the Gabe Zimmerman Triple Crown was developed in 2012 to honor Gabe's devotion to fitness, running, and the Arizona outdoors.
Race Director Randy Accetta explains the original goal: "Working with Ross and Tucson Medical Center, we wanted to motivate the local Tucson community to exercise on a regular basis, rather than for a single annual event."
Over the years, though, there has been a clamor to expand the series.  "It reached a tipping point a couple of years ago," Accetta explains, "when active military personnel in Italy wanted to do it and someone from Missouri asked if she could do the Triple Crown as part of her quest to do 40 5k's before her 40th birthday.  We realized we had to open this to everyone no matter where they live."
One reason runners want to do the Triple Crown is the quality of awards.  Every registrant receives a special "Run Tucson" shirt designed by Leslie Jordan Designs of Portland, OR, plus a series of unique finishers awards, with every year's award a different representation of the region.
Developed by famed race supplier Ashworth Awards and Run Tucson, the 2018 race medallions are three separate medallion-coasters, with the artwork for each medallion celebrating elements of Arizona's traditions: historic Downtown Tucson, the copper of Arizona's mining heritage, and the famed Dia de las Muertes tradition.
"We're trying to make it easy to participate," says Accetta.  "You run or walk the 3.1 mile distance in June; a 5k or 10k in mid-September; run or walk a 5k or half-marathon on Halloween weekend.  Then tag @RunSAR and @RunTucson on social media accounts and we'll add you to the Virtual Finisher's List."
Ross Zimmerman comments, "Gabe was a big supporter of inclusion and community engagement. Gabe would have loved this.  The more stories about people recruiting their friends to complete their own personal Gabe Z Triple Crown in interesting places, the better."
Accetta acknowledges the community spirit of the series: "We're honored to be able to celebrate the spirit of Gabe and highlight the possibilities for Tucson through the Gabe Zimmerman Triple Crown. We're on track this year to provide over $8,000 to BEYOND-Tucson, the foundation set up to honor the memory of those shot in 2011, whose mission is to promote the use of good science and rational analysis to improve individual and community health."
The three event series is expected to have over 7,000 finishers is on the calendar of the Southern Arizona Roadrunners, Arizona's largest running club:
June 2: TMC Meet Me Downtown 5k Night Run/Walk
September 16: TMC Tucson 10k and companion 5k
October 28: TMC Get Moving Tucson Half-Marathon Events, including the Tucson Lifestyle 5k, Cox Charities Free Family Mile and the TMC A-Mountain Half-Marathon.
About Run Tucson: Run Tucson (www.runtucson.net) is a full service event and coaching entity producing running events and coaching runners in Tucson and nationally.  With coaches certified by the Road Runners Club of America (www.rrca.org), Run Tucson manages Arizona's longest-running coached training group, the Workout Group.
About the Southern Arizona Roadrunners:  Arizona's longest-standing running club, SAR (www.azroadrunners.org) is a member of the Road Runners Club of America. The Southern Arizona Roadrunners is a not-for-profit organization dedicated to promoting health and fitness in Tucson and Southern Arizona through running and walking.