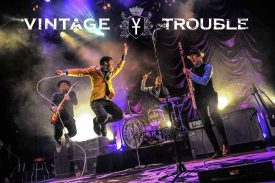 The Toyota Rock 'n' Roll Concert Series will take place following the races on Saturday, March 10 outside RFK Stadium at 11:00 am.
TAMPA, Fla./WASHINGTON, D.C. (Feb. 8, 2018) – On Saturday, March 10, Vintage Trouble will headline the seventh annual United Airlines Rock 'n' Roll® Washington DC Marathon & ½ Marathon continuing its strong tradition of bringing fun to the run with great music at the core. The post-race concert will begin at 11:00 a.m. on Saturday to cap a day of great racing that includes more music than ever before.
Since forming in 2010, Vintage Trouble has performed for audiences across the globe, opening for Dave Matthews Band, The Who, AC/DC and the Dixie Chicks, while also playing sold-out headline shows worldwide. The Hollywood-based R&B group has been featured on the Late Show with David Letterman and PBS's Austin City Limits earning support from legends such as the late Prince, Martin Scorsese and Don Was. Their sound has been described as "retro", reminiscent of midcentury blues and rock artists, such as The Rolling Stones, Chuck Berry and The Animals.
"We are looking forward to rocking DC with the very talented and always entertaining Vintage Trouble," said Race Director Adam Zocks. "They have performed at a Rock 'n' Roll Marathon Series® event before, and so back by popular demand, we are excited to bring such a powerful, fun and dance-inducing energy for our runners, their supporters and the community."
The musically themed United Airlines Rock 'n' Roll Washington DC Marathon & ½ Marathon will return to the Capital in 2018 for its seventh year and is expected to bring 20,000 runners. As the only marathon to run completely within the District of Columbia, participants will get the chance to run through the streets of our nation's capital and pass many distinguished monuments, buildings, and national symbols. While taking in the beautiful and historic scenery, participants will experience better runner support and community engagement as they move along to more music than ever with all new mile-markers that include speakers and race pacers who will be running with mobile speaker packs. Live bands will also be performing along the course, interspersed with cheerleaders and themed water stations all the way to the finish line outside of RFK Stadium where Vintage Trouble will perform.
Race weekend kicks off with the free Health & Fitness Expo where runners can pick up their race weekend packet. Exhibitors will offer free samples, showcase the latest in running gear, sports apparel, health and nutritional information, and much more. The Expo takes place on Thursday, March 8 from 12:00 p.m. to 7:00 p.m. and Friday, March 9 from 10:00 a.m. to 7:00 p.m.  Located at The DC Armory, the Expo is free and open to the public.
For more information on the event's weekend activities, please visit www.RunRocknRoll.com/dc  For more information on the Rock 'n' Roll Marathon Series®, please visit runrocknroll.com. Media may contact press@runrocknroll.com.
For more information on Vintage Trouble, please visit www.vintagetrouble.com.
###
About Rock 'n' Roll Marathon Series
The Rock 'n' Roll Marathon Series® is the world's largest running series with more than 600,000 runners taking part in over 30 destination events around the world every year. Established in 1998, the Rock 'n' Roll Marathon Series' simple idea of making running fun has transformed both the U.S. and global running landscape by infusing the course with live bands, cheer teams and entertaining water stations, creating a block-party atmosphere for participants and spectators alike. Race weekend kicks off with a free Health & Fitness Expo showcasing the latest in running gear, sports apparel, health and nutritional information and much more. Events culminate with an entertaining finish-line festival and Toyota Concert Series Headliner featuring some of the biggest names in music, with past performances including Macklemore & Ryan Lewis, Aloe Blacc, Pitbull, FloRida, the Goo Goo Dolls and Bret Michaels. Further information about the Rock 'n' Roll Marathon Series can be found online at www.RunRocknRoll.com and follow @RunRocknRoll on all social platforms.
About IRONMAN
A Wanda Sports Holdings company, IRONMAN operates a global portfolio of events that includes the IRONMAN® Triathlon Series, the IRONMAN®  70.3® Triathlon Series, 5150™ Triathlon Series, the Rock 'n' Roll Marathon Series®, Iron Girl®, IRONKIDS®, International Triathlon Union World Triathlon Series races, road cycling events including the UCI Velothon® Series, mountain bike races including the Absa Cape Epic®, premier marathons including the Standard Chartered Singapore Marathon, and other multisport races. IRONMAN's events, together with all other Wanda Sports Holdings events, provide more than a million participants annually the benefits of endurance sports through the company's vast offerings. The iconic IRONMAN® Series of events is the largest participation sports platform in the world. Since the inception of the IRONMAN® brand in 1978, athletes have proven that ANYTHING IS POSSIBLE® by crossing finish lines at the world's most challenging endurance races. Beginning as a single race, IRONMAN has grown to become a global sensation with more than 200 events across 50 countries. For more information, visit www.ironman.com.