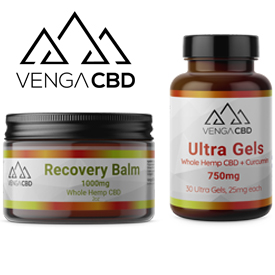 Announcing the availability of the most advanced and effective CBD products engineered specifically for endurance athletes.
December 7, 2018 Steamboat Springs, CO – Announcing the availability of the most advanced and effective CBD products engineered specifically for endurance athletes. As an endurance athlete, whatever your sport, you ask your body to do more and perform at a higher level than 99% of the people on the planet!
But training and racing season after season takes its toll on the body making it harder to bounce back, maintain the miles, keep up the hours and continue the countless laps.
VengaCBD was started to help your body stay resilient, recover from injuries faster and keep endurance athletes in the game.
"CBD has been known to aid in so many physical issues that endurance athletes deal with," said Jay O'Hare, founder of VengaCBD. "So we began formulating our CBD supplements with the needs of endurance athletes in mind. This meant producing all-natural, whole plant and THC-free products approved by the World Anti-Doping Agency (WADA). To bring the best product to the market we went even further to create a CBD product that has the highest absorption rate (bioavailability) of any CBD product."
Learn how CBD helps endurance athletes: https://www.vengaendurance.com/cbd-endurance.
"The number one question to ask when buying CBD is 'How much of this CBD will get into my bloodstream?' Sadly, most oil-based CBD on the market only has about 6%-15% absorption. We are changing the game with a product that has 85%+ absorption!" O'Hare said.
VengaCBD achieves this through a patented nano-emulsion technology which allows the CBD to be absorbed in the body 5 times more than typical CBD products.
This means endurance athletes are getting more CBD in their system to have a positive effect.
"We have a long list of athletes who have experienced the competitive advantage of taking CBD," says David Wittlinger, Marketing Director at VengaCBD. "All our formulas, products and research are aimed at improving the performance and lives of endurance athletes."
Venga CBD Ultra Gels contain:
Medical Grade Hemp containing 10x more cannabinoids than industrial hemp
Curcumin (turmeric root) for additional anti-inflammatory power
NANO-Emulsion CBD for 5x+ bioavailability
Precise 25 mg softgels for accurate dosing on the go
For more information visit www.VengaCBD.com
About VengaCBD: Headquartered in Steamboat Springs, CO, VengaCBD develops the highest quality CBD products specifically engineered for endurance athletes. All VengaCBD formulas, products, and research are aimed at helping athletes perform at their best, reduce their pain and help them recover more quickly so they can crush their goals. All VengaCBD products are THC-free and WADA approved for competition.
VengaCBD products have the potential to replace so many traditional pharmaceuticals while providing a wealth of additional benefits to the body and mind.