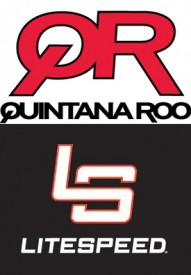 Annual members to receive discount through new Gold-Level partnership
COLORADO SPRINGS, Colo. — USA Triathlon today announced a new Gold-Level partnership with Quintana Roo and Litespeed, who will serve as the Exclusive Bike Partners for the National Governing Body through 2016.
American Bicycle Group (ABG), the parent company of Quintana Roo and Litespeed, will provide USA Triathlon annual members with an exclusive discount that includes a cash rebate and free hat or shirt with the purchase of Quintana Roo or Litespeed bicycles sold at TriSports.com – USA Triathlon's official merchandiser – and other designated distribution outlets, retailers and bike shops. Two Quintana Roo frames will also be awarded through a special promotion at the USA Triathlon Age Group National Championships for each year of the agreement.
Additionally, ABG will support elite athletes in the Olympic pipeline as the Official Bike Partner of the USA Triathlon National Team Program leading up to the 2016 Olympic Games in Rio de Janeiro, Brazil. Select USA Triathlon high performance teams, including up-and-coming athletes in the Elite Triathlon Academy (ETA) and Collegiate Recruitment Program (CRP), will be supported through this official partnership.
"Our new relationship with USA Triathlon is the perfect next step for Quintana Roo and Litespeed." said Peter Hurley, President & CEO of American Bicycle Group. "Formally establishing ties with USA Triathlon will give us the opportunity to support and grow non-draft and draft-legal triathlons here in the United States. We are also excited that the USA Triathlon National Team Program will be training and racing on Litespeed road bikes for their draft-legal requirements."
"We are thrilled that American Bicycle Group is joining our family of sponsors to serve as USA Triathlon's Official Bike Partner," said Chuck Menke, USA Triathlon Marketing & Communications Director. "Quintana Roo and Litespeed are part of an established, forward-thinking U.S.-based company in the endurance community, and we look forward to sharing that knowledge and technology with our age-group and elite athletes in the years to come."
Two-time ITU World Cup champion and CRP athlete Katie Hursey is one of the athletes who benefits from the ABG-USA Triathlon relationship. "I am so grateful to have been provided with such a high-quality Litespeed bike through USA Triathlon's new partnership. The opportunity to ride a well-designed piece of equipment is a huge step toward helping me and other athletes reach our goals at the highest levels of the sport."
About American Bicycle Group American Bicycle Group, owners of Quintana Roo and Litespeed, produces high-performance bicycles that enable athletes to gain an advantage. Litespeed and Quintana Roo are global lifestyle and race brands. As a leader in titanium and composite technology worldwide, Litespeed continues a heritage of unparalleled technology coupled with unique, wind-tunnel tested designs. Quintana Roo invented both the triathlon-specific bicycle and wetsuit. The same creative juices leading to the innovative fit and features that first made triathletes go faster are flowing still today.
For more information go to americanbicyclegroup.com.
About USA Triathlon Founded in 1982, USA Triathlon is proud to serve as the National Governing Body for triathlon – the fastest growing sport in the U.S. Olympic Movement – as well as duathlon, aquathlon, aquabike, winter triathlon, off-road triathlon and paratriathlon in the United States. USA Triathlon sanctions more than 4,300 races and connects with more than 550,000 members each year, making it the largest multisport organization in the world. In addition to its work with athletes, coaches, and race directors on the grassroots level, USA Triathlon provides leadership and support to elite athletes competing at international events, including International Triathlon Union (ITU) World Championships, Pan American Games and the Summer Olympic Games. USA Triathlon is a proud member of the ITU and the United States Olympic Committee (USOC).