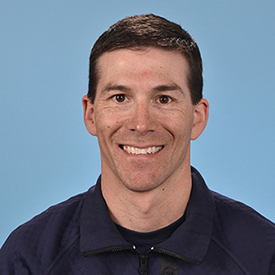 Former USOC and USSA High Performance Director to start May 21
COLORADO SPRINGS, Colo. — USA Triathlon today announced that it has appointed John Farra as the new High Performance General Manager, a role responsible for leading U.S. National Team programs, overseeing the Olympic and Paralympic pipelines, and directing strategic planning for USA Triathlon's High Performance Department. 
Farra is a 1992 U.S. Olympian in cross-country skiing and comes to USA Triathlon from the U.S. Olympic Committee (USOC), where he was the High Performance Director for U.S. Paralympics Nordic Skiing for the past seven years.
"John has spent his life dedicated to excellence in endurance sport as an Olympic athlete, coach and administrator with decades of proven high-performance experience," said Rocky Harris, USA Triathlon CEO. "He is a strong leader, a natural collaborator and will build on our culture of excellence, making him a fantastic fit for USA Triathlon. John has extremely high standards, and he is driven by helping athletes reach their potential and delivering results for the United States. We look forward to the impact John will make on our U.S. National Team programs." 
In his role at the USOC, Farra led the evolution of the U.S. Paralympics Nordic Skiing Team from a one-medal showing at the Vancouver 2010 Winter Games to 16 medals at PyeongChang in 2018. Farra served as the Team Leader at all international events and oversaw operations, staffing and programming to meet the high performance mission under the umbrella of the USOC.
"I am thrilled to be joining the High Performance Team at USA Triathlon. I look forward to contributing my lifetime of endurance experience to the goal of winning medals in elite international competition," Farra said. "This is a unique opportunity to lead USA Triathlon in building sustainable success in both Olympic and Paralympic sport in the coming years. One of the things I love about High Performance sport is being able to directly help athletes achieve their performance goals. I am excited to do that at USA Triathlon, while ensuring that the coaches and support staff have the tools they need to execute the best plan for each of our athletes."
Notably, Farra recruited U.S. elite paratriathlete Kendall Gretsch to the sport of para Nordic skiing, resulting in Gretsch earning two gold medals at the PyeongChang 2018 Winter Games. In addition, both the male and female U.S. Paralympic Athletes of the 2018 Winter Games, Oksana Masters and Dan Cnossen, were members of Farra's Nordic ski team and earned gold medals in PyeongChang.
Prior to the USOC, Farra spent three-plus years as the Nordic Program Director for the U.S. Ski and Snowboard Association (USSA). During his tenure, he led U.S. athletes to four Olympic medals and six World Championship medals in cross-country skiing, Nordic combined and ski jumping. He oversaw the organization's full Nordic delegation at World Championships and Olympic Games, managed key International Ski Federation (FIS) responsibilities and coordinated USSA's hosting of top-level competitions across the nation. 
Farra also served as Vice President of the Maine Winter Sports Center in Caribou, Maine, for six years. In that position, he managed two world-class Nordic venues while overseeing a staff of five coaches. Farra held several positions at the National Sports Academy in Lake Placid, New York, from 1996-2002, including Sports Media Director, Dean of Students & Dormitory Director and ultimately Assistant Head of School. 
From 1994-96, Farra was a member of the coaching staff for the University of Utah Cross-Country Ski Team, helping his alma mater to an NCAA National Championship title in 1996.
An accomplished endurance athlete himself, Farra was a member of the U.S. Olympic Cross-Country Skiing Team at the 1992 Olympic Winter Games in Albertville, France. He raced as part of the U.S. Cross-Country Ski Team from 1990-93, represented the U.S. at the 1991 Nordic World Ski Championships in Val di Fiemme, Italy, and was the 1991 U.S. champion. 
A 1995 graduate of the University of Utah, Farra earned his Bachelor of Science in Exercise and Sport Science and was a 1991 NCAA Cross-Country Skiing All-American.
Farra replaces Andy Schmitz, who served as USA Triathlon's High Performance General Manager from 2011-18. Farra inherits a U.S. National Team program that features the deepest women's team in the world — with three U.S. athletes in the top 10 of the overall 2017 World Triathlon Series rankings — and a paratriathlon team that won the medal count (two gold, one silver and one bronze) during the sport's debut at the Rio 2016 Paralympic Games.
From the USA Triathlon High Performance General Manager Search Committee:
Barry Siff, USA Triathlon Board of Directors President
"John's experience as an Olympian and high performance director, together with his excellent communications and interpersonal skills, will allow him to have a rapid, positive impact on USA Triathlon's High Performance Program. The entire search committee was unanimous in its support and enthusiasm to bring John onto the USA Triathlon leadership team."
Hunter Kemper, Four-Time U.S. Olympic Triathlete
"I'm grateful for the time and energy Rocky Harris has devoted to finding our next USA Triathlon High Performance General Manager. Rocky has led an exhaustive search and, after extensive interviews, I'm confident we have found the best. John Farra has been managing high performance at the highest level of Olympic and Paralympic sport for many years. John is absolutely the right person to lead USA Triathlon towards Tokyo 2020 and beyond in becoming the best triathlon program in the world."
Margie Shapiro, Former U.S. National Team Athlete and Former USA Triathlon Athlete Advisory Council Member
"We had the pleasure of interviewing a group of highly skilled candidates with impressive resumes, and John Farra stood out as uniquely qualified. Combining his enthusiasm and charisma with his extensive and varied experience —administratively, in high performance general management, in athlete development, even as an Olympic athlete and coach — will enhance our organization and make it even stronger."
Patty Collins, 2016 U.S. Paralympic Triathlete and USA Triathlon Athlete Advisory Council Member
"USA Triathlon has a vision with some amazing goals. Having John join the team with his experience and vision is going to drive those goals toward a reality. I'm so excited to see where this already incredible organization will be in the years to come."
About USA Triathlon
USA Triathlon is proud to serve as the National Governing Body for triathlon, as well as duathlon, aquathlon, aquabike, winter triathlon, off-road triathlon and paratriathlon in the United States. Founded in 1982, USA Triathlon sanctions more than 4,300 events and connects with more than 400,000 members each year, making it the largest multisport organization in the world. In addition to its work with athletes, coaches, and race directors on the grassroots level, USA Triathlon provides leadership and support to elite athletes competing at international events, including International Triathlon Union (ITU) World Championships, Pan American Games and the Olympic and Paralympic Games. USA Triathlon is a proud member of the ITU and the United States Olympic Committee (USOC).
– usatriathlon.org –