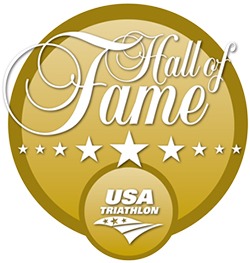 BOSTON — USA Triathlon honored six talented multisport athletes and contributors in a celebration of the sport and its 40-year history at the 2015 USA Triathlon Hall of Fame Induction Ceremony, presented by Rudy Project, held Saturday evening at the Harvard Club.
Nearly 250 friends, family members and fans of triathlon and endurance sports joined the National Governing Body in recognizing U.S. Olympic bronze medalist Susan Williams, IRONMAN World Champion Tim DeBoom, industry innovator Dan Empfield, age-group luminaries Bill Bell and Karen McKeachie, and paratriathlon pioneer Carlos Moleda.
"This was a tremendous group of inductees," said Jon Gray Noll, the Chair of the USA Triathlon Hall of Fame Committee and Class of 2008 inductee. "It's really fulfilling to see the sport maturing. It takes a long time to develop the kind of legacy that these athletes in particular have. This is not overnight success. These people have been in the sport 20, 30 years, and their investment of time and energy was rewarded here tonight."
The USA Triathlon Hall of Fame celebration was just one event in an exciting weekend of historic endurance sport, leading up to Monday's Boston Marathon. Boston race director Dave McGillivray, class of 2010 inductee of the USA Triathlon Hall of Fame, kicked off the evening at the welcome reception, and Boston 2024 Chairman John Fish spoke during the induction ceremony, congratulating the inductees and saying, "Sport is at the core and is part of the fabric of what we are and who we are."
The six inductees have long represented that spirit, and took the opportunity Saturday to thank their families and the instrumental individuals who made their accomplishments in multisport possible.
Bell, who still competes in triathlons at 92, reflected on his time in the sport while sharing words long remembered from his mother – that there is no such thing as "can't."
"You can," he said. "For 35-plus years, I've been doing triathlons and marathons. If I have to look back at my 35 years and all that training, all that racing and everything, tonight was worth every ounce of it."
Moleda, who set a new standard for paratriathletes with four wins at the IRONMAN World Championship in Kona, gave a nod to Bell in his speech, noting that every time they saw each other out on the race course Kona, it was the inspiration Moleda needed to keep going. This was also a theme for Moleda's speech, reminding the attendees not to let life's challenges hold them back.
"You just keep moving forward," Moleda said. "Somehow I always managed to find a way to keep moving forward. That's what it's all about, and that's my goal in life."
Because of the storied careers of each inductee, there was an opportunity to look back at their early days in the sport and how it shaped their performances over the years.
"There's just an amazing group of athletes, race directors, support staff — people inducted into this Hall of Fame who are legends. To be even associated with them is an honor, and I'm very humbled by it," Williams said. "I've been blessed with my abilities and that I've had a chance to share them with others, and I'm very thankful for that."
Empfield, who changed the sport for the better with his creations, said, "As I reflect back on 35 years in triathlon, not as an industry leader but as someone who swims, bikes and runs, I just don't have a list for you. I don't have bullet points, I don't have wisdom, I don't have a lecture. I'm just left with this sense of humility, gratitude and wonder."
DeBoom shared that he wasn't sure he made the right decision when he became a professional triathlete, leaving school 13 credits short of his degree.
"I had to do it. I had a knot in my chest that said, 'go do it, this is your chance,' so I took it," DeBoom said. "I knew I had to take that risk, I had to sacrifice everything to go after this dream. It taught me more than any classroom could, and taught me more about myself, because it's gotten me here."
"What an honor it is to be standing up here, but I'm so nervous, I'd rather be on the start line at Kona," McKeachie joked, thanking her parents, her former running coach and her husband, who helped her win numerous national and world titles over decades in the sport. "There are lots of memories, but none will ever top this one."
Founded in 2008, the USA Triathlon Hall of Fame has recognized the best performances and contributions in the sport's 40-year history. This year's class brings the total number of inductees to 33. Visit usatriathlon.org/hof for more information on the USA Triathlon Hall of Fame. 
About USA Triathlon
USA Triathlon is proud to serve as the National Governing Body for triathlon, as well as duathlon, aquathlon, aquabike, winter triathlon, off-road triathlon and paratriathlon in the United States. Founded in 1982, USA Triathlon sanctions more than 4,300 races and connects with nearly 500,000 members each year, making it the largest multisport organization in the world. In addition to its work with athletes, coaches, and race directors on the grassroots level, USA Triathlon provides leadership and support to elite athletes competing at international events, including International Triathlon Union (ITU) World Championships, Pan American Games and the Olympic and Paralympic Games. USA Triathlon is a proud member of the ITU and the United States Olympic Committee (USOC).