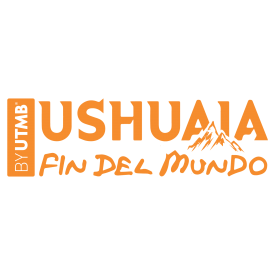 USHUAIA, ARGENTINA (APRIL 9, 2019) — UTMB® International, the international division of the world-renowned Ultra-Trail du Mont-Blanc (UTMB), is proud to announce the results from the inaugural Ushuaia by UTMB® ultra trail race that took place April 5 – 7 in the remote trails of southern Argentina. In its first year, Ushuaia by UTMB® attracted nearly 1000 athletes from around the world and presented a full-scale experience of Argentina's southernmost coastline with strong winds, snow, rainfall, snow-covered trails.
The event's premier race, the Fin del Mundo Ultra (FMU) at 130km long and 7100m vertical gain, was won by US athletes in both the men's and women's division. Jason Schlarb of Durango, CO won the men's FMU division in 15 hours and 26 minutes, and Rory Bosio of Truckee, CA won the women's FMU division in 17 hours and 49 minutes.
Jason Schlarb, a UTMB International veteran who also won OMAN by UTMB® in December 2018, said of the race: "Ushuaia has a beautiful landscape and awesome mountains. I loved competing in this part of the world and I will be back here, without a doubt." Schlarb's wife, Meredith Edwards, was the women's winner of Ushuaia by UTMB's ELT race (35km / 2400m vertical).
Rory Bosio, the women's FMU champion, noted the course's challenge and expressed gratitude to all the volunteers who helped along the way: "Argentina is full of pretty places and Ushuaia is one of them. I had a great time running this race despite its level of difficulty. I want to thank the volunteers and the organisers for their support and their respect towards the runners."
The inaugural Ushuaia by UTMB® was organized by South American Sport Company (SASC) along with UTMB® International. The organizers decided to move forward with the trail-running competition despite the extreme weather prediction, however did made some course changes to the three longest distance races to ensure the health and safety of the runners
RESULTS BY RACE:
FMU– 130km and 7100m
Men
1.- Jason Schlarb – USA – 15h26m35s
2.- Santos Gabriel Rueda – ARG – 15h57m22s
3.- Luis Gonzalo Calisto Álvarez – ECU – 16h00m04s
Women
1.- Rory Bosio – USA – 17h49m12s
2.- Paola Jorgelina Ozán – ARG – 21h13m54s
– Graciela Noemí Madrussan – ARG – 27h23m14s
FBT – 70km and 4300m
Men
1.- Joaquín López – ECU – 7h10m59s
2.- Mariano Ontañón – ARG – 8h12m54s
3.- Ignacio Doheijo – ARG – 8h32m29s
Women
1.- Mariela Vigliocco – ARG – 9h58m22s
2.- Claudia Nogueira Campos Almeida – BRA – 10h25m07s
3.- Karmina Valenzuela – CHL – 11h19m31s
LCT – 50km and 2300m
Men
1.- Pablo Tosoni – ARG – 4h18m56s
2.- Wanderson Antonio Do Nascimento – BRA – 4h40m03s
3.- Jorge Alejandro Garrido – ARG – 4h41m49s
Women
1.- Maira Mardones – ARG – 5h03m33s
2.- María Silvia Pérez – ARG – 5h14m27s
3.- Michele Schneider – BRA – 5h23m05s
ELT – 35km and 1500m
Men
1.- Ezequiel Pauluzak – ARG – 2h37m01s
2.- Romuald Brun – FRA – 2h37m18s
3.- Braian Montes Viera – ARG – 2h46m06s
Women
1.- Meredith Edwards – USA – 3h24m47s
2.- Nadia Daniela Bernardis – ARG – 3h32m16s
3.- Virginia Moreno – ARG – 3h52m08s
VIEW FULL RACE RESULTS
https://ushuaiabyutmb.livetrail.run/
MORE INFORMATION ABOUT THE RACE
Instagram, Facebook and Twitter: @utmbushuaia #UshuaiaByUTMB y #UTMBUshuaia
Website: www.ushuaiabyutmb.com
YouTube: https://www.youtube.com/channel/UChC8H9GQNNFYIsviqQBMqpw
ABOUT UTMB® INTERNATIONAL
UTMB International is an organization that was created to help spread the influence of the world-renowned ultra-trail running race, UTMB (Ultra-Trail du Mont-Blanc), worldwide. Over the next ten years the organization plans to work with international partners to establish major events on every continent. The goal is to organize summits embracing local traditions while maintaining the professional standards of the original UTMB. Each event will take place in a mountainous region and will feature multiple formats to attract athletes of all abilities.
UTMB International media contact
Chris Rodrigo / Chris.rodrigo@kickcom.fr / +33 (0) 607 226 233