US Trail Running Conference Webinar Shines A Light On the Power of Running to Support Mental Health Recovery
July 7, 2023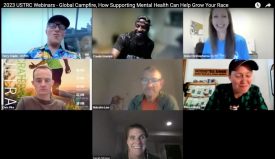 Panelists share real life experiences and emphasize how supporting communities, creating connections, and growing recovery capital can change personal narratives
/ENDURANCE SPORTSWIRE/ – A Global Campfire: How supporting mental health can help grow your race, was the subject for the fifth webinar in an eight-webinar series produced by the US Trail Running Conference presented by Marathon Printing, and was live on Thursday, June 22. The webinar series is free for all race directors and event organizers to access, and is held in partnership with the American Trail Running Association.
This webinar's panelists featured individuals who support people going through mental health challenges, and race directors that are working directly with community organizations to successfully grow their races. Anna Christophorou, Programme Director for Speedfreaks in New Zealand; Chris Pike, Race Director for Crater Rim Trail Run, New Zealand; Mal Law, Race Director for The WILD, New Zealand; Sarah Strong, from Bigger Than The Trail, United States; Kim Levinsky, Race Director with Sassquad Trail Running, United States; and Claude Umuhire, Programs Coach, London & Brighton, The Running Charity, England. Terry Chiplin, founder of the US Trail Running Conference was the moderator for the session.
Anna Christophorou, founder of Speed Freaks in New Zealand, opened the session detailing how she started a small run group in 2017, just to get out of the house. "It was the most impactful groups we have ever had…in my 25 years of addiction work, one of the areas that we really struggle with as clinicians is integration. That first group was guys straight out of prison, and what I saw quite simply was what I hadn't been able to achieve in all my years of doing this work. I left my job two years ago, started Speedfreaks, and we now have 23 groups running each week in Christchurch….we have a team of nearly 70 volunteer coaches that deliver our programs, and ten peer volunteers that have been through one of our programs."
Christophorou detailed the growth of Speedfreaks as an organization, and then focused on the relationships that have been built with races in the community. "For today, I would love for race directors and event organizers to take away that they have such a powerful tool to effect change, such a powerful tool to support people in their recovery…so many stories that are tear jerkers, that make you laugh and make you cry, but they are all about how we weave connection, and sustain recovery through those prosocial connections, and really give people some agency over their life"
Then Christopphorou handed the torch to Chris Pike, Race Director for the Crater Rim Trail Run. Chris shared that "All our aid stations are now staffed by charity organizations….we reached out to numerous running-related charities and the response was amazing!….working with Speedfreaks it was apparent that we had struck on something good….our Speedfreaks participants have been to some dark places in their past, and this seems to give them an amazing perception of the pain and low spirits at the time for some of our runners….and this prior experience seems to help support the runner in continuing to achieve their goal for the day. Social connections are created at an aid station….at the aid station there is a full circle of support and inclusion, and that's just from two people standing at an aid station."
Christphorou added, "At the aid station this allows people in residential program that are running curious but are a bit apprehensive to get involved, and they have no idea what an ultra is going to be like….they do four hour shifts, and generally people don't want to leave their shift once they've got there and they've experienced it" Pike continued, "We also value the operational benefits of working with charities. Charities are organized people, and spend their days organizing people….when it comes to an aid station we can hand this over to one person, they go away and train a team – they return with a trained team, and that's a massive organizational element taken out for us. People from charities also have compassion for people, and what an amazing resource to have available at an aid station when you have struggling runners, to keep their spirits up. There are heaps of positive operational, financial, and social benefits."
Next up, Mal Law shared how he came to be involved with supporting mental health organizations. "One of the other big formative experiences in my life was losing my brother-in-law to suicide; I was actually the person that found him, and he had chosen to take his life in a fairly gruesome way, that has left quite a legacy. I had always thought at some point in my life I would like to organize some kind of fundraiser and consciousness raiser for the mental health cause….I came up with the ridiculous notion of running 50 mountain marathons up 50 peaks in 50 back to back days, and choosing to do those all around New Zealand. I invited people to join me on each and every day, on the condition that they raised at least $400 for the charity. We ended up with over 300 people joining in that run, and in the end we made a film out of it, and we raised over half a million dollars for the Mental Health Foundation. That taught me an awful lot about the power of running and its ability to do some good in the World."
"I wasn't aware of the hidden benefits of running – that whole thing about connection. I have now gone in a slight divergence in my support for mental health, focusing on the importance of the role that nature plays in this picture. Not just activity, not just being with people, actually being immersed in nature, and giving back to help nature. The vision for The WILD event is an epic running experience through epic mountains, and the proceeds from that all get fed back into natural restoration work in the area through which they have been running….and then we get the family, the people that are involved in the event, that we actually get them involved in the work as well. Then they get interested in rewilding, and take this back to their own community…..I love trail runners and I think we can actually do more to give back to nature, and actually challenge ourselves to learn more about native habitat restoration, learn more about how as runners we can learn more about the environment. We get personal benefit – I am very passionate about rewilding, to give nature a helping hand, and through doing that we create great opportunities for people to work on their mental well being. I would urge any event director to think about what are the opportunities for how they run their race, where they run their race, how we can use the opportunity to create ways people can benefit their well being beyond just being active in their events."
Sarah Strong followed, explaining how Bigger Than The Trail works. "Everything that we are doing and have done is with volunteers….we are a small and mighty crew here in our corner of the World. What we are doing is a little bit different. We are helping running communities feel comfortable about talking about mental health, and sometimes saying that running isn't enough to take care of our mental health. So we can be active runners and be training, and still have depression, and have anxiety, and still have OCD, etc. We have created a community of volunteers whose primary goal is to create community and reduce stigma. It's ok to say that you are running and you also don't feel that great….We fundraise and with that money we are able to connect people who reach out to mental health services. Anyone can reach out and we can connect them to a therapist who can then offer a free month of virtual therapy. So far we have provided 1,400 free months of virtual therapy, which is very cool! We now also offer peer support group sessions as not everyone may be looking for monthly personal therapy."
Then Kim Levinsky from Sassquad Trail Runners shared her story (She has been through a BTTT program herself). "Looking back I think depression is something I have struggled with on and off my whole life, and just didn't have the vocabulary to know what it was…the people I was running with became close friends, and those 2 hour runs can create this unique safe place that is hard to create in other places. You can learn more about someone on a two hour run than you can going out with them for several drinks….two years later, I was going through one of those depressive stretches, and my running friends were encouraging me to think about my situation, and maybe it's time to get help. I had every possible excuse as to why I didn't want to get plugged in the therapy, and then I got connected with Bigger Than The Trail. The process takes out all those excuses….I completed a survey and then a few hours later I was paired with a therapist…This was a turning point in my life. I learned that I have been using running as a coping strategy, and running can only take you so far…I learned through therapy that running is a great tool to use, but it can never be the whole solution for a problem."
"I was training for the Tahoe 200 and I was keeping a YouTube Vlog and had gone radio silent. There was still a lot of shame and stigma surrounding the therapy I was getting involved in, and the anti-depressant I was on…again it was the community that I was plugged into that encouraged me to share my story. I put a video online and the outpouring of support was unbelievable….The coolest part was that what I had shared was really resonating with them. Many of them said that they were also using running as a coping strategy, and that they were going to seek help through Bigger Than The Trail. That was the first time I saw there didn't need to be stigma or shame around these issues of mental health…when you share your story it creates a safe space. This whole mental health journey is tied back to that mission – now as a race director because of the experiences that i have had and how transformative community has been, it's a huge focal point to make sure that everyone who comes to our races feels welcome and feels safe, and especially those runners that are coming alone. We send out a volunteer guide so that we can provide information to our volunteers and stress how important it is for them to play a part in making everyone feel welcomed. It's been an organic thing where we have attracted incredible, amazing, authentic individuals; it creates a ripple effect where it just goes full circle and more and more people get involved. I also try to remember that you never know what a runner is going through when they turn up to run at one of your races. Maybe this runner that's at the starting line is in the thick of depression, and this is the only human interaction they're going to have is at this race. That's been really helpful to me to be intentional in the relationships I have as a race director. We have capped our races to keep them small so we can control numbers and make it easier to maintain those personal connections. The benefit of growing the community (from keeping race size capped) far outweighs the benefit to revenue…we have also expanded our cutoff times to allow more people to get involved in our races."
Finally, Claude Umuhire shared his personal journey. "I came here as a refugee to join my mum, reunification after the genocide in Rwanda, I was four years old – me and my mum were the only people from our family that survived. During my youth there was a lot of pressure on me to do something with my life…so I went to University as quickly as possible. Coming from an African background there was one thing that your parent wanted out of you, go to University, get a good education, get a good job, and support the rest of the family. As soon as I started University I found it wasn't for me. I dropped out of Uni, which was a huge embarrassment for my family, and this caused a lot of friction between me and my mum. At 19 years old, I decided to leave the house, with no plan for where I was going to go, and I became homeless. Although there were support systems in place for homeless people, because I was a healthy young male and not in danger, there was nothing they could do for me. I had also lost my refugee passport, so even though there was a program that could have accepted me, I was unable to join it. I spent a year and eight months street homeless, another six months living in night shelters. Through the experience of being homeless I completely lost sense of who I was and also lost confidence, and lost friends quickly as well. There is a lot of shame and stigma attached to being homeless, it must be your fault and something you have done to be in the place you are."
"I became very depressed and started looking for easy ways to escape my reality, which involved a lot of drug taking, and a lot of alcohol. When you're homeless and haven't got any money or a roof, drugs are easy to find. I started to believe that I was always going to be homeless, this was going to be my future, and I started seeing myself in other homeless people on the streets. I was offered a place on a program to help get homeless people running the London Marathon, and I decided to give it a go as I really had nothing to lose, plus the program filled a time slot in my day when I didn't have a roof over my head."
"In the group I was with others similar to myself…and for the first time ever I wasn't Claude the homeless guy, I was just Claude – I didn't have any stigmas attached to anything I was doing, in fact people saying what I was doing was positive. Slowly I started looking forward to coming to these sessions as I was leaving my baggage behind. Then I was introduced to Parkrun as my first official run, and I remember hating every single second of it. I sat down with Alex Eagle (one of the co-founders of The Running Charity), and he said let's write down things in the next month that you have actually achieved, whether that be running, personal stuff, employment, and then we are going to make it our mission to achieve three things from that list throughout this month. So I chose to run a faster time for a Parkrun, to get a roof over my head, and get work."
"For the first time since I was homeless I was able to think about the future. When you're homeless everything is immediate. I really took to those goals, and enjoyed setting goals and achieving goals. For the first time since I was homeless I felt like I could do anything….I regained that confidence where I could ask someone for help, or look someone in the eye and say this is what I deserve, and how can I make sure i get this one thing that I deserve. By the time I graduated from the first program with The Running Charity I was renting, working two jobs, and also volunteering for the running charity. The confidence I gained from exercising and running took me into job interviews. At the back end of the London Olympics Alex said there was an opportunity to be a Program Officer for the Running Charity, and I bit his hand off…running is a tool, it's the other things around it, the youth work, the advocacy, it's the running that makes that young person believe that they deserve all these things that they should be getting from society anyway."
Active at Altitude, organizers of the US Trail Running Conference and the webinar series, reported more than 140 participants registered for the session, representing 35 states, as well as Canada, Austria, Bolivia, New Zealand, Saudi Arabia, Mexico, North Macedonia, Russia, England, UAE, Chile, India, Kenya, & Vietnam. A recording of this webinar is available on the US Trail Running Conference YouTube channel at https://youtu.be/83EOyEwpSrg.
The next webinar is titled: Sustainability in Trail Running, an Inconvenient Truth, and takes place on Tuesday, July 25, 2023, from 10.00 am to 11.00 am MST. Panelists will be Shannon O'Grady, Gnarly Sports Nutrition, Sam Burke, Tarkine Running, Steve Aderholt, One Step Events & Cocodona 250, and Bruce Rayner, Athletes for a Fit Planet.

Who is this for? Race Directors and event organizers who are seeking groundbreaking methods for their events to become more sustainable. Registration is free – see https://ustrailrunningconference.com/webinar-series/ for more details.
More info:
For details on the US Trail Running Conference and the webinar series, go to https://ustrailrunningconference.com/webinar-series/
Contact Event Director, Terry Chiplin for further information, terry@ustrailrunningconference.com, or + 44 07474 648250
#TrailConference #trailrunning #snocosports #snohomishcounty #PlayPNWSports #mukilteo #activeataltitude #atra #marathonprinting #TrailRunningIsForEveryBody