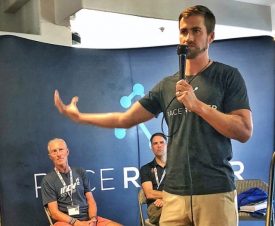 Fastest growing registration platform in US is Presenting Sponsor for third consecutive year
Estes Park, CO – The US Trail Running Conference has announced that Race Roster, the fastest growing endurance registration platform in North America, will be the presenting sponsor for the Race Director days at the 2019 event. This announcement marks a renewal of the sponsorship that is now in its third year at this level. The seventh annual US Trail Running Conference is held in partnership with the American Trail Running Association (ATRA), October 9-12, 2019, and takes place at the historic Stanley Hotel, Estes Park, CO.
The team at Race Roster has worked with trail running events both in the US and internationally, with race directors benefiting from their user-friendly technology to launch new events as well as grow existing events. Many race directors have switched to the Race Roster platform, highlighting increases in registration revenues from leveraging advanced technology. Perhaps their most important feature is their renowned Customer Success Team that has been highlighted a key feature by many race directors in why they have switched their business to Race Roster.
Sessions for Trail Race Directors will be held on the afternoon of Wednesday October 9, and continue on Thursday, October 10, and Friday, October 11. Race directors will enjoy interactive speaker panel sessions, two networking evenings, an expo, as well as individual presentations from industry experts.
Terry Chiplin, Event Director, and owner of Active at Altitude, adds, "We are delighted that Race Roster has renewed their participation level for the 2019 US Trail Running Conference. We are confident that Race Roster's passionate involvement and support of the rapidly growing trail running community, combined with their innovative use of technology, will result in another highly successful Conference this October that builds on our previous experience."
Race Roster are a partner in the ATRA Event Standards Program, that assists trail race directors in meeting the 15 criteria necessary for staging a safe and well-organized event.
Conference registration is open and includes options for race director days as well as trail runner day. Details at http://ustrailrunningconference.com/register/