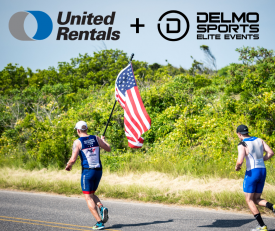 All Military to Receive $100 Off Select DelMoSports Events
Cape May, NJ – DelMoSports and United Rentals have partnered up again in 2019 to provide active military and veterans the opportunity to race in three of DelMoSports' major events this summer. United Rentals will be offering $100 registration discount at the Women's Philadelphia Triathlon, the Tri the Wildwoods Triathlon and IRONMAN 70.3 Atlantic City through the month of May.
"Supporting our military is a cornerstone of our culture," said John Clements, District Manager of United Rentals. "We've been recognized as a top military friendly employer for 5 years and are a supporter of SoldierStrong. We are excited to work with Stephen and DelMoSports to make it easier for our military in the region to participate in these great events."
Stephen Del Monte, Founder and CEO of DelMoSports said, "We are honored to work with United Rentals in their support of the men and women who represent our country. Military participation at DelMoSports events has been good, but this will make it great, thanks to the generosity of United Rentals!"
"The $100 OFF registration for all military by DelMoSports and United Rentals is not just a thank you, it's a commitment of excellence to the men and women who served our country proudly," said Sgt Maj L Trimmer USMC Ret.
For more information on this promotion, email info@delmosports.com.