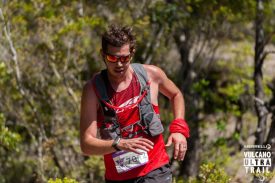 Kevin Robison joins UltrAspire with big plans for the future
UltrAspire, a leader in hydration and outdoor gear announce a new VP of Sales position filled by Kevin Robison; he has come on board the UltrAspire team with big goals and an impressive track record. Kevin has been selected to accommodate growth and implement programs that help to enhance the UltrAspire reach both domestically and internationally. Bryce Thatcher, CEO of UltrAspire, has been on the cutting edge of hydration since he fathered the industry in the early 80's by creating the first ever hydration pack for adventurers. Today, Bryce is still driving the outdoor industry forward with innovative design and cutting-edge technology in not only hydration and lighting, but non-disposable and convenient outdoor gear.
Kevin is a graduate from Southern Utah University with a Master's Degree in Communication and an emphasis in Public Relations. He also comes with an athletic history in running that stretches back to when he was young. In High School, Kevin was on the 2002 Cross Country national championship team, in 2004 he was on the 4×1 mile Relay Team, they placed 1st and became national champions and All-American athletes. From that, he received a scholarship to SUU where he continued running on a freshman distance medley relay, despite being ranked to take dead last in the race, they placed 3rd and became conference athletes.
After a successful athletic upbringing, Kevin took job positions in the outdoor industry which lead him to work for Altra as the International Sales Manager. In this position he was involved with the expansion of the brand on a global level. He introduced and implemented programs that enabled Altra's rapid growth and international presence. These efforts helped solidify Altra as one of the top specialty run footwear companies in the industry.
"I've been wearing and using UltrAspire long before I ever knew I would be part of the team; I want to see the UltrAspire brand grow and go to new heights; I am very excited to be on board." Kevin responded when asked about his goals for the brand. Kevin has arrived at UltrAspire with a passion for specialty run and a love for the outdoors, he will work with the rest of the team to hit expansion goals and increase brand awareness.
About UltrAspire:
UltrAspire is a high-performance, innovative outdoor gear company. From competitive endurance sports to the casual adventurer, UltrAspire keeps to a very important code, which is to create an inspired outdoor experience. Gear up with UltrAspire and experience the difference at www.ultraspire.com