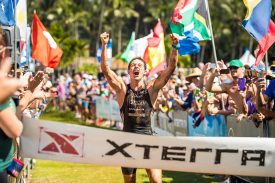 (Boulder, CO) – In only his third year as a pro, triathlon prodigy Mauricio Mendez was crowned XTERRA World Champion this weekend after besting the top off-road triathletes at the yearly championship race on Maui.
The Human Interest Group, a leading sports marketing agency and business development firm focused on world-class endurance athletes, congratulates Mendez for a superior performance that promises an exciting future for the twenty-one-year-old elite multisport athlete.
"We are completely thrilled for Mau, winning a world title at such a young age is a massive stepping block for him," said Michael Cardoza, Director with the Human Interest Group. "At age 17 Mau won the overall amateur XTERRA World Championships and 4 days after his 21st birthday he takes home the pro title, he is something special. Our organization can't speak more highly of him, he's obviously an incredible athlete, but he's a true professional and extremely gracious."
To capture the XTERRA World Championship title, Mendez completed a 1.5-mile Pacific Ocean swim, 20-mile mountain bike ride, and a 6.5-mile trail run ahead of fifty-one pro men, including reigning XTERRA World Champion Josh Middaugh and three-time XTERRA World Champion Ruben Ruzafa.
Mendez crossed the finish line with a time of 2:49:38, about three minutes ahead of runner-up Ruzafa and with the fastest run split of the day. Mendez's official splits were swim (20:33), bike (1:46:59), and run (42:06).
"It's a dream come true," Mendez told XTERRA following the race. "I've looked up to these guys for so long and now to be up here with them is very special. I'm just happy, really happy."
No stranger to the XTERRA World Championship, Mendez finished fourth in 2015, fifth in 2014, and first overall amateur in 2013. The XTERRA World Championship victory culminates a remarkable year for Mendez that included winning XTERRA Italy, Sweden, and Denmark this summer – only to be followed by capturing the top spot at IRONMAN 70.3 Cozumel, his first long distance triathlon win.
Mendez turned pro in 2014 and has since entered into partnerships with Muscle Milk, ON Running, Viansi (Orbea/Orca), Xterra Wetsuits, MET and Camelbak.  Mendez lives and trains in Mexico City, Mexico; follow Mendez on Instagram @maumendezc.
In addition to Mendez's win, 2x Xterra World Champ Lesley Paterson finished 2nd and America's top Ironman athlete, Ben Hoffman, finished 7th and secured the infamous 'Kona-Maui Double' bonus for the best finish time between Ironman and Xterra World Champs.
"I'd call that a pretty stellar day for our crew," said HIG Founder Franko Vatterott.  "What impresses me most is the consistency of athletes like Lesley and Hoff.  Consistency is truly the mark of the world's best endurance athletes.   And what more can you say about Mau – the kid is the perfect ambassador for brands who are after not only the next great performance, but an extremely hard working, professional, humble and polite World Champion Millennial."
Mauricio Mendez is part of HIG's Professional Triathlon global roster that includes three-time IRONMAN World Champion Craig "Crowie" Alexander, IRONMAN Champion Rachel Joyce, multiple XTERRA World Champion Lesley Paterson, all-American IRONMAN Ben Hoffman, four-time World Champion Tim Don, Canadian Power Couple Team Wurtele (Heather and Trevor), Ironman 70.3 Champ Radka Vodičková', triathlon's Next Gen star Samuel Appleton, 70.3 Champs Lauren Barnett and Jake Montgomery, and Aussie favorite Paul "Barny" Matthews. Visit www.professionaltriathlon.com for latest athlete bios and updated race reports.
About Human Interest Group
Based in Boulder, Colorado, the Human Interest Group (HIG) provides marketing bandwidth, sponsor activation strategies and services, and audience-building content for companies around the world. Our trademark PROTRI division is triathlon's leading professional sports management agency. Our clients are established and entrepreneurial businesses in the triathlon, endurance sports, and the active lifestyle space. Whether needing a credible brand ambassador or wanting a fresher perspective on your business development strategy, clients value our relationships, knowledge, and credibility when it comes to building engagement within the active lifestyle communities. Got an idea? Contact us. 
Media Contact
The Human Interest Group
info@humaninterestgroup.org
http://professionaltriathlon.com
Twitter: @BoulderCartel
Facebook: The Human Interest Group