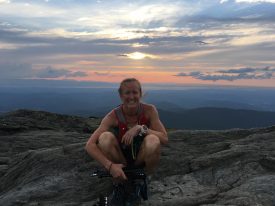 Previous record was set by Ultrarunning Champion Nikki Kimball
Stowe, Vermont USA — On July 31st at 7.42am Alyssa Godesky completed her 5 day, 2 hour and 37 minute journey through Vermont's Long Trail setting a new women's supported record. The 273-mile (439-km) trail took Godesky from the Northern-most point of Vermont to the southern border with Massachusetts. The oldest long-distance trail in the United States, the Long Trail follows the main ridge of the Green Mountains as it crosses Vermont's highest peaks.
Godesky was an ultra runner before becoming a professional triathlete in 2014. She is a coach with TeamHPB, an outspoken supporter of women in triathlon and co-hosts Live Feisty's IronWomen podcast. Godesky slept in shelters, her car, and occasionally napped on the trail as her crew of twelve followed from point to point providing food, drinks and pacing for pre-planned sections. Live Feisty Media provided daily recap videos of the journey on Godesky's Facebook Page.
Alyssa attributes her success to detailed planning;
"Setting the women's FKT [fastest known time] proved to me something I've known all along: that hard work and detailed preparation can make up for lack of raw talent. I'm never going to be the runner that Nikki [Kimball] was – but my commitment to all facets of preparation for this project helped elevate me to the next level."
Godesky's partner and engineer for Dimond Bikes, Matt Cymanski agrees;
"Alyssa first told me about her crazy idea almost 2 years ago. Even then, we both knew being well prepared and organized was going to be a huge key to success. Once she made the decision to go for it last fall, the next 10 months were filled with conversations about every detail, from how many shoes we would need to planning a contingency for every "what if" we could imagine."
Long-time coach, TeamHPB and Smashfest Queen owner Hillary Biscay attributes Godesky's success to mental fortitude:
"When I started working with Alyssa she was already mentally strong, but what few people realize is that mental toughness can be trained, and that's what we did in the months leading up to the FKT – we trained her to be unstoppable."
Godesky hopes that women and girls will be inspired to take on big challenges:
"Sometimes women don't go after things until they are 100% sure they'll make it. But at some point, I encourage women to cut the ties and go for it. Go for the FKT, go for the overall record, go for whatever it is you've been too afraid to start. Even if you don't get the overall record, you become a stepping stone leading the way for other women towards those times. And that is just as important."
FKT is short for "fastest known time" and is a speed record on any given route. Any person on any day can attempt to set a new FKT. Kimball's record-setting attempt that Godesky broke last week is documented by the Netflix's documentary "Finding Traction."
More on Godesky's new record can be found at www.projectwandeln.com. Godesky and her crew are grateful to sponsors Smashfest Queen, F2C Nutrition, Sound Probiotics, Final Surge, ISM Seat, Trail Sisters and Cadence Running Company.
About Live Feisty Media
Live Feisty Media produces the IronWomen and If We Were Riding podcasts, hosts written content at livefeisty.com and provides video coverage at numerous triathlon events in North America.
Media, Sponsorship and Partnership Inquiries: Live Feisty Media
Dr. Sara Gross, Founder, sara@livefeisty.com (250) 896 1026