Tour of the Southern Highlands Stage Race Partners with BMC-Switzerland
February 6, 2019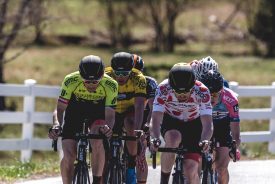 BMC-Switzerland supports regional brand recognition with Finish Line, and Men's & Women's Pro Race Title sponsorship at the Tour of the Southern Highlands this year.
"BMC Switzerland's support of competitive cycling is part of their DNA as a brand. The Tour of the Southern Highlands is the largest stage race in the South-East United States for Juniors and Elite racers, and the only National Selection event for juniors east of the Rocky Mountains. We see this as an opportunity to expand branding reach, at all consumer levels, while supporting junior development and talent ID programs associated with this early season event." Chris Frederick, SE-USA BMC Sales
The ToSH is the only Pro/Am cycling stage race east of the Rockies that also doubles as a Junior National Selection Race. The race draws over 500 Pro/Elite, masters, and amateurs for 3 days of racing, boasting more than $12k dollars in cash, prizes, and offering young athletes a chance for selection to represent the United States on an even bigger world stage.
Racing kicks off Friday, March 1, 2019, with a championship length, individual time trial for Pro/Elite Men, Women and Elite Juniors with KOM. An open, non-stage-race, community category ITT is available for anyone wishing to test their skill against the clock.
Registration for the ToSH is available at: www.bikereg.com/toshsr19
Photo cred: Adam Koble
For more information about the event, volunteering or about partnering with the Tour of the Southern Highlands, contact:
CONTACT:
Betty Hodges, Asst. Director
Tour of the Southern Highlands
512-844-6383
[email protected]
http://www.toshsr.com