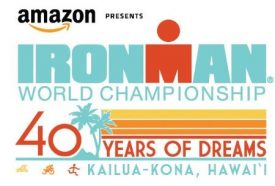 Approximately 2,500 athletes to converge in Kailua-Kona, Hawai`i on Saturday, October 13 to race and celebrate the 40th Anniversary of the original IRONMAN event
TAMPA, Fla. — Approximately 2,500 of the world's top athletes will compete in Kailua-Kona, Hawai`i on Saturday, October 13 at the most iconic one-day endurance event in the world — the 2018 IRONMAN® World Championship brought to you by Amazon. IRONMAN, a Wanda Sports Holdings company, will celebrate the history of IRONMAN and the seminal event that continues to inspire so many, by bringing the world's best triathletes together in competition on the 40th Anniversary of the original IRONMAN event.
This year's edition of the IRONMAN World Championship will yet again welcome the largest international athlete field in race history with athletes hailing from 82 countries, regions and territories. Athletes ranging in age from 18 to 85 have earned their world championship opportunity by qualifying at one of more than 40 IRONMAN events worldwide.
This year, Europe represents 46 percent of the field, while North America closely follows with 34 percent of athletes registered to race in the IRONMAN World Championship. Asia-Pacific brings eight percent of participants, with South America at seven percent.
"The evolution of this race over the past 40 years, from its modest beginnings to the iconic globally recognized phenomenon it has become, is truly extraordinary," said Andrew Messick, President and Chief Executive Officer of IRONMAN. "From the very first race on the shores of Oahu, Hawai`i in 1978, IRONMAN has carved out a unique legacy in sports history and the pinnacle IRONMAN World Championship event showcases the best global competitors from around the world every year. We look forward to the next 40 years as our athletes continue to shape history through extraordinary feats and life-altering journeys."
The United States of America is the most represented nation with 640 registered competitors, followed by Germany (215), Australia (208), and the United Kingdom (130). Athletes will travel from 46 U.S. states, with the greatest number coming from California (91), followed by Hawai`i (45), Texas (44), Colorado (38), and New York (35). Others from countries as far as South Africa, Brazil and Uzbekistan are traveling around the globe for their shot at a title.
This year, returning age-group champions from the 2017 IROMAN World Championship on the women's side include Sione Jongstra (NLD), Michaela Rudolf (AUT), Diana Hassel (USA) and Missy LeStrange (USA). On the men's side, returning age-group champions include Antoine Mechin (FRA), Guillaume Montoisy (BEL), Christophe Lemery (FRA), Rick Simpson (USA), Simon Butterworth (USA) and Fidel Rotondaro (VEN).
Racing alongside the returning age-group winners is an inspiring group of athletes that includes:
Jordan Bethke, a former pro triathlete and current U.S. Navy EOD Officer stationed in Hawai`i, who will be racing to support Kenton Stacy (#StacyStrong), a fellow EOD Officer critically wounded while serving in Syria
Rachel Brenke, a cancer survivor, mother of five, lawyer, and entrepreneur shows her commitment to sport and ability to balance what life can bring while achieving her goals
Leigh Chivers, who after suffering personal tragedies with the loss of both his wife Sara and 18-month-old son Alfie to brain cancer, will be looking to honor them while completing one of his wife's dying wishes, to compete at the IRONMAN World Championship
Marcus Cook, in only a year and a half, Marcus dropped from 489lbs down to 233lbs. Following the death of close friend, Marcus decided to make huge lifestyle changes and now attribute his success to triathlon and will race for the IRONMAN Foundation after raising over $100,000 on his way to preparing for Kona.
Isabella del la Houssaye, is a mother of five, suffering from stage 4 lung cancer and has completed 15 IRONMAN events and 100 total marathons including one in each of 49 states. Isabella will race for the IRONMAN Foundation with the support of Ventum, and on race day, with the completion of the run portion of the IRONMAN World Championship brought to you by Amazon triathlon, Isabella will check the box for completing a marathon in all 50 states.
Elle Goodall, who dropped over 250lbs (115 kg) in a stunning lifestyle change that has taken her from fast food addict to the start line of this historic event
Bob Jordan, a father who was gifted an entry to the 1997 IRONMAN World Championship after his five-year-old daughter suffering from leukemia wrote letter to IRONMAN. 20 years later Bob qualified at IRONMAN Maryland and will race in her memory this year in Kona.
Kyle and Brent Pease, a dynamic team of brothers, Brent competing with his and younger brother Kyle, who has spastic quadriplegia cerebral palsy, will look to raise awareness for, motivate and enable athletes with disabilities in the brothers first trip to the IRONMAN World Championship
Sarah Reinertsen, the first above-the-knee amputee to finish the IRONMAN World Championship (in 2005) and a gold medal winning para-triathlete returns to Kona to celebrate her place in history and IRONMAN's "40 Years of Dreams."
Perfectly located on the west coast of the Island of Hawai`i, Kailua-Kona offers the perfect year-round climate and is an ideal location for this iconic, single-day sporting event. The 2018 field of athletes will tackle the ROKA 2.4-mile ocean swim in Kailua Bay, followed by the Ventum 112-mile bicycle ride along the Queen Ka'ahumanu Highway from Kailua-Kona to the turnaround in Hawi, capped with a 26.2-mile HOKA ONE ONE run beginning on Ali'i Drive, where spectators pack the roads, up Palani Road to the Queen Ka'ahumanu Highway, before making their way to the infamous Natural Energy Laboratory of Hawai`i Authority. Athletes will complete their journey to the roar of tens of thousands of spectators as they cross the historic Ali'i Drive finish line.
Additional historical facts and stats for this year's IRONMAN World Championship in Kailua-Kona, Hawai`i:
This will be the largest athlete field ever at the IRONMAN World Championship, with approximately 2,500 registered competitors
72 percent of participants (1,791 athletes) are male
28 percent of participants (685 athletes) are female
43 is the average age of registrants this year
Hiromu Inada (Japan) is the oldest participant at 85, while Sydney Gardiner (United States) is the youngest at 18
6 athletes will be celebrating their birthday on race day
Over 96,000 athletes register to compete in IRONMAN races each year, representing over 90 countries, regions and territories
Nearly 300,000 registered athletes representing over 200 countries, regions and territories competed in IRONMAN and IRONMAN® 70.3® races this year
4 countries, regions or territories are sending athletes to the IRONMAN World Championship for the first time, American Samoa, Isle of Man, Lithuania, and Seychelles
1,082 competitors representing 629 different TriClubs from around the world are racing at this year's IRONMAN World Championship brought to you by Amazon (total 44 percent of the field)
1,573 athletes racing in this year's IRONMAN World Championship brought to you by Amazon are IRONMAN All World Athletes™ – roughly 64% of the athletes racing represent the top 10% of age group athletes in the world
9 new IRONMAN and IRONMAN 70.3 races were established in 2018
More than 5,000 volunteers will help make the IRONMAN World Championship a success
Live race coverage of the 2018 IRONMAN World Championship brought to you by Amazon will be available on a number of platforms, including NBC Sports in the United States from 12:30-2:00pm ET and on IRONMANnow at www.facebook.com/IRONMANnow. Comprehensive coverage will begin at 12:30 p.m. ET, capturing every aspect of the race with a hosted show to go along with an available athlete tracker and live blog. For live tracking, real-time results and instant notifications, fans can follow both the professional and age-group athletes on the IRONMAN Tracker app available for download from Google Play and the iTunes App Store. In addition, NBC will air the IRONMAN World Championship special on Saturday, November 24, at 2:30 p.m. ET (check local listings for details).
For more information on the IRONMAN brand and global event series, visit www.ironman.com. Media may contact press@ironman.com.
###
About IRONMAN World Championship brought to you by Amazon
Since its inception in 1978 on the island of Oahu, the IRONMAN World Championship brought to you by Amazon has etched its name in history through stellar performances, inspirational participants and emotional memories. In 1981, the race moved from the tranquil shores of Waikiki to the barren lava fields of Kona on the Island of Hawai`i where it continues to take place to this day. The race now sees approximately 2,500 athletes embark on a 140.6-mile journey that presents the ultimate test of body, mind and spirit to earn the title of IRONMAN World Champion. Athletes will enter Kailua Bay for the 2.4-mile ROKA swim course and then embark out on the Queen Ka'ahumanu Highway for the 112-mile Ventum Bike course before finally capping the day through the crowds of Kona town, Palani Road, the Queen Ka'ahumanu Highway and the infamous Natural Energy Laboratory Hawai`i Authority (NELHA) and Ali'i Drive for the 26.2-mile HOKA ONE ONE run course. The most iconic one-day sporting event in the world is the culmination of 40 global IRONMAN events with athletes around the world striving for one of the coveted qualifying slots.
About IRONMAN
As part of Wanda Sports Holdings, the IRONMAN Group operates a global portfolio of events that includes the IRONMAN® Triathlon Series, the IRONMAN® 70.3® Triathlon Series, 5150™ Triathlon Series, the Rock 'n' Roll Marathon Series®, Iron Girl®, IRONKIDS®, International Triathlon Union World Triathlon Series races, road cycling events including the UCI Velothon® Series, mountain bike races including the Absa Cape Epic®, premier marathons including the Standard Chartered Singapore Marathon, trail running like Ultra-Trail Australia™, and other multisport races. IRONMAN's events, together with all other Wanda Sports Holdings events, provide more than a million participants annually the benefits of endurance sports through the company's vast offerings. The iconic IRONMAN® Series of events is the largest participation sports platform in the world. Since the inception of the IRONMAN® brand in 1978, athletes have proven that ANYTHING IS POSSIBLE® by crossing finish lines at the world's most challenging endurance races. Beginning as a single race, IRONMAN has grown to become a global sensation with more than 230 events across 53 countries. For more information, visit www.ironman.com.
About Wanda Sports Holdings
Wanda Sports Holdings is the world's leading sports business entity, founded to capture the opportunities in the global sports industry and to contribute to the prosperous international sports landscape – in three key areas: 1) Spectator Sports (media and marketing business), 2) Participation Sports (active lifestyle business), 3) Services (digital, production and service business). Wanda Sports Holding incorporates the international sports marketing company Infront Sports & Media, the iconic endurance brand IRONMAN, and Wanda Sports China. The headquarters are in Guangzhou, China.