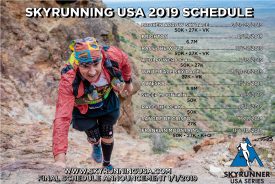 San Francisco, CA (January 2, 2019) – The Skyrunner National Series returns in 2019 with a new expanded race schedule. This year's series will feature a short course track of races along with the traditional Classic and Ultra track of races. The series will continue to be managed by experienced race director Rob Goyen and his team based in Houston, Texas.
"The 2019 series is bigger and better than ever. By creating our new short course series, we are making Skyrunning more accessible for everyone interested in running in the mountains" says Goyen. "We are excited to spread the race calendar from Alaska to Texas to New York and give participants all over the country an opportunity to become a skyrunner."
In 2019, the Skyrunner USA Series with comprise of 10 events. Each classic/ultra event will offer qualifying points for the 2019 USA Series Championship and overall ultra-distance winners will get an invite to the MIGU Run International Championship race. The new short course series will also crown a USA Series Champion. The 2019 events are listed below:
June 21-23: Broken Arrow Sky Race, 52k-26K-VK, Squaw Valley, California
June 29: Brighton, 6.7M, Brighton, Utah
July 6: Race the Wolf, 50K-25K, Sandpoint, Idaho
July 13: Audi Power of 4 Trail Run, 50K-25K, Aspen, Colorado
July 20-21: White Face Skyrace, 27K-VK, Wilmington, New York
July 27: Alyeska, 5.9M, Girdwood, Alaska
August 3: Sheep Mountain, 50K, Fairplay, Colorado
August 17: Race the Peak, 50K, Lakeshore, California
September 22: Sangre de Cristo, 27K, Westcliffe, Colorado
November 8-10: Franklin Mountains Trail Run, 50k-27k-K+Q, El Paso, Texas
With the continued backing of the International Skyrunning Federation, the USA Series provides robust sponsorship and marketing opportunities for brands and dynamic race experiences for participants. "We saw great growth in participant registrations across all events in 2018 and look forward to continued success with race directors and with series and event sponsors to reach more passionate skyrunners across the country," says Chris Douglas of Presidio Sports Management.
Brands and athletes are encouraged to learn more about the race series at www.skyrunningusa.com, follow the series on social media @skyrunningusa and join the strava club at https://www.strava.com/clubs/skyrunningusa.
For more information about The Skyrunner USA Series or to receive a sponsorship deck please contact Chris Douglas at chris@presidiosportsmgmt.com.
ABOUT SKYRUNNING USA
Skyrunner USA is the National Series of the International Skyrunning Federation. The series will help produce dynamic experiences for athletes across the United States. Using the European model for the race series, we will work with race directors, sponsors and participants to create amazing events. This series will inspire athletes to take on some of the toughest trail running challenges in the United States and experience world-class level events. Learn more about the National Series at www.skyrunningusa.com.