The Running Event Opens 2023 Call for Education
April 6, 2023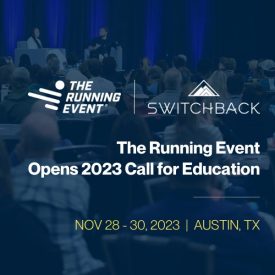 Individuals with an educational and innovative idea are encouraged to submit a session proposal for the 2023 conference.
PORTLAND, Maine (April 6, 2023) /ENDURANCE SPORTSWIRE/ The Running Event (TRE), North America's premier specialty retail conference and trade show, is now accepting proposals for speaking opportunities within the 2023 educational program. The Running Event will be held this November 28-30 in Austin, TX.
"As always, our goal for the educational program is to provide run and outdoor specialty retail professionals with insights, resources, and actionable takeaways for both their businesses and their careers," said Christina Henderson, Event Director, The Running Event. "Combining last year's feedback with timely industry topics and trends, the 2023 program will be built around the themes that matter most to our community of specialty retailers—and we're excited to identify the individuals whose unique perspectives will bring it to life."
The Call for Education will support TRE in its ongoing commitment to developing an educational program that highlights a diverse range of backgrounds, roles, and expertise. Featuring approximately 25 sessions, the 2023 conference will examine relevant, critical topics across areas including brand strategy, marketing, merchandising, buying, growth and expansion, Diversity, Equity, and Inclusion, sustainability, outdoor industry trends, and more.
In addition to being positioned as an industry leader, speakers will receive a complimentary registration pass, access to networking opportunities, exposure across TRE's digital channels and marketing initiatives, and coverage in Running Insight. Speaking formats include workshops, individual sessions, and panels.
Apply to Speak
The 2023 Call for Education closes Friday, May 19. Interested individuals are encouraged to submit a session proposal.
###
About The Running Event
Launched in 2006, The Running Event (TRE) is North America's premier specialty retail conference and trade show. Each year, it attracts thousands of industry professionals seeking the latest in footwear, apparel, gear, and services. In 2022, TRE launched Switchback at The Running Event: an exhibit hall expansion showcasing outdoor brands. With numerous opportunities for peer learning, interactive and forward-looking conference programming, and dynamic product demonstration and discovery, TRE is the can't-miss trade show for run and outdoor specialty. For more information, visit www.therunningevent.com.
About Diversified Communications
Diversified Communications is a leading international media company with a portfolio of face-to-face exhibitions and conferences, online communities, and digital and print publications. As producers of these market-leading products, Diversified Communications connects, educates, and strengthens business communities in over 15 industries including: renewable energy, healthcare, natural and organic, food and beverage, and technology. Established in 1949 and headquartered in Portland, Maine, USA, with divisions and offices around the world, Diversified Communications remains a privately held, third-generation, family-owned business. For more information, visit www.divcom.com.
###
Media Contact:
Genae Salinas
Marketing Manager
Diversified Communications
gsalinas@divcom.com