The Running Event 2023 to Feature Exhibit Hall Livestream
September 25, 2023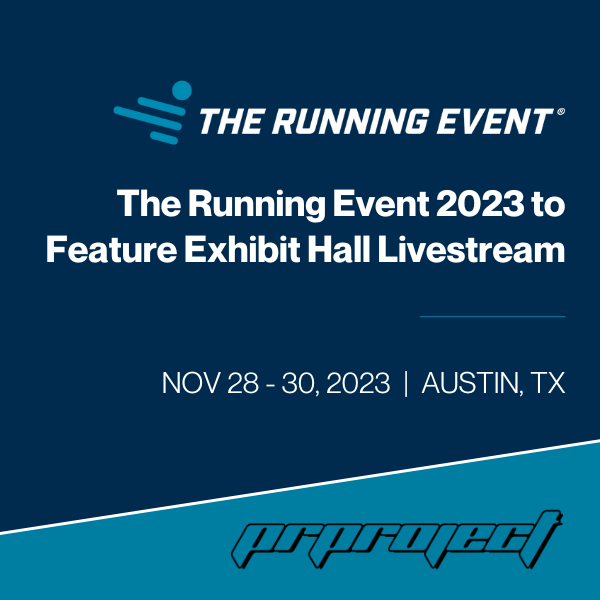 The annual conference and trade show is teaming up with PR Project to produce the first-ever TRE livestream
PORTLAND, Maine (September 25, 2023)/ENDURANCE SPORTSWIRE/ – The Running Event (TRE), North America's premier specialty retail conference and trade show, today announced its inaugural TRE Livestream in partnership with PR Project, a media team focused on amplifying the voices of Black, Indigenous, and all People of Color in the running space. The Running Event will take place this November 28-30 at the Austin Convention Center in Austin, Texas.
With the continued growth of running and outdoor activities across all demographics, TRE and Switchback at TRE look to expand its impact by offering an inside look at the business side of the running industry. Hosted by PR Project, the live broadcast will feature conversations with some of the world's top brands as well as TRE partner organizations, media outlets, specialty retailers, athletes, influencers, and more.
"The livestream will provide a never-before-seen perspective of The Running Event and Switchback at TRE," said Christina Henderson, Event Director, The Running Event. "PR Project will add a fresh, fun viewpoint to the event that brands, retailers, and all runners and walkers will appreciate. As the largest gathering of the run and outdoor specialty industry in the country, we're excited to share a piece of the TRE experience with more people."
In a media center located on the exhibit hall floor, PR Project Founder Tommie Runz along with Co-Host Gary Koutsoubos will hold short interviews and discussions throughout exhibit hall hours on Wednesday, November 29 and Thursday, November 30. The live broadcast will be available on TRE's website, with clips featured across social media channels as well.
"I am beyond thrilled to partner with The Running Event to bring this wonderful event to even more people," said Tommie Runz. "This is an opportunity for us to continue to grow the industry and make running more accessible. The PR Project team and I are pumped to be part of TRE in this capacity, and we can't wait to lift the curtain in November."
If your brand, store, or organization is interested in being interviewed on the live broadcast, contact TRE Marketing Manager Genae Salinas at gsalinas@divcom.com.
To register for The Running Event 2023, click here.
#####
About The Running Event
Launched in 2006, The Running Event (TRE) is North America's premier specialty retail conference and trade show. Each year, it attracts thousands of industry professionals seeking the latest in footwear, apparel, gear, and services. In 2022, TRE launched Switchback at The Running Event: an exhibit hall expansion showcasing outdoor brands. With numerous opportunities for peer learning, interactive and forward-looking conference programming, and dynamic product demonstration and discovery, TRE is the can't-miss trade show for run and outdoor specialty. For more information, visit www.therunningevent.com.