The RunnerBox and Another Mother Runner Release Limited Valentine's Day Box Which Sells-Out at Record Breaking Pace
February 13, 2018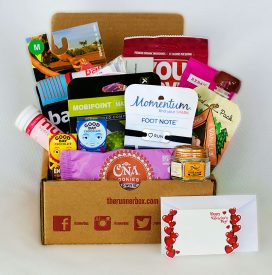 The RunnerBox, the leading provider of athletic gift boxes, recently partnered with Another Mother Runner to release a co-branded Valentine's Day box. This special edition featured Valentine's Day themed products and sold out in just nine days, the fastest sellout in The RunnerBox's history.
"Our first collaboration with AMR was a huge success and sold out in a matter of weeks so we fully expected a strong response on this second go-around," said The RunnerBox co-owner Laura Jorgensen. "We raised inventory by 30% in an attempt to meet demand and, even in doing so, we sold out twice as fast."
When asked if there was a specific driver of the increase Jorgensen responded, "I really think it speaks to the quality of both the partners that we featured as well as the satisfaction consumers felt with the first Another Mother Runner release. When the first co-branded edition went on sale, most purchasers bought one box. This second edition brought several repeat buyers who bought two, three or even four boxes."
The Valentine's Day Box launched on January 24th and was sold out by the beginning of February. Boxes featured a range of nutrition, gear and good-for-you chocolate aimed to be the female athlete's perfect substitute for the traditional box of chocolates or flowers. Featured products included:
RxBar Mixed Berry Bar
Ona Brownie-Honey Cookies
Customers confirmed their delight with the boxes saying, "Whether it restocks an old favorite or introduces me to something new, Another Mother Runner-themed Runnerboxes are excellent! Each one is a little box of running love, perfect for busy moms on the run!"
Another Mother Runner plans to release a highly anticipated Mother's Day box in May. Details surrounding the release will be made available in the coming months.
To learn more about Another Mother Runner, follow them on Instagram or Facebook. To learn more about The Runnerbox visit www.therunnerbox.com or follow The RunnerBox on Instagram, Twitter or Facebook. 
About The RunnerBox
Offering boxes for runners, cyclists and triathletes, The RunnerBox is a fun and easy way for any athlete to receive a regular supply of products to enhance their active lifestyles. Each box is filled with hand-picked products tested and approved by a team of professional athletes and nutrition experts. The RunnerBox offers subscriptions which are shipped every second month in addition to limited edition boxes and one time gift boxes. To learn more about The RunnerBox visit www.therunnerbox.com 
About ANOTHER MOTHER RUNNER:
Another Mother Runner, founded by Dimity McDowell and Sarah Bowen Shea, has cultivated a community of like-minded women with similar goals and challenges since their best-selling book Run Like a Mother hit the shelves in 2010 and struck a chord with audiences across the country. Train Like a Mother followed in 2012, and Tales from Another Mother Runner completed the trilogy in 2015. AMR has since expanded into a weekly podcast, online store for sassy running tees and accessories, active social community, popular blog, running retreats, and training club.