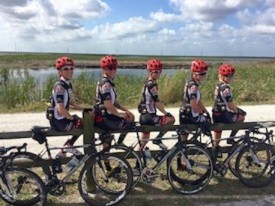 Elite Women's Team to Fuel Their Fire With XRCEL for 2016 Season
Charleston, SC (March 25, 2016) New World Consumer Products, LLC (NWCP), a division of New World Pharmaceuticals, LLC makes a new addition to the XRCEL team, the Stradalli Cycles/Papa Johns Elite Women's Race Team. Kristen Lasasso, Madison Kelly, Julia Fresne, Debbie Milne and Hannah Swan are the riders who will be powered by XRCEL Athlete Fuel, NWCP's extended-release sports performance formula, during the 2016 race campaign.
The exciting combination of hard-fought experience and energetic, youthful potential in the new Stradalli Cycles Team is a potent and fiery new force in the Women's Professional Racing field. With a collective trophy room boasting collegiate and professional championships, and an eclectic background of athletic excellence, the Stradalli Cycles/Papa Johns Elite team is the perfect group of competitors to bolster the steadily growing Team XRCEL roster.
"I am looking forward to a long and exciting relationship with such a great company with a unique and powerful product to fuel our team" said Tish Kelly, President Flamingo Racing and owner of Stradalli Cycles/Papa Johns Elite Women's Race Team.  "The XRCEL team is not only a pleasure to work with, but their enthusiasm and belief in their product is contagious! They really care about the well being and energy of athletes of all levels."
"I couldn't be more excited to have such a talented group of female cyclists join the XRCEL family," said Laura DeMeo, Business Development Manager-Endurance Sports for Team XRCEL. "We're proud to sponsor the Stradalli/Papa John's Racing Team and the dynamic and fierce competitive spirit they bring to the women's cycling scene. The team is loaded with talent and energy, but their friendly personalities outside of racing, is what truly makes them a compelling group of athletes. They have already proven to be highly-skilled and talented, turning in numerous podium finishes while continuing to work hard at their cycling growth and development. We can't wait to fuel their team with XRCEL's cutting edge extended release Athlete Fuel giving them a competitive edge and performance advantage throughout the 2016 season."
With the experience and guidance of veteran coach and team Race Director, Andrew Crater, the Stradalli Cycles/Papa John's Elite team, fueled by XRCEL, is poised to make big waves in the racing community. We are proud to have the opportunity to fuel their journey to the top ranks in women's professional cycling.
###
About Stradalli / Popa John's Elite Women's Race Team
Stradalli / Popa John's Elite Women's Race Team is owned by Flamingo Racing, LLC. This dynamic new elite team is comprised of former national champions as well as talented younger riders ready to make a difference in the world of women's pro racing. The team is dedicated to having fun, racing hard, and becoming significant ambassadors to the sport of cycling. For more information and to follow their success in the racing world visit flamingoracingllc.com and follow us on Facebook and Instagram  
About XRCEL® Athlete Fuel
XRCEL Athlete Fuel is a revolutionary extended release carbohydrate supplement formulated with patented pH and temperature responsive micro-gel technology developed by New World Pharmaceuticals, LLC.  XRCEL is a caffeine and banned substance free supplement designed to provide athletes with extended release muscle and brain fuel so that they may get the most out of their training and competitions.
New World Pharmaceuticals is based in Charleston, South Carolina. For more information, please visit http://www.NewWorldPharma.com.
For More Information
Media Inquiries:
Lisa Sexton
843.737.6192 Ext 104
Lisa@XRCEL.com