The Complete Race Director's Guide to Portable Restrooms
May 23, 2018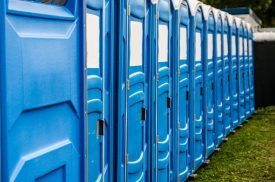 From concerts to conferences, festivals to football games, one common question will always arise: Where are the restrooms? The placement, number, access and cleanliness of restroom facilities is hugely important to the success (or failure) of any event, and this goes double for races.
Seasoned distance runners know that a great race begins with certain pre-race rituals–including the kind that requires plenty of t.p. and privacy. As such, your portable restroom strategy is one of the most important parts of your overall event plan. Do it well, and no one will have any complaints; do it poorly, and your race could be memorable for all the wrong reasons.
Today we'll address the portable restroom planning tips you need to ensure a smooth event for all of your participants:
Type & Amount
Ideal Placement
Pre-Race Precautions
Best Practices & Rules
What Type?
The first thing to do is determine which type of portable restroom–or porta-potty–is right for your budget and how many you'll need. Portable restroom pricing can range from $70-100 per unit, per day, with variations in price by location. Basic versions sit on the lower end of the budget spectrum, and "luxury" portable toilets are on the high end. In many cases, individual units make the most sense at endurance events. Hand-washing stations with pre-filled water tanks can be added, and some of nicer basic toilet models also include battery-powered lights.
We suggest making a few calls ahead of time to source price quotes in your area. Many providers will also give you a discount for ordering multiple toilets and keeping them for a longer period of time.
It is also important to include ADA-compliant or wheelchair accessible toilets. The number and placement needed will depend upon the size and type of event you're organizing (more on this point later). Also, larger units are good for parents who need to change diapers or assist small children. The easier you make it for your participants to find a restroom that meets their needs, the more likely they'll be to return to your next event and recommend your events to friends or family members.
How Many?
According to Road Race Management, organizers should generally plan for one porta-potty for every 75-100 race participants. For an all-day event, according to United Site Services, the industry standard is one portable restroom for every 50 guests, with an added recommendation to increase that amount to one unit for every 35 guests if you want to be on the safe side.
The size and duration of your event are important considerations when placing your portable restroom order. For example, family-friendly events and those with a high volume of spectators will necessitate a greater number of restrooms per capita. Being knowledgeable about your participants is key to making this decision.
Order your portable restrooms no fewer than two weeks before your race date to ensure they'll be delivered on time and to give your provider enough of a heads-up for inventory purposes. If your race takes place on the same day as another big event, you may have competition for porta-potty resources, so the earlier you order, the better.
Ideal Placement
Now that you've determined the type and number of porta-potties, it's time to decide where to place them. Ideally, the majority of your restrooms will be situated at the starting line and the finish line. These toilets should be visible and easy to access, and it's a good idea to put up directional signs. Keep in mind that many competitive runners have a pre-race ritual to try and minimize disruption during the race itself, so you may also want to designate one or more "Competitive Runners Only" toilets.
When it comes to porta-potty placement along the course, keep physiology in mind. Running stirs up stomach acid, which can cause runners to need to use the restroom later on in longer races–especially at miles 10, 11 and 12. Positioning at least one restroom every couple of miles later in the race will be appreciated by all participants.
Placement is also important when considering ADA-compliant and wheelchair accessible toilets. For most races, these can be placed predominantly at the starting and finish lines, where families and spectators are more likely to need them. However, if your event is specifically marketed to athletes who require accessible facilities, you'll want to have those facilities available throughout the course.
Pre-Race Precautions
Depending on where your race is taking place and the amount of time between delivery and the event, you may want to take measures to secure your toilets. In the case of a small race with only a few toilets, padlocks can be used for overnight security. For larger races, it may be necessary to hire a professional security guard or position a volunteer watch over your portable restrooms overnight. Ideally, restrooms will be fresh and clean for your first wave of attendees, so keeping them off-limits until race day is important.
Best Practices
With so much riding on these decisions, you may feel overwhelmed, but a few professional best practices will ensure you're in-the-know. For starters, Robert Medina, owner of Fresh and Clean Portapotty Rental, advises being proactive in your search for the right company to meet your needs.
"Look for a company that provides modern equipment," he says. "Ask questions such as, 'How big are your holding tanks, how many toilet paper rolls come with the units, do you have hand sanitizer dispensers and do you have an emergency service or a contact person available on the day of the event?'"
What's more, he advises against automatically going with the lowest-priced porta-potties. "Understand that you get what you pay for," says Medina. "Don't always rent the cheapest units."
This expert would also like to point out a lesser-known advantage to using portable restrooms. "Porta-potties save hundreds of gallons of water every day, and they never get the credit that they deserve," he says.
The Rules
Last but certainly not least, not everyone knows how best to handle themselves when this precious resource is in high demand. Feel free to print out this handy set of porta-potty rules for races and display if prominently.
Be Courteous to Runners Racing First – In events with more than one race or distance, runners with earlier start times should be allowed to use the facilities first. Friends, family and other supporters are encouraged to stay out of the toilet line–if possible–until after all the runners have taken off.
Don't Get Distracted – The restroom line is not the place to tweet, snap or take selfies. Pay attention and be ready to enter the unit as soon as you reach the front of the line.
Step Aside for Emergencies – When it's obvious a runner is experiencing an urgent situation of any sort, they should be permitted to cut the line.
Close & Lock the Door – Remember to close the toilet door securely and engage the lock so that others know it's occupied.
Be Quick – A porta-potty is not a phone booth or a reading room. Once inside, take care of business, and then make the toilet available to the next person in line.
Mind the Mess – Please wipe down the seat, lid or floor in the case of splashes or spills–and holes should never be used as trash cans.
Clean Your Hands – Soap and water aren't always an option, but porta-potties are often equipped with hand sanitizer instead. The Centers for Disease Control and Prevention recommends using an alcohol-based hand sanitizer containing at least 60 percent alcohol.
Alert Staff When a Porta-Potty Needs Attention – Participants should alert staff or volunteers when toilet paper needs to be refilled or if a portable restroom requires an emergency cleaning.