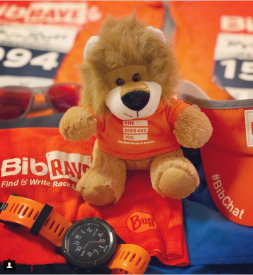 The Best Races in America decided by runner nominations, running industry surveys, and runner votes
(Austin, TX) – BibRave, the running industry leader in grassroots digital marketing, recently announced the 2018 edition of The BibRave 100: A Definitive List of the Best Races in America. Yesterday, the company shared the final results from The BibRave 100, including the Top Five Marathons, the Top Five Half Marathons, the Top Three 10Ks, and the Top Three 5Ks. All races that made the list were also invited to an awards luncheon at The Running Event.
[Drumroll…]
Capitalizing on a win in 2017, the Missoula Marathon was again voted The Best Marathon in America! Their 2nd consecutive win on The BibRave 100 also follows Missoula's placement atop Runner's World's "​10 Bucket List Marathons You Should Run in 2018," which cited The BibRave 100 among accolades considered when creating the list. Not only did runners love The Missoula Marathon in 2017, but even more runners learned about, ran, and loved the event in 2018. 
The Half Marathon category witnessed a shake up in 2018, with the OneAmerica 500 Festival Mini-Marathon taking home the title, while also pocketing awards for Awesome Medals & Bling and Exceptional Race Management. The AJC Peachtree Road Race maintained its dominance in the 10K category, while the Allstate Hot Chocolate Chicago 5K broke the tape in the 5K category.
The full results, including the other top finishers and the Awesome Medals & Bling, Beautiful On-Course Scenery, and Exceptional Race Management categories can be found at www.TheBibRave100.com.
All races listed on The BibRave 100 received The BibRave 100's plush mascot, Benjamin, along with multiple other awards from The BibRave 100 sponsors. Each race received a commemorative bib and award photo from sponsor EnPhoto (which showcases the company's photo ID and participant-sharing technology), plus a pair of AfterShokz Trekz Air and Recover Brands t-shirt, which uses recycled PET (plastic) and upcycled cotton to make their 100% recycled apparel.
Races on The BibRave 100 also received a digital graphic awards badge to add to their website, signifying that their race has been listed as one of "The Best Races in America." Recipients also received a digital press kit, which included publication templates, social media verbiage, and suggestions for fun ways to showcase and share images of Benjamin across social networks.
"BibRave is all about races and runners, so shining a light on the races who are doing it right via The BibRave 100 is hugely important to our brand and community," said Tim Murphy, Co-Founder of BibRave. "It's so hard to pull off a successful event, and even harder to differentiate amidst all the competition, so we're excited to bring this list of true standouts to runners and races."
The BibRave 100 launched in partnership with The Running Event, and was sponsored by MYLAPS Sports Timing, AfterShokz, Recover Brands, and EnPhoto. All races included in The BibRave 100 were recognized at an awards luncheon and ceremony on Wednesday, November 28th at The Running Event trade show and conference in Austin, TX. Races on The BibRave 100 received complimentary admission to The Running Event conference, including a conference session for all race directors, courtesy of BibRave.
"It's been a lot of fun to watch races and the running community fully embrace The BibRave 100 over the past two years, and we're excited to host and honor 'The Best Races in America' at The Running Event," said Mark Sullivan, Co-Founder of The Running Event. "The BibRave 100 is already becoming a central part of how runners decide what races to run, so The Running Event – where running brands, retailers, and now races come to meet and learn about the hottest trends in running – is a natural place to honor these exceptional events."
About MYLAPS Sports Timing:
MYLAPS helps athletes, timers and events to create the ultimate sports experience for participants, followers, and sponsors. Every year, MYLAPS captures the performance of over 20 million people all over the world, and turns their data into insights, progress, and fun. They  offer runners a better understanding of their performance and help them with their best next steps. Founded in 1982, MYLAPS has revolutionized the world of sports timing with groundbreaking innovations and set the standard ever since. Their products and platforms are used at professional events like the Olympics and NASCAR to countless local events around the corner. More info on www.mylaps.com.
About AfterShokz:
AfterShokz brings patented bone conduction technology, initially developed for military special operations and law enforcement by Voxtech in 2001, to sport, mobile and Bluetooth® headphones, designed and priced for everyday use. Through a suite of proprietary audio technologies and the only completely open ear design, AfterShokz headphones deliver premium stereo sound and a promise of safety and comfort that is second to none. Since its inception in 2011, the company has been committed to innovating unconventionally and making situational awareness a priority. Learn more about how to #BeOpen at AfterShokz.com.
About Recover Brands:
Recover's mission is to create the best, most environmentally friendly, and socially responsible products possible, educating and inspiring those around us to live and work for a sustainable tomorrow. Recover uses recycled PET (plastic) and upcycled cotton to make its 100% recycled apparel. Just eight plastic bottles make one shirt. Learn more at recoverbrands.com.
About EnPhoto:
EnPhoto technology is changing the way participants capture the emotional and physical accomplishment of completing an endurance event. This one stop platform – called The HUB – handles everything from registration, timing, photos, marketing, and results. EnPhoto offers a customizable product that provides events with the information you need at the tips of your fingers. Operating independently from bib/chip technology and seamlessly integrating with The HUB & Facebook, EnPhoto offers the fastest, most accurate system available on the market.
For more information, head over to enmotive.com/photography.
About The Running Event and Diversified Communications:
The Running Event (therunningevent.com) is a conference and retail trade show for running specialty retailers, hosting over 2,500 attendees and over 260 exhibitors at their annual conference. Diversified Communications, owner of The Running Event, is a leading international media company with a portfolio of face-to-face exhibitions and conferences, online communities and digital and print publications. As producers of these market-leading products Diversified Communications connects, educates and strengthens business communities in over 14 industries including: food and beverage, healthcare, natural and organic, business management and technology. Established in 1949 and headquartered in Portland, Maine, USA with divisions and offices around the world, Diversified Communications remains a privately held, third generation, family-owned business. For more information visit: www.divcom.com
About BibRave:
BibRave works with races and brands to help them engage with runners and ultimately drive more sales and registrations. Through their large and highly-vetted network of running bloggers (BibRave Pros), their popular Twitter event (#BibChat), and their new Podcast (The BibRave Podcast) BibRave helps endurance brands and races go beyond simple advertising and truly connect with more runners.
The company's consumer-facing product is a race review site where runners can learn about a race before signing up, and leave feedback after the event. The company launched in late 2013 in the Midwest and is now based in Portland, Oregon.