The Award-Winning, Best-Selling XLAB Torpedo Kompact – Now in Carbon!
November 18, 2016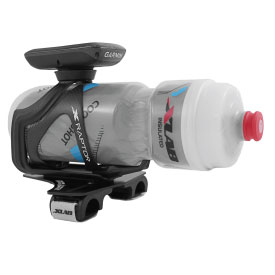 Hot on the heels of the top-selling Torpedo Kompact 100, XLAB, the first company to introduce horizontal between-the-aerobar hydration mounts, is now shipping the upgraded Torpedo Kompact 500. The Torpedo Kompact 500 ups the ante on the award-winning Kompact design, debuting a new carbon cage and carbon mount. The new system has already made its mark in the pro field as the choice of Melissa Hauschildt who clinched 2nd at the 2016 70.3 World Championship.
The acclaimed Kompact mounting plate was redesigned in unidirectional high-modulus carbon. The new system includes the carbon high-grip Raptor Cage – a sleek, minimalist cage in a black matte finish. The cage can be color-customized by swapping out the black end pieces – known as Raptor Talons – in a variety of colors including red, white and orange.
Included with the Kompact 500 is the hyper-reflective insulated Cool Shot bottle, providing extra visibility while out riding. New updates to the computer mount provide more durability on rougher roads.
The Torpedo Kompact 500 leverages the celebrated standard features of the Kompact Series, including under-a-minute setup and SecureClip brackets that don't bounce, rattle or shift mid-ride. For most athletes, the system installs without the use of a single tool. The sleek, SecureClipTM design eliminates the need for extra home remedies –  including zip-ties, rubberbands and electrical tape – that athletes often turn to in order to secure their hydration systems.
While bulkier systems limit hand placement in the aerobars and force hands into limited spaces, the short, rear offset design of the Torpedo Kompact Series measures in at only 145mm / 5.7in front-to-back making it the perfect solution for short aerobars. The offset design places the system further back over the stem, improving bike handling compared to systems that load weight onto the aerobars. XLAB's MegadjustTM Mounting System offers the widest adjustment range available, fitting aerobars 70mm-150mm (center-to-center).
The new Torpedo Kompact 500 is available now, MSRP $84.95.
Explore more on the Torpedo Kompact 500 at xlab-usa.com/torpedo-kompact-500.html
ABOUT XLAB:
A twenty-three year obsession with speed has launched XLAB into the lead as the premier manufacturer of aerodynamic hydration, nutrition and repair storage solutions. Our engineers passionately design, analyze and test systems for extremely light yet, extraordinarily reliable products that, propel athletic pursuit and have captured 29 30 World Championship titles. Unmatched in design, technology and style, we fuel our athletes with the innovations that stay ahead of the pack. Explore the leading innovations in aerodynamic accessories at www.xlab-usa.com