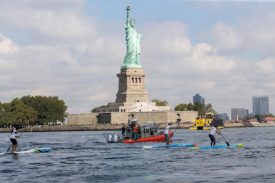 SUP Takes To The City And Sets New Precedent For Urban Adventure Events
(New York, NY, October 2, 2018) — The APP World Tour, the professional world tour for the sport of stand up paddle surfing, has successfully concluded the New York SUP Open, along with the multiple community activations the tour brought to New York City and Long Island residents. A full recap of the New York SUP Open's events is below, and please click here for the final race results for both men and women.
New York SUP Open Lady Liberty Race: Women's
Lady Liberty did not disappoint. The greatest standup paddleboard athletes on the planet gathered to test the waters of the Hudson River in NYC for the New York SUP Open, 2nd stop of the APP World Tour.  
The Women's Pro Race around the Statue of Liberty left no question that the female side of the sport continues to rise. Terrene Black (Australia), was back to reclaim her crown as 2017 Overall Women's World Champion and took on the Californian contingent led by Shae Foudy and Candice Appleby.
In a well deserved and much celebrated win, Appleby crossed the finish to loud cheers from spectators and a time of 1:11:28.  Foudy pulled in 30 seconds behind at 1:11:54 and Black crossed the finish at 1:13:28, taking the final podium place.
New York SUP Open Lady Liberty Race: Men's
The Men's Pro Race was stacked with the greatest field of talent the sport of SUP has seen in quite some time. The start line for the Men's Race included practically every top name in the sport, from legends such as Travis Grant (Australia) and Danny Ching (USA), Multiple times World Champions Kai Lenny (Hawaii) and Connor Baxter (HI), to the current major Contenders such as Michael Booth (Australia), Casper Steinfath (Denmark), Arthur Arutkin (France) and Mo Freitas (Hawaii).
In a nail-biting race, the top five athletes on the world tour drove for gold and points towards their overall World Championship Title. Arutkin crossed the finish first with a time of 58:23. Grant chased him down to the wire and crossed three seconds behind at 58:26. Booth held onto the podium by driving through the finish at 59:21.
New York SUP Open Sprint Race Challenge: 
Stormy conditions with thunder rumbling in the distance delivered ample rain, white water conditions and high winds for the New York SUP Open Sprint Races. Athletes battled hard to beat the conditions and their opponents, and it was once again anyone's race. With determination and grit, the world-class water-athletes prevailed to take top honors.
Men's Sprint Race Results
1st: Connor Baxter (Hawaii)
2nd: Casper Steinfath (Denmark)
3rd: Slater Trout (USA)
Women's Sprint Race Results
1st: Terrene Black (Australia)
2nd: Candice Appleby (USA)
3rd: Giannisa Vecco (Peru)
Men's Overall New York SUP Open Results Women's Overall Results
1st: Connor Baxter (Hawaii) 1st: Candice Appleby (USA)
2nd: Arthur Arutkin (France) 2nd: Terrene Black (Australia)
3rd: Casper Steinfath (Denmark) 3rd: Shae Foudy (USA)
New York SUP Open Surf Competition: Men's
After a lay day due to weather and conditions, Saturday dawned hot and beautiful in Long Beach. The waves were clean and in the 2-3 foot range for the final rounds of both the men's and women's competition and it was a day to remember at the New York SUP Open.
The Men's Surf Competition took on a new level of performance for New York as top seeds Poanaiki Raioha, Kai Lenny, Zane Schweitzer and Sean Poytner squared off through the rounds of elimination and faced stellar performances from the ever expanding talent pool here on the APP World Tour.
It was to be Sean Poynter's day, as he surfed an incredibly smart heat, and put together a strong performance in every respect to take victory at stop #1 of the 2018 APP World Tour.
New York SUP Open Surf Competition: Women's
For the women, the action was no less dynamic as supreme athletes such as Nicole Pacelli, Terrene Black, Izzi Gomez and Iballa Moreno battled it out through the heats to make their way through the rounds.
In that Finals Heat, it was two great women, Nicole Pacelli and Iballa Moreno surfing together to decide the champion for the New York SUP Open.
Iballa Moreno from the Island of Gran Canaria took victory in a closely fought out affair that brought the crowds to their feet.
Men's Surfing Results
1st Place: Sean Poynter (USA)
2nd Place: Zane Schweitzer (Hawaii)
3rd Place: Luiz Diniz (Brazil) & Poenaiki Raioha (Tahiti)
Women's Surfing Results
1st Place: Iballa Moreno (Spain)
2nd Place: Nicole Pacelli (Brazil)
3rd Place: Terrene Black (Australia) & Dominique Miller (Hawaii)
City Paddle Festival & Surf For All Benefit Paddle:
In addition to pulling off an incredible New York SUP Open, the APP simultaneously provided multiple community activations aimed at engaging the world's top SUP athletes with the New York and Long Island-based audience. City Paddle Festival, which took place during the Lady Liberty Race, saw thousands of visitors throughout the day. Fans were able to watch the entire race on a giant screen, listen to live music from APP Pro athlete Mo Freitas, browse the amazing vendor village and even paddle with the Pros in the APP's massive demo pool. 
In addition to City Paddle Festival, the APP also hosted a fundraising paddle for Surf for All, a non-profit spearheaded by Skudin Surf to bring weekly surf camps to children with autism and other special needs here in New York. The fundraiser paddle proved to be one of the highlights of the NY SUP Open as athletes and non-competitors alike come together to raise the spirits of children with special needs. After starting from the Hurley Surf Club in Long Beach, paddler's headed to Ted's Fishing Station in Lookout Point for an after party featuring live music and a massive cookout for all participants. 
Tristan Boxford, CEO of the APP said, "We're prouder than ever to represent the SUP community and promote water sports in urban environments. The success of the inaugural City Paddle Festival in New York City as part of the APP World Tour's New York SUP Open, is a testament to the appeal of Stand up Paddling and the sport's unique accessibility and diversity. Our athletes and our supporters made the events absolutely spectacular, and are integral to the growth of SUP and water sports for all communities. Thank you New York!"
More information on the City Paddle Festivals can be found at https://www.citypaddlefestivals.com/. For more information on the APP, please visit http://app.appworldtour.com/.
Media Contact: Jess Smith, OutsidePR, Jess@OutsidePR.com
 The APP World Tour and City Paddle Festivals are both properties of Waterman League International, an event and media production firm specialized in all things water. Headquartered in Ericeira, Portugal and with offices in the US mainland and Hawaii the APP World Tour celebrates the World's best athletes and promotes the sport of Stand Up Paddling across its global events and through its international media deliveries across many of the World's premier sports TV networks. Stay tuned for official broadcasts from the APP World Tour and for regular news, special features and entertainment at www.appworldtour.com and here at www.citypaddlefestivals.com