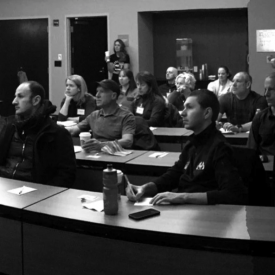 Day-long workshop on November 22 will provide USAT and USA Cycling CEUs
Boise, ID – April 11, 2019 – Team MPI (Multisport Performance Institute) is a group of experienced endurance coaches, located across the country, whose strength is rooted in a collaborative sharing of knowledge. This fall, on November 22, in Tempe, AZ, they invite coaches to their fourth retreat – the first to be hosted on the west coast. It will be held on the Friday of IRONMAN Arizona race week in Tempe.
It's an opportunity for coaches to gather for a full day of presentations, demonstrations, discussions, and practical applications of timely subjects within the world of coaching and endurance sports. Certified coaches can earn 7 CEUs from USAT and 7 from USA Cycling. The cost is just $75. Athletes are also invited to attend.
This retreat builds on the success of the most recent Team MPI Coaches Retreat held in Chicago, Illinois on January 26, 2019. It drew nearly 40 coaches for an incredible day that highlighted the need for additional opportunities to gather.
"We have a fantastic lineup of sessions for the fall retreat, led by exceptional coaches who are also great presenters, explains Mark Sortino, Head Coach and Co-Founder of Team MPI. "In addition to the rich content, the day also serves to invigorate coaches and grow the networks that we all depend upon to become our best coaching selves in what can be an isolating endeavor."
The sessions include:
Pandora's Box of Coaching the Swim – Mark Sortino
Relationship of VO2max vs Training Prescription– Dr. Manuel Delgado Gaona & Chris Palmquist
Building Your Coaching BRAND- Mark Turner
Functional Movement for the Multisport Athlete – Laura Henry
Three Athletes, Three Methods to IM Coaching – Gregg Edelstein
Multi-Sport Lifestyle – Increasing Positive / Decreasing Negative Effects on Overall Health– Dr. Amy Stanfield & Allen Stanfield
What It Takes to Be and Coach a World Champion – Aaron Scheidies
The retreat provides an opportunity for outside coaches to connect with Team MPI Senior and Head coaches and carry that forward into an ongoing coaching mentorship if desired.
To learn more about the Team MPI Coaches Retreat and to register, visit www.teammpi.com/coaches-retreat-west-coast.
About Team MPI
Team MPI (Multisport Performance Institute) offers individual coaching, training packages, camps, and clinics for endurance sport athletes as well as mentoring for coaches. Established in 2010, Team MPI is a nationwide staff of coaches who work in a collaborative and mentorship-based environment to bring best practices to each athlete in their unique pursuit of sport. The team is led by Head Coaches Mark Sortino and Chris Palmquist (both USAT Level III Coaches); senior coaches are Laura Henry, Amanda Leibovitz, Allen Stanfield, and Mark Turner; and staff coaches are David Bauerle, Liesl Begnaud, April Corey, Dr. Manuel Delgado Gaona, Don Jackson, Mandi Kowal, Maria Netherland, Becky Piper, Aaron Scheidies, and Adam Sczech. Learn more about Team MPI at TeamMPI.com, follow @TeamMPI on Facebook and Instagram, and subscribe to the weekly newsletter.