TBI Announces "Triathletes Choice" Best-of Event Finalists
January 4, 2018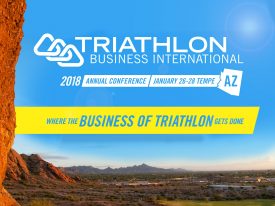 Triathletes' votes determines winners; revealed at 8th Annual TBI Conference Jan. 26-28
AUSTIN, TX– January 4, 2018 – Triathlon Business International (TBI) today announced the finalist events that were voted by triathletes as the "Triathletes Choice" best events in each of four categories: best large, small, bucketlist and intro race for beginners. More than 300 events from around the world were submitted in the nomination process. The finalist events received the most nominations in each category. Winners will be announced at the 8th Annual TBI Conference, January 26-28, 2018 in Tempe, AZ.
It's time for triathletes to declare their choice for the very best in each category. The voting link is https://www.surveymonkey.com/r/TriathletesChoice. Voting closes on Wednesday, January 17th.
As voters look at each category – large, small, bucketlist and intro race for beginners – they should consider whether the event:
challenges, inspires or brings out the best in participants;
creates an atmosphere of fun, excitement and energy;
goes beyond the "call of duty" when it comes to customer service, great organization and information, reasonable fees, coaching/advice, race day assistance, great volunteers;
and/or, raises money for charitable causes.
Each person will be limited to one vote per category, and can submit only one ballot.
The finalists in the "Triathlete's Choice" events are: (Events in each category are listed in alphabetical order.)
Best Large Race (1,000+ registrants)
Atlantic City 70.3
Escape the Cape
IRONMAN Lake Placid
IRONMAN Mt. Tremblant
New Jersey State Triathlon
Rev3 Quassy, Connecticut
Best Small Race (less than 1,000 registrants)
Clermont Triathlon Series #1
Eastbourne Triathlon
Hyannis Triathlon
Patriot Half Triathlon
Pumpkinman Triathlon
Best Intro Race for Beginners
Falmouth Sprint Triathlon
Musselman Triathlon
New Jersey State Triathlon – Sprint
Pat Griskus Sprint Triathlon
Pumpkinman
Tri the Wildwoods
Best Bucketlist Race
Challenge Roth
Escape from Alcatraz
Escape the Cape
IRONMAN World Championships, Kona
Sea to Summit
Voting deadline:  Wednesday, January 17, 2018, midnight. Triathletes Choice voting link.
The conference program, additional information and a registration link for the 8th Annual conference can be found on TBI's conference website.
Sponsors of the 2018 TBI Conference include The ACTIVE Network, Endurance Sportswire and Headsweats, TBI Corporate Partners are Ashworth Awards, MPA Event Graphics and FinisherPix.
About Triathlon Business International
Triathlon Business International is an industry organization dedicated to promoting the sport and the business of triathlon. Founded by a coalition of industry leaders, Triathlon Business International advocates for the interests of triathlon businesses, provides educational and informative programs, and encourages increased participation in the sport. For more information, please visit www.triathlonbusinessintl.com.
Follow TBI on Twitter and Facebook for the latest updates on the 2017 conference and information on our members.
# # #