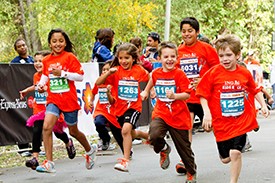 Sea World San Antonio will serve as the new location for the 1-mile kids run; More than 3,000 children expected to participate on Saturday, December 6
SAN ANTONIO, TX – August 29, 2014 – KiDS ROCK San Antonio powered by San Antonio Sports today announced SUBWAY® as the new title sponsor of the 1-mile kids run. This year, the non-timed, non-competitive children's event will take place at Sea World® San Antonio on Saturday, December 6. More than 3,000 children are expected to participate.
Children in kindergarten through seventh grade can become marathon finishers on race day by completing a marathon-training program, where they accumulate 25.2 miles over a four to eight week training period and then finish the final mile on race day. More than 180,000 kids will receive SUBWAY KiDS Rock training logs which will be distributed through local elementary schools and allow them to track their training on a daily basis.  Children are also able to participate in the mile run without the completing the training program.  On race day, each child receives a medal and t-shirt as they cross the finish line of their final mile — completing their own "marathon."
SUBWAY® released the following statement:  "Our local San Antonio-area SUBWAY® franchisees are thrilled to continue our long standing relationship with the San Antonio Sports organization, by sponsoring this year's KiDS ROCK event. Our restaurants are committed to ensuring that children in the San Antonio-area live a healthy lifestyle, including exercise and nutritious options with our Fresh Fit for Kids™ meals. By supporting our local kids and the KiDS ROCK event, we hope to do our part by keeping our local community on the right track."
As the title sponsor of the race, SUBWAY® will be sampling some of its healthy sandwich options onsite. In addition to training plans, SUBWAY KiDS ROCK San Antonio also provides nutrition tips for children. The 2014 event course includes a 1-mile run around the SeaWorld parking lot and amusement park. Children and families will have access to explore SeaWorld San Antonio following the race.
"We are proud to be the new host location for the KiDS ROCK San Antonio marathon this year at SeaWorld," said Park President Dan Decker.  "Our focus is providing a fun place for families and young people to connect with animals and nature, and my hope is that when they're here for the marathon they'll be inspired to stay active outdoors and appreciate the natural world we share."
"One of our goals is to encourage kids to live healthy and active lifestyles. Joining forces with SUBWAY as our title sponsor was a natural fit since maintaining health is not only about physical activity, but also nutritious food choices," said Russ Bookbinder, President &CEO, San Antonio Sports.  "We are looking forward to another great event and helping our young participants complete their one mile or cumulative marathon. And each finisher gets to enjoy a day at Sea World too!"
SUBWAY KiDS ROCK is aligned with First Lady Michelle Obama's "Let's Move!" initiative, as well as the President's Challenge, which encourages youth fitness. Runners can earn President's Challenge rewards for staying active and tracking their progress with other kids nationwide.
SUBWAY KiDS ROCK San Antonio takes place in conjunction with the 7th annual Rock 'n' Roll San Antonio Marathon & ½ Marathon on Sunday, December 7. For more information or to register please visit kidsrock.competitor.com.  
About SUBWAY® restaurants
Since 1965, SUBWAY® owners have been devoted to offering customers customized made to order sandwiches with a wide range of better-for-you options. Providing easy access to vegetables, detailed nutrition, dietary, and healthy lifestyle information has been a priority for the SUBWAY® chain for many years, earning the American Heart Association's Heart Check Meal Certification in 2012 for many Fresh Fit™ meal options. As the world's largest restaurant chain, thousands of dedicated entrepreneurs have the opportunity to run their own business, while playing an important role in their communities. To learn more information about us, visit
http://www.subway.com , like us on Facebook https://www.facebook.com/subway and follow us on https://twitter.com/subway. SUBWAY® is a registered trademark of Doctor's Associates Inc.
About SUBWAY KiDS ROCK San Antonio powered by San Antonio Sports
SUBWAY KiDS ROCK San Antonio powered by San Antonio Sports is a non-competitive, non-timed one mile run and cumulative marathon program for kids in grades kindergarten – 7th. As participants in the event, young athletes can become marathon finishers by completing 25.2 miles of a marathon at their own pace with guidance from parents or teachers. The event aims to motivate children to live a healthy lifestyle, so they can learn early on that running can be fun and goals can be attainable. On Saturday, December 6, all participants will meet to run one mile together. Each participant who crosses the finish line will receive a finisher's medal and goodies to commemorate the accomplishment. More information is available at http://kidsrock.competitor.com/.
About San Antonio Sports
San Antonio Sports is a nonprofit organization whose mission is to transform our community through the power of sport.  San Antonio Sports bids on and hosts premier sporting events such as NCAA® championships, which have generated a local economic impact of more than $446 million.  San Antonio Sports kids programs, including the i play! afterschool program, the Community Olympic Development Program, the Go!Kids Challenge™ and SUBWAY® Kids Rock marathon training program, annually touch the lives of more than 180,000 children.  Additionally, San Antonio Sports serves as a catalyst for the development of quality recreational and athletic facilities in our community.  To learn more, visit SanAntonioSports.org. 
###