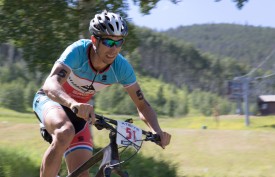 The 2016 XTERRA Beaver Creek Championship race on Saturday will host perhaps the most competitive elite field in race history.
The 2016 XTERRA Beaver Creek Championship race on Saturday will host perhaps the most competitive elite field in race history.
"The top 10 is going to be the strongest ever at this race I think," said the reigning XTERRA World Champion Josiah Middaugh.  "It's a super talented, deep field, which we don't always see here.  Some are new to XTERRA, some dabble in it, and there are a few XTERRA veterans here as well.  It's going to be interesting to see how it all pans out."
Among the XTERRA vets in the men's elite field you have Middaugh – winner of three straight and four of the last five here on his home course.   There's Brian Smith, an exceptional mountain biker, Branden Rakita, the runner-up on this course in 2013, and mountain dwellers like Cody Waite, Brad Zoller, Joshua Merrick, and Thomas Spannring.
Those that "dabble" in the sport – and do quite well when they do – include IM star Ben Hoffman who has been the runner-up here the last two years and in the top three for four straight years, Rom Akerson from Costa Rica, who was 4th here last year, Kiwi Kieran McPherson who is ranked 6th in the Pan Am Tour, Mario de Elias who was 6th at his home country race at XTERRA Argentina, and Austrian Michi Weiss, a former XTERRA World Champ.
Perhaps the most intriguing racers, however, are the XTERRA first-timers like Greg Bennett, an Olympian (4th in Athens) with more than 100 international wins in his storied career.
"Got on a mountain bike for the first time in 28-years back in November, and Laura and I have been having a ball," said Bennett. "We feel like newbies starting a brand new sport with so much to learn.  This will be our first XTERRA so our expectations are low, but we can't wait!"
Other newbies to XTERRA include accomplished roadies Leon Griffin, the 2006 World Duathlon Champ, AJ Baucco, Sam Long, and Patrick McKeon.
"The podium is going to be mixed up a bit, that's for sure, and I'm curious to see how Greg and Leon perform," said Middaugh.  "I know Ben and Michi will be strong.  I know Rom and the other Colorado guys like Brian and Branden will be strong, but it's hard to say how the other guys will do so it'll be interesting."
Middaugh, who sits in the 2nd position in the Pan Am Tour rankings after six events (trailing only Karsten Madsen who won the last two Pan Am Tour races in Canada), has victories at XTERRA Argentina, XTERRA Tahiti, and XTERRA Oak Mountain so far this season.  He said this one matters the most.
"There is a lot of pressure for this one.  I definitely put it on myself, and would say this is the most important race so far this year," said Middaugh.  "I want to win this one. It's the  best case scenario for me to race big names at home, and a great test to see where I'm at.  This type of race is reflective of nationals and worlds, so far as course profiles, so if I don't perform well I'll have to go back to the drawing board, and if do well, it means I'm on track."
SNYDER LOOKS TO MAKE IT THREE IN A ROW IN WOMENS RACE
Suzie Snyder has successfully overcome a prolonged rehab assignment after crushing her pelvis in a bike crash while pre-riding at XTERRA Mexico last year.
She won XTERRA Oak Mountain and XTERRA Mine over Matter in convincing fashion to start the season, sits in 3rd position in the Pan Am Pro Series, and hopes to improve on her best-ever finish here in the mountains which was her 3rd place showing in 2013.
"I'm keeping a positive attitude and embracing the challenge," said Snyder, who moved to Reno last year and for the first-time in her career had better altitude training options heading into this race.
"I've never had my best races here, whether it be the altitude or what, but I should be better prepared this year. Last year I had only been in Reno for a couple months and hadn't fully acclimated or been able to take advantage of the training opportunities the area has to offer. Though Reno is only 5000ft, I'm better acclimated to some altitude and have done a lot of climbing and training with great riders like Matt Balzer and feel much stronger in that aspect this year. This is a difficult course and always pushes your physical and mental strength but is a good progress test for Ogden which poses very similar challenges."
In Suzie's way of a breakout day are six girls ranked in the top 10 of the Pan Am Pro Series (Caroline Colonna, Maia Ignatz, Kara LaPoint, Rebecca Blatt, Debby Sullivan, and Sara Graves), the overall amateur XTERRA World Champion making her pro debut Julie Baker, 3x age group World Champ turned pro Elizabeth Gruber, Canadian Katharine Carter who feels right at home in the mountains, and a trio of XTERRA first-timers with Julie Stupp from Austin, Mayalen Noriega from Spain, and the most notable of the bunch – two-time Olympian Laura Bennett.
For Bennett, she says the hardest part is just letting go…
"My biggest setback so far in picking up the mountain biking component to XTERRA is thinking too much," she exclaimed. "I am working really hard on that, but what I have come to realize is that the less fit you are the more calculative you are and therefore are counterintuitive to what you are trying to achieve…letting go!   So I am most worried about not being fit enough to allow the bike to do what it does best…roll over everything and let it be in control.  Worried or not, I am sure it will be a great experience and I look forward to it!"
Three-time XTERRA World Champ Julie Dibens will also be racing, but likely as part of a relay team with IM great Cait Snow.  "Just not sure my knees are up to that run, but we'll see," said Dibens.
All-in-all a fantastic collection of elites set to take on one of the XTERRA World Tour's toughest challenges.  Follow the elite race live on twitter @xterraoffroad, #xterrabeavercreek, starting at 9am MST on Saturday, July 16.
XTERRA BEAVER CREEK ELITE START LIST
Rank denotes current position in XTERRA Pan Am Pro Series after six events.  NR = Not ranked
Rank – Name – Age, Hometown
2 – Josiah Middaugh – 37, Vail-Eagle, CO
4 – Ian King –  26, Virginia Beach, VA
5 – Branden Rakita – 35, Colorado Springs, CO
6 – Kieran McPherson –  24, Matamata, New Zealand
15 – Mario de Elias –  32, Boulogne, Argentina
16 – Rom Akerson –  32, Tambor, Costa Rica
19 – Cody Waite –  38, Lakewood, CO
29 – Thomas Spannring –  40, Longmont, CO
34 – Michael Nunez – 35, Salt Lake City, UT
38 – Jimmy Archer –  43, Denver, CO
NR – Rodrigo Acevedo – 30, Boulder, CO
NR – AJ Baucco – 30, Boulder, CO
NR – Greg Bennett –  44, Boulder, CO
NR – Leon Griffin –  36, Longmont, CO
NR – Ben Hoffman –  33, Boulder, CO
NR – Sam Long –  21, Boulder, CO
NR – Patrick Mckeon –  28, Philadelphia, PA
NR – Joshua Merrick –  35, Alamosa, CO
NR – Brian Smith –  41, Gunnison, CO
NR – Michael Weiss –  35, Colorado Springs, CO
NR – Brad Zoller –  39, Avon, CO
Women
Rank – Name – Age, Hometown
3 – Suzanne Snyder –  34, Reno, NV
4 – Caroline Colonna – 52, Taos, NM
5 – Maia Ignatz –  36, Boulder, CO
7 – Kara LaPoint – 30, Truckee, CA
8 – Rebecca Blatt –  36, Lakewood, CO
9 – Debby Sullivan –  35, Stafford, VA
10 – Sarah Graves – 39, Ballantine, MT
21 – Katharine Carter –  30, Vancouver, BC, Canada
NR – Julie Baker –  40, Sonora, CA
NR – Laura Bennett –  41, Boulder, CO
NR – Elizabeth Gruber –  27, Colorado Springs, CO
NR – Mayalen Noriega –  34, Mataro, Spain
NR – Julie Stupp –  30, Austin, TX
BEAVER CREEK HOSTS HIGHEST XTERRA ON WORLD TOUR
Colorado's high country during the summer time is something to behold with its big blue skies, white aspens, majestic mountain ranges and cool, fresh air.  It's simply beautiful and Beaver Creek Resort in Avon, host to XTERRA Championship racing since 2009, enhances the experience with world-class facilities and people.
Then there is the course itself which is an absolute beast, boasting the highest elevation of any major on the XTERRA World Tour.
It starts with a mile swim in the cold waters of Nottingham Lake situated at 7,400-feet elevation. Nottingham is just big enough to get a full mile swim with 2 laps, and Buck Creek flows into the reservoir so even though the lake is small, the water temp rarely tops 70 degrees.
The next step involves roughly 15 miles of mountain biking that climbs 3,500-feet into the thin air of the Rockies. The first climb on the bike gains 2,000 vertical feet in five miles.
The bike course peaks out at above 9,400 feet above the Arrowhead and Bachelor Gulch ski slopes, then turns into some well-maintained single track that switches through the aspen trees and works its way to the village-to-village trail and down to Beaver Creek Village.
The final piece of resistance is a calf-burning, six-mile trail run which breaks down into essentially two challenging climbs that each have over 500 vertical feet of climbing (roughly 1,050ft for the course).
Appropriately, America's best XTERRA athlete and reigning XTERRA World Champion Josiah "Beast Mode" Middaugh calls this place home, and has won the last three races here.
"What I like about this course is the fact that you have to dig deep and push yourself.  There is no easy way around it, so you'll have to test your limits to meet your goals," he said.
CATCHING UP WITH THE CHAMP
There is never a dull moment in the life of reigning XTERRA World Champion Josiah Middaugh.
As the father of three who runs a full-time coaching business and is a community icon, the demands on his time are relentless … even on race week!
Case in point: Tonight, just two days from one of the premier races of his season, he'll be one of the featured celebrities in the Star Dancing Gala, a benefit for the Vail Valley Foundation's Youth Power 365 program.  It's a big deal, and required a ton of practice time to nail down a routine.
"I'm excited to be able to help out," said Middaugh.  "It's for the Vail Valley Foundation.  The charity is Youth Power 365, and I see a direct benefit with my kids because that organization takes up a lot of the slack where the school funding falls short with after school programs and educational/recreational stuff in the community good that is really great for kids."
XTERRA racers can "vote" for Josiah in the fun-loving fundraiser at http://www.vvf.org/get-involved/star-dancing-gala/sdg-celebrities.aspx.
Yesterday we caught up with Middaugh to learn more about the dance, and other random things…
XTERRA: So, what dance are you doing?
Middaugh: I can't tell you, it's a surprise.  But it's a character dance modeled after a cult movie.
XT:  Through the years with you living here in Eagle-Vail and around Beaver Creek have you seen the general awareness for the sport of XTERRA increase?
JM: Yes, definitely.  When I first moved here it was a strong mountain bike community that dabbled in other stuff but it certainly wasn't a triathlon community.  Over the years, however, as a direct result of XTERRA, that has developed.  There is an XTERRA community here, training groups, and a lot of rides and runs.  The community is aware of XTERRA, even people that don't do XTERRA are aware of it with re-runs of the race shows on the TV all the time, and the local press that covers it like a real sport.  It's a fun place to live and clearly has a lot of great facilities and options for endurance sports enthusiasts.
XT: Your oldest boy Sullivan, 12-years-old, is doing the Sprint race by himself on Saturday.  Are you more anxious about his race or yours?
JM: I'll be more nervous about his race for sure. For me, I know what to expect.  For him, I'll be worried about him as a father, but he's got it figured it out I think. He'll be fine, he'll be worried less than me.
XT: What's your favorite part of this course, or what about it do you enjoy the most?
JM: I enjoy the fact that you have to dig deep and push yourself.  There is no easy way around it, and you've got to test your limits to meet your goals.
XT: And where is the most challenging spot on this course?
JM: Coming off the bike and starting the run up Aspen Glade.  It's hard to know what you have in your legs until you hit that climb.  Some years it has been good, and some years I've found the well is dry.
XT: How worried should visiting athletes be about running into Bears or other wildlife out there?
JM: I worry more about hitting tourists than I do hitting bears.  I've seen a bear maybe twice in 16 years here, but tourists are always around.  You've got to be careful coming around a blind corner and finding someone on a leisurely hike.
XT: What have you seen out there?
JM: I saw two mountain lions by arrowhead five years ago during the winter.  Saw a moose, elk, deer.  I did see a black bear running the other way during the race a few years back.
XT: What one piece of advice have you been consistently giving to your athletes racing this weekend?
JM: Mainly to pace yourself, kind of in all three disciplines, because you don't get many breaks on this course.  You've got to consider the entirety of the race and not blow yourself up during the first couple minutes of any of the three disciplines.
XT: You've been racing XTERRA for 15+ years, do you have a favorite XTERRA shirt that you still wear?
JM: Yeah, I still wear the Maui 2002 shirt all the time.  One of those old grey shirts, cool colors, basic design thin cotton.
XT: Having traveled all over the world with XTERRA, what do you say to the big group of international athletes who have traveled here to your backyard?
JM: We welcome all the visiting athletes with open arms.  That's the spirit of XTERRA to get out and live more, and that's what we want people to see in this destination just like the other ones. It's an amazing place.  Enjoy the environment, and take a break from your busy lifestyle.