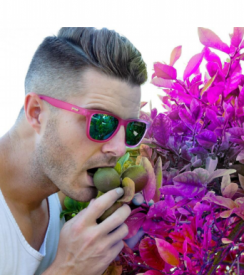 This energized CEO describes himself as a "stone cold baller" and will deliver an energetic look at how positive change is disruptive, through the lens of how goodr sunglasses are taking the running world by storm
DETROIT – Hold onto your hats and especially your glasses, because one of the running industry's most disruptive CEOs will be speaking at the 2019 Industry Conference in Puerto Rico.
Running USA announced today that Stephen Lease, the self-described stone cold baller who co-founded goodr sunglasses in 2015 and serves as the company's CEO (that's Chief Executive Octopus) will deliver a Tuesday keynote presentation at the conference, set for Feb. 10-12 in San Juan, Puerto Rico.
"This conference has got so many fun and innovative things going for it that adding Stephen's talk on the power of quirky disruptive change was the perfect fit," said Christine Bowen, vice president of programming, partnerships and operations for Running USA. "This brand has made a colorful splash in the industry and we expect this talk to do the same at the annual conference."
(Not registered for Running USA 2019 powered by the ACTIVE Network yet? Do so here.)
An entrepreneur who had been a part of six other start-up companies before he co-founded goodr, the company started out with the simple mission to make sunglasses for people who think running is fun. Since then, goodr sunglasses have been named "Gear of the Year" twice by Runner's World (2016 and 2018) and the company has been named a Best Place to Work by Inc. Magazine.
"Everyone thinks the team at goodr slams margaritas all day (and sometimes they do), but the truth is they're hustlers. I'll share how this crew is shaking up the running industry," Lease said. "If four years ago we would have given the running world a blank canvas and asked them to design an electric sunglasses brand, no one could have ever dreamt up goodr."
Lease joins the previously announced conference speakers. Find the full lineup here.
Set for Feb. 10-12 in San Juan, Puerto Rico, the 2019 Industry Conference powered by the ACTIVE Network is going to be a don't-miss event. The world's largest annual gathering of the running industry is known for its programming, networking, celebration and fun. Register soon as the conference price increases on Nov. 15, 2018.
Questions about travel to Puerto Rico? It's easy and affordable. Find all the details and answers to your questions on our Puerto Rico 411 page.
About the Industry Conference
Since its origins as a small gathering of Running USA's founders in Southern California in 2004, the Running USA annual conference has grown to becoming the best-attended, most esteemed gathering of running industry professionals from around the USA and the world. Now moving locations each year, the conference has been held in Los Angeles, San Diego, Savannah, Houston, San Antonio, Orlando, New Orleans and now San Juan, Puerto Rico.  Register here.
About Running USA
Running USA is a tax-exempt, not-for-profit organization devoted to improving the status and experience of distance running and racing in the United States through collective marketing and promotions, information and communications within the industry and to the national media, services to events and industry members, and the development of American world class stars. It seeks the advancement of the sport and the provision of value to each of its members' events and businesses. For more information, visit RunningUSA.org