Stages Cycling Dual Sided Power Meter for Ultegra 8100 Available Now
March 6, 2023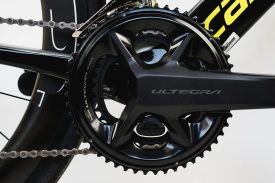 Boulder, CO – 6 March, 2023 /ENDURANCE SPORTSWIRE/ –Stages Cycling, a leading cycling technology company, today announced the launch of its dual sided power meter for Shimano's latest 12-speed Ultegra 8100 cranksets.
The drive-side Stages R crank arms and dual sided Stages LR cranksets for Shimano's 12-speed groups feature a new power meter design including new strain gauge placement and sensors. Units are available to purchase now in varying lengths and chain ring configurations for $839.99. Factory Install service for Ultegra 8100 cranksets is also available now, starting at 529.99.
Like all Stages Power meters, these new Ultegra units are built and individually calibrated in Boulder, Colorado to the same exacting standards of performance, accuracy and reliability as the rest of their product line, including the Stages Bike SB20 Smart Bike and models found in some of the biggest indoor cycling studios.
The current Gen 3 Stages Power technology features accuracy within 1.5 percent, active temperature compensation for consistent performance regardless of weather conditions, IPX7 water resistance, and user replaceable CR2032 batteries.
The Ultegra 8100 crankset is compatible with all 12-speed Shimano Hollowtech II road bottom brackets. Customers who have already purchased a left sided Stages Power meter for R8100 can purchase a drive side power meter and pair it to their existing left side to create a dual sided unit.
—end—
Stages Cycling LLC, with offices in Portland, OR and Boulder, CO, launched the Stages Power meter in 2012, immediately making waves in the power measurement category. Stages has expanded into the commercial and home fitness categories with the SC3 commercial indoor cycling bike, with groundbreaking features designed to improve rider experience and increase durability. In 2016, Stages completed the outdoor power training ecosystem with Stages Dash, a performance GPS head unit, and the Stages Cycling app, a cloud-based training service, guiding athletes to their best performances on the road and indoors through easy analytics, education, and custom coaching. More information at stagescycling.com.