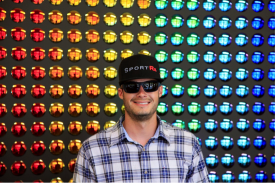 San Diego, CA (November 1, 2018) – The Boston Red Sox take the 2018 World Series and eight Red Sox artifacts are heading to Cooperstown to enter the Baseball Hall of Fame, including RHP Joe Kelly's prescription glasses. In addition to his triple-digit pitch velocity, Joe Kelly has become well-known by fans for his glasses. 
Since 2014, Kelly has had his prescription glasses made for both on and off the field by SportRx, a San Diego-based online prescription eyewear company that has led the sports optical industry since 1996. For the 2018 baseball season, SportRx outfitted Kelly in a pair of Oakley Flak Jacket 2.0 XLs, the #1-selling sports optical frame in the world. 
SportRx counted the glasses' induction into the Baseball Hall of Fame as a double win for both Joe Kelly and all eyewear wearers. Part of SportRx's mission is spreading the word about the little-known fact that it is possible to get wrap-around sports eyewear from your favorite brands in your prescription. 
"When Joe Kelly contacted us a few years ago about fitting him into a pair of prescription baseball sunglasses, it was a no-brainer," says Dan Bruton, SportRx CEO. "We want the world to know that your eyesight does not have to stand in the way of your performance," adds SportRx Vice President, Rob Tavakoli. 
Kelly pitched six innings over the five-game series, completing 10 strikeouts and allowing four hits, finishing the series with a 0.00 ERA and 0.667 WHIP. With Joe Kelly's current glasses heading for Cooperstown, SportRx's optical lab is already preparing his replacement pair for the off-season. 
About SportRx
SportRx is a San Diego-based online company that was built by active opticians who ride their bikes, run their races, push their jogging strollers, and bomb down slopes. Over the last two decades, we have specialized in custom prescription sport sunglasses (and prescription snow goggles!) for athletes in virtually every sport with virtually any prescription. Since 1996, we've been on a mission to help people see better while doing the things they love. Every member of our friendly customer service team is an ABO Certified Optician. With free shipping, free returns, and a five-star customer rating, we remove any barrier to ordering prescription eyewear online. SportRx also has a brick and mortar shop located in Pacific Beach, San Diego where local guests can experience the five-star SportRx treatment firsthand. Order all your favorite brands in prescription on sportrx.com and follow us on all our adventures on YouTube, Facebook, Instagram, and the SportRx blog.