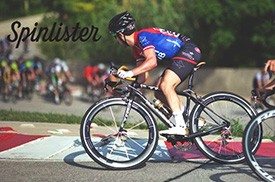 Spinlister Sponsors Team Yacht Club of Austin Texas
Spinlister, the peer-to-peer global bike share, announced today that they have signed a major 3 year sponsorship deal with Team Yacht Club (TYC), an Austin based cycling club known for their creative kits, top riders, and envious lifestyle branding. TYC plans to promote Spinlister at over 70 races in 2015 with branding, word of mouth, on-site and social media activations, as well as listing their own bikes for rent to other racers.
"To say we're excited to have Spinlister as a title sponsor is an understatement," says Matt DeMartino, Co-Founder of Team Yacht Club. "As we expand and begin to have a bigger presence across the state and nation, having the financial long-term support of global brands with a shared ethos, like Spinlister, is invaluable."
"After deciding to make Austin a major hub city, I couldn't help but notice the TYC kits, creative branding, and propensity to win," says Spinlister CMO Andrew Batey. "They are extremely passionate about cycling, professional, and share our vision of getting more people on bikes. Last but not least, they know how to have fun! I can't wait to see the creative activations that stem from this long term partnership."
Spinlister is encouraging bike owners to list their bikes at www.spinlister.com/list to make money and help fellow cyclists in need of a bike. All bikes are insured up to $10,000 against theft or damage. If you would like to rent a bike, please visit www.spinlister.com.
About Spinlister:
Launched on April 1st 2012, Spinlister is a peer-to-peer global bike share that allows users to rent and list bicycles, skis, snowboards, SUPs, and surfboards from each other in over 50 countries worldwide. With their seamless web, iOS and android apps, built-in security features, and a database of user reviews, Spinlister has won the trust of communities of athletes all over the globe.