SPEC PR Joins 2022 California Coast Classic Bicycle Tour + Arthritis Challenge Experience, Presented by Amgen
April 22, 2022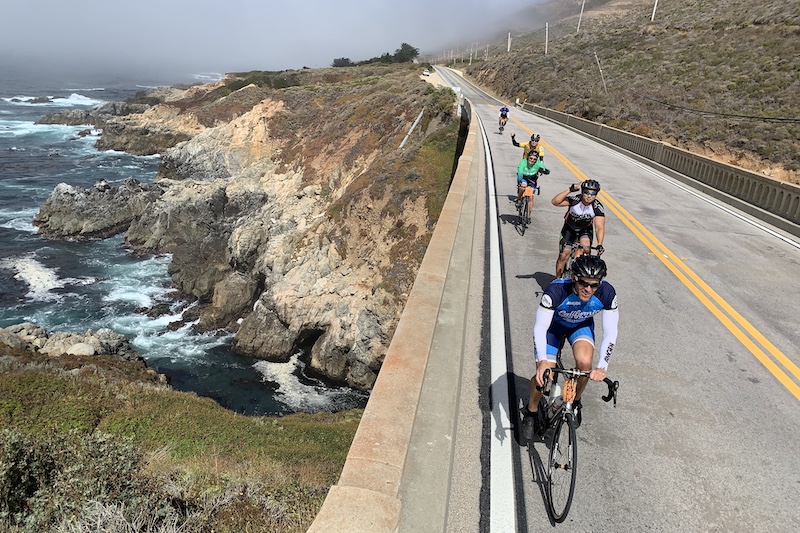 Arthritis Foundation Appoints SPEC as Agency of Record for its Leading Annual Fundraiser
LOS ANGELES – April 22, 2022 /ENDURANCE SPORTSWIRE/ – The Arthritis Foundation has signed SPEC PR, a public relations agency specializing in outdoor recreation and cycling, to spearhead public relations for its leading annual fundraiser, the California Coast Classic Bicycle Tour + Arthritis Challenge Experience, presented by Amgen.
The award-winning California Coast Classic Bicycle Tour is an eight-day, 525-mile ride that raises funds for the Arthritis Foundation. Each year, 250 cyclists commit to a fundraising goal and ride together down California's iconic Highway 1, creating lifelong bonds and memories. The boutique ride is fully supported, e-bike friendly, and open to beginners as well as experienced riders. This year's 22nd Edition is scheduled for September 10-17, and SPEC will be supporting the event's media relations, ambassador program development, and community relations, along with social media strategy and activation leading up to, and during, the event.
"Imagine the commitment these cyclists have to ride from San Francisco to Los Angeles – a full 525 miles in the saddle over eight straight days," said Van Holmes, SPEC PR founding partner. "We'll witness some extraordinary stories from riders who have signed up to support the one-in-four people who live with one of the many forms of arthritis. If you're a cyclist, this is a bucket list ride. If you're a brand looking to align with a fantastic organization that's making a difference, this is a great opportunity to re-ignite your cause-related marketing."
This year, in addition to the in-person tour, event organizers have launched the new Arthritis Challenge Experience (ACE) initiative that allows participants to choose their own adventure while still connecting with the CCC community. ACE, which was inspired by the Covid-19 pandemic, opens up opportunities for Arthritis Foundation supporters to participate with CCC from their own communities.
"The California Coast Classic is a critical fundraiser each year for the Arthritis Foundation, and the new ACE initiative provides an entirely new platform to reach cyclists and sports-minded enthusiasts who might not be able to come to the eight-day ride in California but still want to participate," said Shannon Marang Cox, Associate Executive Director for the Arthritis Foundation. "SPEC's team has shown a commitment to our mission, and their professionalism and creativity will help elevate and expand our public presentation, media presence, and community relations as we move back into growth mode this year."
In 2021, SPEC supported the CCC's onsite communications activities pro bono and is investing a significant amount of agency time again this year as part of the agency's beCause Marketing initiative, which supports the cause marketing efforts of brands and commits agency time and expertise to select cause marketing efforts.
In addition to engaging brand sponsorships for this year's event, SPEC is currently vetting potential media and ambassadors for a limited number of spots in this year's CCC. Qualified and interested media, ambassadors, and brands can reach out to info@specpr.com to learn more.
About the Arthritis Foundation
The Arthritis Foundation is fighting for all people who live with arthritis. As a Champion of Yes, the Arthritis Foundation's mission is to turn
the obstacles arthritis causes into opportunities. The Arthritis Foundation champions life-changing solutions and medical advancements, and also provides ways for people to connect, break down barriers in health care and join the fight for a cure — uniting hearts, minds, and resources to change the future of arthritis. To join the fight to cure arthritis, visit arthritis.org.
About the California Coast Classic Bicycle Tour + Arthritis Challenge Experience
The Arthritis Foundation's California Coast Classic Bike Tour Presented by Amgen, "The Ride of a Lifetime", is the winner of Gran Fondo Guide's Best Charity Bike Tour Award. It began in 2001 and is the flagship fundraising bike tour of the Arthritis Foundation, raising over $1 million dollars annually to support people who live with arthritis. Beginner and experienced cyclists are encouraged to join the 8-day, fully supported 525-mile journey down the coast of California from San Francisco to Los Angeles from September 10-17, 2022. Supporters who cannot come to the in-person tour are invited to join the Arthritis Challenge Experience, a choose-your-own adventure that connects participants to a the vibrant CCC community. For more information, please visit arthritis.org/californiacoastclassic.
About SPEC PR
SPEC PR is a public relations agency specializing in outdoor recreation. SPEC partners have more than four decades of experience in Strategic, Pragmatic, Effective Communications and the agency comprises a team of enthusiast-based media relations and content creation professionals. SPEC's beCause Marketing Initiative aligns agency core capabilities and values to help serve its mission of helping people have great experiences outdoors. More information is at SPECpr.com.
###
Media contact:
Julie Kelly