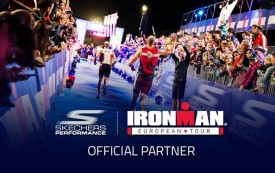 Footwear Giant Continues to Build Awareness on the Elite Performance Footwear Stage
MANHATTAN BEACH, CA./LIEDERBACH, Germany (Feb. 22, 2016) – IRONMAN is known for putting on some of the most challenging races in the world. And now, SKECHERS Performance—a division of SKECHERS USA, Inc. (NYSE: SKX) — has been announced as the Official Running Shoe Sponsor of the 2016 IRONMAN® European Tour, bringing the award-winning brand to elite runners across the continent and the United Kingdom.
Beginning with the IRONMAN® 70.3® Pays d'Aix event in May, SKECHERS Performance will be on site at 27 races in the IRONMAN European Tour. They will have a presence in the expo village and will be featured in event marketing—including race and event signage as well as new media and digital extensions. Athletes will be exposed to the SKECHERS Performance brand as they swim, bike and run, through Switzerland, Austria, Germany, the UK, Ireland, Spain, France, Italy, the Netherlands and Denmark.
"We couldn't be prouder to be partnering with IRONMAN and these incredible athletes for this exciting series," said Marvin Bernstein,managing partner of SKECHERS S.à.r.l. "Stepping onto the IRONMAN podium is a testament to our continued support and commitment to the running community, and our involvement with this tour will emphasize to both serious and casual athletes across Europe that we are a major player in the running category. This grassroots exposure is an essential opportunity to connect directly with our target running demographic and build brand awareness across all of Europe."
Over the last five years, SKECHERS Performance has been an increasingly active and dominant player in the elite running space, attracting athletes such as world class marathoner Meb, who in 2014 ran to victory in Boston wearing his SKECHERS GOrun shoes, as well as fellow U.S. elite marathoner Kara Goucher. European athletes such as Anja Beranek and Nils Frommhold have become fans of the brand thanks to the lightweight, flexible designs and award-winning innovative technologies found in every pair of SKECHERS Performance footwear.
"With the SKECHERS Performance mantra of 'Go Like Never Before' and their lightweight and innovative designs, we couldn't find a more dynamic running shoe partner for our events in Europe than SKECHERS Performance," says IRONMAN Chief Sales Officer Carola Ross. "We are thrilled to have them with us on this journey."
The tour includes a variety of race types. Two stops will be 5150 Olympic distance races where athletes will swim 1.5km, bike 40km and then run for 10km; 12 events will be half distance IRONMAN 70.3 triathlons, consisting of a 1.9km swim, 90km bike, and 21k, run; and 12 stops will be the full-distance ultimate single-day challenge IRONMAN triathlon, where athletes will swim for 3.8km, cycle for 180.2km and then run a full marathon.
Stop by the SKECHERS Performance booth at 2016 IRONMAN European events and check out the SKECHERS GOrun footwear collection for men and women. 
For more information on the IRONMAN brand and global event series, visit www.ironman.com. For more information on SKECHERS Performance, visit www.skechers.com.
About IRONMAN
The iconic IRONMAN® Series of events is the largest participation sports platform in the world. Since the inception of the IRONMAN® brand in 1978, athletes have proven that ANYTHING IS POSSIBLE® by crossing finish lines at the world's most challenging endurance races. Recognized for excellence through distinguished events, world-class athletes and quality products, IRONMAN has grown from a single race to a global sensation with more than 250 events and five unique brands: IRONMAN®, IRONMAN® 70.3®, 5150™ Triathlon Series, Iron Girl® and IRONKIDS®. For more information, visit www.ironman.com. 
About SKECHERS USA, Inc.
SKECHERS USA, Inc., based in Manhattan Beach, California, designs, develops and markets a diverse range of lifestyle footwear for men, women and children, as well as performance footwear for men and women. SKECHERS footwear is available in the United States and over 120 countries and territories worldwide via department and specialty stores, more than 1,340 SKECHERS Company-owned and third-party retail stores, and the Company's e-commerce website. The Company manages its international business through a network of global distributors, joint venture partners in Asia, and 13 wholly-owned subsidiaries in Brazil, Canada, Chile, Japan, Latin America and throughout Europe. For more information, please visit skechers.com and follow us on Facebook (facebook.com/SKECHERS) and Twitter (twitter.com/SKECHERSUSA).
This announcement contains forward-looking statements that are made pursuant to the safe harbor provisions of the Private Securities Litigation Reform Act of 1995. These forward-looking statements include, without limitation, Skechers' future domestic and international growth, financial results and operations, its development of new products, future demand for its products, its planned domestic and international expansion and opening of new stores, the completion of Skechers' European distribution center ,and advertising and marketing initiatives. Forward-looking statements can be identified by the use of forward looking language such as "believe," "anticipate," "expect," "estimate," "intend," "plan," "project," "will be," "will continue," "will result," "could," "may," "might," or any variations of such words with similar meanings. Any such statements are subject to risks and uncertainties that could cause actual results to differ materially from those projected in forward-looking statements. Factors that might cause or contribute to such differences include international economic, political and market conditions including the uncertainty of sustained recovery in Europe; entry into the highly competitive performance footwear market; sustaining, managing and forecasting costs and proper inventory levels; losing any significant customers; decreased demand by industry retailers and cancellation of order commitments due to the lack of popularity of particular designs and/or categories of products; maintaining brand image and intense competition among sellers of footwear for consumers; anticipating, identifying, interpreting or forecasting changes in fashion trends, consumer demand for the products and the various market factors described above; sales levels during the spring, back-to-school and holiday selling seasons; and other factors referenced or incorporated by reference in Skechers' annual report on Form 10-K for the year ended December 31, 2014 and its quarterly report on Form 10-Q for the quarter ended September 30, 2015. The risks included here are not exhaustive. Skechers operates in a very competitive and rapidly changing environment. New risks emerge from time to time and the companies cannot predict all such risk factors, nor can the companies assess the impact of all such risk factors on their respective businesses or the extent to which any factor, or combination of factors, may cause actual results to differ materially from those contained in any forward-looking statements. Given these risks and uncertainties, you should not place undue reliance on forward-looking statements as a prediction of actual results. Moreover, reported results should not be considered an indication of future performance. 
### 
Media Contacts:
Jennifer Clay
Skechers
Jolene Abbott
Skechers Performance Division
Stefan Jaeger
IRONMAN
Mobile Austria: +43 699 177 87 107
Mobile Germany: +49 151 105 143 42
IRONMAN®
2701 North Rocky Point Dr | Suite 1250
Tampa, FL 33607
(P) 813.868.5940 | (F) 813.868.5930
www.ironman.com