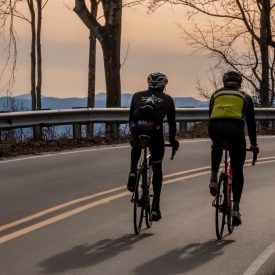 Brent Bookwalter welcomes title sponsor of Mitchelton SCOTT UCI World cycling team as provider of professional on-the-course support October 25-26
Asheville, NC – May 15, 2019 – Velo Girl Rides® is proud to announce the partnership with the Bookwalter Binge Gran Fondo and SCOTT SPORTS that will see SCOTT SPORTS become the exclusive provider of on-the-route mechanical support for riders.
SCOTT SPORTS offers a full line of bicycles for road, cross, gravel, and mountain biking. Title sponsor of the Mitchelton SCOTT UCI World professional cycling team, SCOTT SPORTS provides all team members, including Brent Bookwalter, with racing bicycles. "SCOTT SPORTS is proud to support Brent Bookwalter and the Bookwalter Binge as the exclusive bicycle sponsor," said Andrew Putt, SCOTT SPORTS US Marketing Manager. "Brent has been an influential leader for the sport of cycling in the United States over the past decade and has used this platform to give back to various charities and programs in his community. Events such as the Bookwalter Binge prove that cycling can provide both a healthy recreational outlet but also do good for society, and we are excited to be a part of the 2019 event."
Brent Bookwalter has been racing on SCOTT bicycles since he joined the Mitchelton SCOTT professional cycling team in January 2019. "I've been delighted with the quality and style that SCOTT SPORTS provides", said Brent Bookwalter, co-founder of the Binge. "I'm impressed by how well SCOTT delivers bicycles with cutting edge performance that play a big role in the team being competitive at the most demanding races in the world including the Giro d'Italia."
In addition to providing professional on-the-course support, SCOTT SPORTS is enthusiastic about providing both podium and raffle prizes for the after-ride Binge Bash Party.
Background
The Bookwalter Binge is a challenging Gran Fondo, studded with racing on timed segments of tough climbs. Participants ride alongside female and male pro cyclists as they celebrate the end of their season racing all over the world and the country. Riders, volunteers and sponsors celebrate the finish at the Binge Bash, a party and fundraiser held on the campus of Warren Wilson College.
A charity fundraising event, the Binge is held on the last Saturday every October in Asheville, North Carolina. Funds raised by the event are deployed to protect the environment through land conservation, a cause that is important to Brent and Jamie Bookwalter. The cornerstone non-profit partner is Southern Appalachian Highlands Conservancy, an organization that conserves unique plant and animal habitat, clean water, farmland, scenic beauty, and places for people to enjoy outdoor recreation in the mountains of Tennessee and North Carolina. First responders and other non-profit organizations receive funding from The Binge as well.
To Register
Registration is on pace to sell out before October 26, 2019 and space is limited to 350 riders. Participants may register online.
For more information, visit BookwalterBinge.com or call 828-412-4242.
About Velo Girl Rides
Velo Girl Rides is the Event Director for the Bookwalter Binge Gran Fondo. The company provides event organization and consulting and creates custom cycling routes for tours and events.