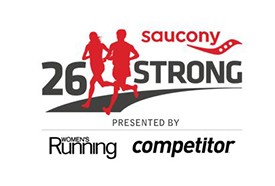 Unique Training Approach Demonstrates the Power of Community in Finding One's Strong
Lexington, MA and San Diego, CA (October 18, 2013) – Global performance running footwear and apparel brand Saucony® and  Competitor Group, Inc. (CGI), the global active lifestyle sports media and event entertainment company, have partnered to create the Saucony 26 Strong Project, a program that enables  individuals of all running abilities to accomplish the shared goal of completing their first-ever marathon.  The project further brings to life Saucony's Find Your Strong marketing platform: that people find personal strength through running.  And though running is often viewed as an individual sport, the Saucony 26 Strong Project demonstrates the power that a shared goal can have on a community of runners.
"We were overwhelmed with interest from the running community and received hundreds of applications to be part of the 26 Strong Project team," said Chris Lindner, chief marketing officer and senior vice president of commerce for Saucony.  "With the help of our run specialty partners, we narrowed the field down to 52 runners making up 26 teams, each featuring a 'veteran,' or experienced marathoner and a 'cadet,' or first-time marathoner."
Saucony launched the runner recruitment process in April 2013 through the Women's Running and Competitor media brands. This special group of 52 runners became the 26 Strong team and experienced: 
Each runner was provided with a training plan from the 26 Strong program's head coach Mike Norman, longtime Chicago running coach and Boston Marathon finisher; a complete footwear and apparel kit from Saucony; and ongoing support from their fellow teammates and the Saucony and CGI brands.
Through an integrated social media campaign team members share their training experiences and inspirational mantras, discussing a range of topics, such as nutrition, strategy and training challenges. The weekly topics can be followed at the program's hashtag, #26strong, on Facebook, Twitter and Instagram.
The program also hosts monthly Tweet chats for participants and the larger running community and has had conversations with Women's Running editor-in-chief Jessie Sebor, Competitor's senior editor, coach and author Mario Fraioli and, later this month, Saucony athlete Ashley Higginson.

 
"It's tremendously exciting for us to enter into a partnership with Saucony, a brand
with a rich heritage in running and one that that truly embodies the marathon spirit−especially evident in the brand's 'Find Your Strong' maxim," said Brian Metzler, Competitor magazine's editor-in-chief.  "Through this partnership, we've connected 52 individuals across the U.S. who were previously strangers in order to create a program that transforms the sport into something that is truly a social experience." 
Saucony 26 Strong Stories from the Road: 
Theresa Ferguson of Wheaton, Illinois, is running her first marathon in November− the Edward Hospital Naperville Marathon−as part of 26 Strong. Ferguson, who describes herself as a "mom of six from the suburbs," never envisioned herself as what she calls a "sponsored athlete." "CGI and Saucony do such great things to encourage and inspire runners at all levels, particularly with people like us−the 'cadets' of the 26 Strong program.  I so appreciate their support in helping me get to the starting line of my first marathon."
Marisa Boasa from Vernon, Connecticut, will attempt her first marathon in October when she races the ING Hartford Marathon.  "The Saucony 26 Strong program has allowed all the 26 Strong teammates to interact and motivate each other on days when we especially need a push or a laugh!" said Boasa who has experienced challenges throughout her training including a running injury.  The support of the team has been crucial to Boasa's success in training."What CGI and Saucony have done goes way beyond pairing 52 individuals together; They have created and connected a supportive group of runners, a community that cannot be shaken. When one team member falls, the others are there to motivate and help them back up.  Saucony 26 Strong is the epitome of strength and endurance!"
The 52 participants of the Saucony 26 Strong Project will participate in their fall marathons beginning in September and running through December 8, 2013. For more information or to follow the 26 Strong Project journey, please visit 26Strong.com or follow the program's social media pages on Facebook, Twitter and Instagram.
About Saucony
Saucony, a division of Wolverine Worldwide, is a leading global running lifestyle brand that fuses performance, innovation and style to create compelling footwear and apparel with its widely recognized brands Saucony and Saucony Originals.  Founded in 1898, Saucony continues to inspire runners everywhere with its award winning innovations, including the "Geometry of Strong™, ProGrid™, PowerGrid™ and ViZiPRO™ apparel. At Saucony, a good day is when we get to run. A great day is when we inspire someone else to run. For more information, go to www.saucony.com. 
About Competitor Group
Headquartered in San Diego, Calif., Competitor Group, Inc. (CGI) is the active lifestyle industry's leading media and event entertainment company. CGI's portfolio of media assets span the full range of the expanding endurance industry and include a robust digital community on the web and on mobile across the Competitor Endurance Sports Network of websites. Additionally, Raceit.com, a leading digital registration platform, is the catalyst for the company's race services offering that looks to meet the needs not only for the company's owned and operated events, but also for endurance events of all sizes on behalf of the entire industry.
CGI owns and operates 83 events around the world, including the flagship Rock 'n' Roll Marathon Series, the TriRock Triathlon Series, the NFL Run Series, Women's Running Series and the REI Muddy Buddy Series, collectively delivering more than 600,000 professional and amateur participants in 2012. Anchoring the company with rich content and marketing leverage are five publishing properties dedicated to running, cycling, triathlon and the world of multisport including Velo, Inside Triathlon, Triathlete, Women's Running and Competitor with a combined monthly circulation of over 700,000. Further information about CGI and its digital, publishing and event entertainment properties can be found at CompetitorMediaKit.com.