Santa Fe hosted GFNY North America Championship
June 27, 2019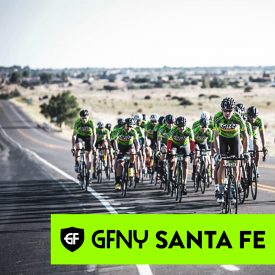 Under perfect racing conditions, New Mexico rider, Fortunato Ferrera conquers GFNY Santa Fe
NEW YORK CITY, June 27, 2019 – Fortunato Ferrera (RA Racing Apparel/BMC) lived up to expectations and soloed to victory at the inaugural GFNY Santa Fe last Sunday, June 23.
An international field, including former World Champion Nelson Vails and Olympian David Lettieri, started from downtown Santa Fe's historic Plaza. Crystal clear New Mexico skies and cool temperatures set the stage for a perfect day of racing. Closed or police moderated roads meant that riders could focus on racing the fully timed course and Be A Pro For A Day ®.
Within the first 5 miles of the 76-mile-long course route, Ferrera, Marcel Berger and Joseph Garcia (team Zia Velo) attacked and rode clear of a 35 rider pack. The trio quickly opened up a gap, covering the first hour at 28.6mph. The chasing pack struggled to form a cohesive offense to the trio led by Berger.
At mile 55, Ferrara's group started the penultimate climb up to Ski Santa Fe. The trio now had a twenty-two-minute cushion on a pack of 19 riders that were now having their own battle to see who would take 4th.
At the base of the climb Ferrera dropped his breakaway companions, deciding to solo the final 15mile (3300ft ascent). His gamble paid off and he rolled across the finish line in 3:30:55 to take the GFNY North America Championship. Five minutes back, Joseph Garcia of El Paso, Texas took second in 3:35:29 and Marcel Berger of Las Cruces, New Mexico rounded out the podium in 3:44:39.
Tess Amer out of Boulder, Colorado was 22ndoverall and took the women's victory in in 4:20:25. Hilary Heskett of Tucson, Arizona came second in 4:23:17 and Tamatha Risner completed the top three in a time of 4:37:49.
Overall GFNY North America Champions Amer and Ferrera win flight and accommodation at the GFNY World Championship in NYC on May 17, 2020. All athletes finishing in the top 20% of the race, get to start at the World Championship in the qualifiers corral.
Next up is GFNY Costa Rica on July 7.
About GFNY
GFNY is the global cycling marathon brand with events held in NYC, Argentina, Bali-Indonesia, Brazil, Chile, Colombia, Costa Rica, Ecuador, Italy, Jerusalem-Israel, Indonesia, Cozumel-Mexico, Monterrey-Mexico, Panama, Philippines, Portugal, República Dominicana, Santa Fe-USA and Uruguay.
Riders get to BE A PRO FOR A DAY ® by competing against others, themselves and the clock in a personal endurance challenge.
At all GFNY events, riders have the chance to qualify for the elite racer corral at the GFNY World Championship in NYC by placing in the top 10% (20% at regional championships) of their age group.
Campagnolo GFNY World Championship NYC
The 10th annual Campagnolo GFNY World Championship New York will be held on May 17, 2020. The race features the world's most international peloton with riders from over 90 countries. Athletes take on a challenging 100-mile route from NYC to Bear Mountain to Fort Lee to compete against each other, the clock and themselves in a personal endurance challenge.
The official GFNY website is: www.gfny.com.
GFNY World 2019/20 calendar
7 July GFNY COSTA RICA 
4 August GFNY BRASIL
8 September GFNY EUROPE CHAMPIONSHIP PORTUGAL
22 September GFNY PHILIPPINES
12 October GFNY ECUADOR
20 October GFNY PANAMA
3 November GFNY ARGENTINA
10 November GFNY COZUMEL-MEXICO 
24 November GFNY CHILE
23 February 2020 GFNY BALI
8 March 2020 GFNY MONTERREY
15 March 2020 GFNY SOUTH AMERICA CHAMPIONSHIP URUGUAY
22 March 2020 GFNY COLOMBIA
29 March 2020 GFNY ITALIA
29 March 2020 GFNY REPUBLICA DOMINICANA
24 April 2020 GFNY MIDDLE EAST – AFRICA CHAMPIONSHIP JERUSALEM
17 May 2020 GFNY WORLD CHAMPIONSHIP NYC
Further Material for Media Use
GFNY Santa Fe photos: here
GFNY World calendar graphic: here
GFNY photo archive (credit SPORTOGRAF): here