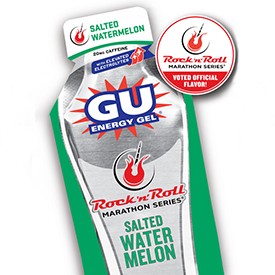 Runners voted in GUMOCRACY campaign to select new GU flavor—Salted Watermelon; First time GU Energy Labs fans were able to vote on a new flavor; GU created new energy gel flavor specifically for the Rock 'n' Roll Marathon Series
SAN DIEGO, CA – March 5, 2014 – Rock 'n' Roll Marathon Series and GU Energy Labs today announced the first Official GU Flavor of the Rock 'n' Roll Marathon Series. As part of the GUMOCRACY campaign, fans voted on three GU Energy Gel flavors. Salted Watermelon received approximately 50% of the 6,955 votes and will become the official on-course flavor at the musically-themed running series.
"The GUMOCRACY campaign was a great way to engage our fans and get feedback on new flavors," said Lauren O'Connor, Director of Marketing of GU Energy Labs. "GU has never allowed the public to vote for a new flavor. Since we don't roll out new flavors often it was great to activate our partnership with the Rock 'n' Roll Marathon Series and to fuel the performance of the participants."
GU Energy is the official energy gel and chew of the Rock and Roll Marathon Series. Salted Watermelon will become the 13th flavor in production and coined the Official GU Flavor of the Rock 'n' Roll Marathon Series. The winning flavor will be available on June 1 at all Rock 'n' Roll Marathon Series races, starting with the 2014 Rock 'n' Roll San Diego Marathon & ½ Marathon to Benefit The Leukemia & Lymphoma Society.
"Endurance sports athletes of all abilities know and love GU as a leading energy gel and performance nutrition product for race day and training," said Bill Pedigo, Chief Revenue Officer of Competitor Group, organizers of the Rock 'n' Roll Marathon Series. "Partnering with GU is a natural fit and we enjoy supporting activation campaigns such as GUMOCRACY since it provides a fun way for our participants to engage with both of our brands."
The GUMOCRACY campaign was the first time GU Energy Labs allowed fans to vote on the newest flavor to develop and launch. GU developed three new flavors – Salted Watermelon, Apple Cinnamon and Caramel Macchiato – specifically for the voting campaign to select one new official flavor. In addition to being available on-course at all Rock 'n' Roll Marathon Series races, fans can also purchase the new Salted Watermelon GU Energy Gels at select retailers in North America.  
ABOUT GU ENERGY LABS
GU Energy Gel, the original energy gel, was developed in 1993 in Berkeley, California.  To this day, GU remains the market share leader by a margin of more than two to one, and is still the premium gel available to endurance athletes. GU, Roctane, Chomps and Brew are designed to provide athletes with scientifically-based, performance-tested nutrition. For more information about GU, visit www.GUenergy.com.
About the Rock 'n' Roll Marathon Series
Organized by Competitor Group, the Rock 'n' Roll Marathon Series is the 'World's Largest Running Series' with more than 500,000 runners taking part in events around the world every year. Started in 1998, the simple idea of making running fun has transformed the U.S. running landscape by infusing the course with live bands, cheer teams and entertaining water stations, creating a block-party atmosphere for participants and spectators alike. Today, the series of marathons and half-marathons has spread to more than 29 destination cities, drawing visitors from around the world.
Race weekend kicks off with a free Health & Fitness Expo with more than 100 exhibitors offering samples and showcasing the latest in running gear, sports apparel, health and nutritional information and much more. Events culminate with an entertaining finish line festival featuring some of the biggest names in music, with headliners like Pitbull, FloRida, Cheap Trick and Bret Michaels. For more information, please visit www.RunRocknRoll.com or follow @RunRocknRoll on Twitter.
# # #