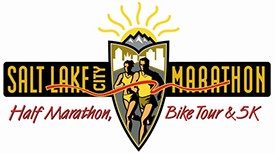 WHAT: In celebration of the upcoming 11th anniversary running of Salt Lake City's original marathon – race organizers are excited to announce today the new race course and festivities. The race, now owned by Life Time – The Healthy Way of Life Company (NYSE: LTM) and produced by its premier endurance events division Life Time Athletic Events, will take place on April 19, 2014.
Race Director Steve Bingham said today "we could not be more excited to have the opportunity to celebrate the 11th anniversary running of the Salt Lake City Marathon with a new race course through the scenic and beautiful streets in one of America's great cities."
The new course (attached) will start as in past years under the George S. Eccles Legacy Bridge at the University of Utah. Runners will enjoy running by many of Salt Lake City's iconic scenes including the Federal Heights neighborhood, the Avenues, Memory Grove, Sugarhouse and Liberty Parks – ending with a party at Library Square/Washington Square in downtown Salt Lake City.
Bingham added, "We are very proud of the new course and the opportunity to continue an important Salt Lake City event that adds to the overall health and economic impact for the entire community."
More race announcements, sponsor events, important race information, and registration for the Salt Lake City Marathon, Half Marathon, Bike Tour, 5K and Kids Marathon at: SaltLakeCityMarathon.com.
WHEN: April 19, 2014
WHERE: Salt Lake City, UT
Registration is very fast, easy, and available at www.saltlakecitymarathon.com
About Life Time Fitness, Inc.
As The Healthy Way of Life Company, Life Time Fitness (NYSE:LTM) helps organizations, communities and individuals achieve their total health objectives, athletic aspirations and fitness goals by engaging in their areas of interest — or discovering new passions — both inside and outside of Life Time's distinctive and large sports, professional fitness, family recreation and spa destinations, most of which operate 24 hours a day, seven days a week. The Company's Healthy Way of Life approach enables customers to achieve this by providing the best programs, people and places of uncompromising quality and value. As of January 29, 2014, the Company operated 108 centers under the LIFE TIME FITNESS® and LIFE TIME ATHLETIC® brands in the United States and Canada.
Additional information about Life Time centers, programs and services is available at lifetimefitness.com.
# # #