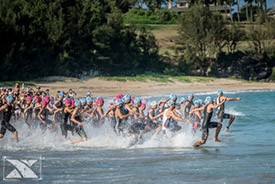 Maui turned up the heat and the competition turned up a notch at the 18th annual XTERRA World Championship on Saturday afternoon.
October 27, 2013 (Kapalua, Maui) – Maui turned up the heat and the competition turned up a notch at the 18th annual XTERRA World Championship on Saturday afternoon.
More than 800 endurance athletes from around the world participated in the off-road triathlon, which started and finished at The Ritz-Carlton Kapalua hotel on Maui. The course consisted of a 1-mile swim, a 20-mile mountain bike, and a 10-kilometer (6.2 miles) trail run.
Temperatures approaching 90 degrees turned it into a race of attrition as much as a race of competition.
Ruben Ruzafa from Spain made a triumphant return to the top of the XTERRA World Championship podium after completing the course in 2 hours, 34 minutes, 34 seconds.
Nicky Samuels from New Zealand took the women's title in her first appearance at the XTERRA World Championship. She finished the course in 2:57:48.
Ruzafa and Samuels each received $20,000 for their respective victories.
Ruzafa rallies to take men's title 
Some people like to visit the island of Maui every five years or so to enjoy the sun and sand of a Hawaiian island. Ruben Ruzafa likes to visit Maui every five years to win the XTERRA World Championship.
Ruzafa, who is 29 and resides in Malaga, Spain, won the 2013 XTERRA World Championship for the second time in his career on a hot Saturday afternoon. Ruzafa won the XTERRA Worlds in 2008, got injured a few days before the 2009 race, then spent the next few years focusing on mountain bike races.
"We knew that it was a really hot day," Ruzafa said. "I drink a lot (of water). I drink three bottles on the bike so I can make it to the run relatively fresh. I pushed hard and I'm very, very happy."
Ruzafa trailed the leaders by around two minutes after the swim, but he more than made up for it with an astonishing bike ride. He finished with a bike split of 1:30:11, which was the fastest of the day by more than a minute. He eventually reeled in all the leaders on the bike, and had a lead of about 45 seconds entering the run.
"I was really surprised," Ruzafa said of his ability to pass the other pros on the bike.
Nobody got close to Ruzafa on the run, and he eventually finished 1 minute, 27 seconds, ahead of the rest of the field.
"Two (XTERRA) championships is really, really good for me," he said. "It's a dream."
Runner-up Asa Shaw from France (via England), also described his best XTERRA showing as "a dream."
If Ruzafa had the bike ride of the day, Shaw pulled off the run of the day. He passed four fellow pros on the run to capture second place.
"I didn't really know where I was," Shaw said of his position in the pack. "I was just pushing as much as I could to catch anyone in front of me."
He finished with a time of 2:36:01, including the fastest run split of the day at 39:24. Shaw, 29, holds professional status on the XTERRA circuit, but he also works full-time as a carpenter in Saint-Raphael, France.
"When I go to work every day, I see professional athletes who train every day," he said. "For me to be able to do a podium (finish) today is enormous."
Keeping with the dream theme, Ben Allen from Australia also described his career-best third-place finish as such. He placed 35th last year after experiencing mechanical problems with his bike.
"I sort of had disappointment in the back of my mind, and I used that as motivation to really dig deep," said Allen, 28. "I've worked so hard over the past two years, and to finish on the podium against a quality field is amazing."
Allen was one of the leaders out of the swim, and stayed in the top three for most of the bike and run legs. He was in second after the bike before Shaw passed him midway through the run course.
"To ride with (Ruzafa), I had to ride like a madman," Allen said. "I think I was the loosest guy out there on the corners, and just taking as many risks as possible to stay with Ruben, who's a phenomenal rider."
Allen finished in 2:36:24, just 23 second behind Shaw.
Josiah Middaugh from Colorado placed fourth overall and was the top American finisher for the third year in a row and sixth time in his career. His time of 2:37:44, included a 1:34:36 bike split, which was second only to Ruzafa.
"I'm happy with the effort I put into it, but I was a little too far behind out of the water," he said. "I was about a minute, 30 (seconds) to the lead after the bike, and that's usually a pretty good position, but it's really hard to make up that much time on the run when you're not feeling fresh and I put a lot into the bike trying to catch guys."
Braden Currie from New Zealand placed fifth (2:39:05) for his best showing at XTERRA Worlds, and four-time former world champ Conrad Stoltz from South Africa was sixth (2:39:31).
Nicolas Lebrun from France placed seventh overall in his farewell to the XTERRA World Championship as a pro. The 2005 world champion is retiring from professional competition to focus on coaching, and he was inducted into the XTERRA Hall of Fame the night before the race.
"My dream was to be close to the top five, and today it happened," he said. "I wanted to finish my career with a good race, a top 10. I didn't want to struggle at the end. I wanted to enjoy the race –make it both a good race and a spiritual race, and that's exactly what it was."
Rounding out the top 10 were Marvin Gruget from France in eighth (2:40:57), Leonardo Chacon from Costa Rica in ninth (2:42:08) and Brice Daubord from France in 10th (2:43:00). Chacon was near the lead for the first half of the race, but appeared to succumb to the conditions late in the bike and the run.
2013 XTERRA WORLD CHAMPIONSHIP PRO MEN RESULTS
Pl
Name
Age
Hometown
Final Time
Purse
1
Ruben Ruzafa
29
Malaga, Spain
2:34:34
$20,000
2
Asa Shaw
29
Frejus, France
2:36:01
$12,000
3
Ben Allen
28
North Wollongong, Australia
2:36:24
$7,000
4
Josiah Middaugh
35
Vail, Colorado
2:37:44
$4,000
5
Braden Currie
27
Wanaka, New Zealand
2:39:05
$2,500
6
Conrad Stoltz
40
Stellenbosch, South Africa
2:39:31
$1,500
7
Nicolas Lebrun
40
Digne-les-Bains, France
2:40:57
$1,000
8
Marvin Gruget
21
Beaumes de Venise, France
2:42:03
$800
9
Leonardo Chacon
29
Liberia, Costa Rica
2:42:08
$600
10
Brice Daubord
28
Orleans, France
2:43:00
$500
Also: Francois Carloni, Richard Murray, Kris Coddens, Dan Hugo, Jan Kubicek, Ryan Ignatz, Courtney Atkinson, Felix Schumann, Dennis Kruse, Will Ross, Jan Francke, Branden Rakita, Olivier Marceau, Fabio Guidelli, Adam Wirth, Kyle Leto, Jason Michalak, Chris Ganter, Andy Lee, Richard Stannard, Grant Bovee, Brian Astell, Tim Snow, Jim Thijs, Bruno Silva
Samuels stuns the women's field 
The women's race had no such drama at the front, as Samuels jumped into the lead early in the bike and stayed somewhat-comfortably in front the rest of the way.
"A bit shocked, really," Samuels said of her successful debut at the XTERRA World Championship. "I didn't know how my descending skills, or lack of, was going to stand up to the other girls."
Samuels, 30, who raced for New Zealand at the London Olympics and normally focuses on ITU road events, and said she practiced her mountain biking for only three weeks prior to this race. Still, she was able to post the second-fastest bike split among the females at 1:49:36.
"I thought it would be hot and thought there would be a lot of sandy stuff on the bike," she said. "I guess that's what it might have been, but more of a mountain bike course with berms and jumps and things. It was kind of like a school cross country race when you're 5 or 6. It was fun, something different and a nice way to end the season."
She is the first female from New Zealand to win the XTERRA World Championship (Hamish Carter took the men's title in 2006).
Her victory ended the successful run of Scotland's Lesley Paterson, who was the two-time defending XTERRA women's world champ and had posted seven consecutive XTERRA race victories leading up to this year's Worlds.
"I just didn't feel like I had the legs from the start and that's a horrible course to feel like that," said Paterson, 33.
Paterson said she knew midway through the bike that victory was probably out of reach, but she still displayed her champion spirit by tracking down two fellow pros on the run to take second place.
Paterson finished the bike in fourth, but passed Barbara Riveros first on the run, then staged a late surge to pass Flora Duffy in the final 100 meters of the run.
"I came off the bike just way down, not where I wanted to be, and I just fought all the way," she said.
Paterson finished in 3:00:14, including the fastest run split of the day at 43:55.
Duffy, who is an Olympian from Bermuda, finished in third – five seconds after Paterson – for an impressive debut of her own at the XTERRA Worlds. "I'm shocked," she said. "Coming into this race, I was kind of here just for fun."
On Paterson's late pass for second place, Duffy said: "I couldn't respond. I was just hoping there was nobody behind Lesley."
Riveros, who is an Olympian from Chile and placed second at the 2012 XTERRA Worlds, took fourth this year with a time of 3:01:43.
Emma Garrard from Park City, Utah, continued her strong showing at the end of this season with a career-best fifth place finish (and first American). She finished in 3:01:49, just six seconds behind Riveros. It followed her career-best fourth-place finish at the XTERRA USA Championship last month.
Chantell Widney from Canada was sixth (3:04:36) and Helena Erbenova from the Czech Republic was seventh (3:05:16).
Colorado's Shonny Vanlandingham, the 2010 XTERRA women's world champ, placed eighth (3:05:43), and posted the fastest bike split at 1:49:23.
Rounding out the top 10 were Jacqui Slack from United Kingdom in ninth (3:05:52) and Suzie Snyder in 10th (3:08:32).
PRO WOMEN
Pl
Name
Age
Hometown
Final Time
Purse
1
Nicky Samuels
30
Wanaka, New Zealand
2:57:48
$20,000
2
Lesley Paterson
33
Sterling, Scotland (San Diego, CA)
3:00:14
$12,000
3
Flora Duffy
26
Boulder, Colorado
3:00:19
$7,000
4
Barbara Riveros
26
La Pintana, Chile
3:01:43
$4,000
5
Emma Garrard
32
Park City, Utah
3:01:49
$2,500
6
Chantell Widney
33
Edmonton, Alberta, Canada
3:04:36
$1,500
7
Helena Erbenova
34
Jablonec nad Nisou, Czech Republic
3:05:16
$1,000
8
Shonny Vanlandingham
44
Durango, Colorado
3:05:43
$800
9
Jacqui Slack
30
Stoke-on-Trent, United Kingdom
3:05:52
$600
10
Suzie Snyder
31
Fredericksburg, Virginia
3:08:32
$500
Also:
Carina Wasle, Carla Van Huyssteen, Kathrin Muller, Heather Jackson, Renata Bucher, Danelle Kabush, Melanie McQuaid, Caroline Colonna, Sarah Backler, Dunia Gomez, Genzianai Cenni, Tamara Donelson, Katie Button, Daz Parker, Laura Dias, Mieko Carey
MENDEZ, FINCHAMP WIN XTERRA WORLD CHAMPIONSHIP OVERALL AMATEUR CROWNS
In the age-group amateur field, youth continued to prevail as a pair of teenagers took top overall honors for the second consecutive year.
Hannah Rae Finchamp from Altadena, California, took the female amateur championship for the second consecutive year, becoming the first female to win it in back-to-back years.
As to why she does not hold professional status, she is only 17 and a senior in high school. Still, she raced like a pro on Saturday, finishing with a time of 3:11:02 – more than 12 minutes ahead of the other female amateurs.
"It was a perfect race, and that's really hard to achieve in any XTERRA race," Finchamp said. "It was like every single thing I trained for came together."
Finchamp's time was good for 11th overall among all females, topped only by the top 10 pro women.
"I knew I was second coming out of the swim, and I passed the other girl heading to transition," she said. "After that I was racing scared the whole race."
It was also Finchamp's fourth consecutive age-group world title for the female 15-19 division.
Mauricio Mendez from Mexico City turned in an equally impressive performance on the male side of the amateur field. The 18-year-old finished in 2:45:48, which was nearly five minutes ahead of the other male amateurs.
Mendez, who graduated from high school in Mexico earlier this year, finished in 15th place overall – just 19 seconds behind South African pro Dan Hugo, who finished second at XTERRA Worlds only two years ago.
Mendez trained with two-time XTERRA World Champion Lesley Paterson for a month leading up to this race, and will continue to train with her next year.
Romaric Delepine from France placed second overall and first in the male 35-39 division.
Numerous age-group amateurs added to their respective collection of XTERRA world titles, including Peter Wood from La Jolla, Calif., who won the male 70-74 division. He now owns a record eight XTERRA amateur world titles.
Fouad Fattoumy from Honolulu won the physically challenged division for the eighth time, tying Wood for most amateur championships.
Wendy Minor (female 65-69) from Kamuela, Hawaii, won her seventh, Beverly Watson (female 60-64) from Canada captured her sixth, and Calvin Zaryski (male 45-49) won his fifth.
The following men all captured their fourth title: Thomas Vonach (40-44) from Austria, Tom Monica (55-59) from California and John Royson (60-64) from California.
Competitors now with two titles to their name: Bruce Wacker, Ron Hill, Elizabeth Gruber, Mimi Stockton, Anne Gonzales and Lucia Colbert. See chart below for the complete list of amateur world champions for 2013.
2013 AMATEUR XTERRA WORLD CHAMPIONS
| | | | |
| --- | --- | --- | --- |
| Div | Name | Hometown | Time |
| 15-19 | Mauricio Mendez* | Mexico City, Mexico | 2:45:48 |
| 20-24 | Clement Briere | Bretteville, France | 2:53:23 |
| 25-29 | Albert Soley | Bigues, Spain | 2:53:27 |
| 30-34 | Oliver Pichou | Canteleu, France | 2:56:19 |
| 35-39 | Romaric Delepine | Zimming, France | 2:50:45 |
| 40-44 | (4) Thomas Vonach | Schwarzach, Austria | 2:58:10 |
| 45-49 | (5) Calvin Zaryski | Calgary, Canada | 2:58:31 |
| 50-54 | Tim Sheeper | Menlo Park, California | 3:13:38 |
| 55-59 | (4) Tom Monica | Thousand Oaks, California | 3:28:18 |
| 60-64 | (4) John Royson | Albany, California | 3:34:51 |
| 65-69 | (2) Bruce Wacker | Nelson, New Zealand | 4:29:03 |
| 70-74 | (8) Peter Wood | La Jolla, California | 5:07:59 |
| 75-79 | (2) Ron Hill | Hayden, Idaho | 7:12:11 |
| PC | (8) Ed Fattoumy | Honolulu, HI | 3:52:13 |
|  Women | | | |
| Div | Name | Hometown | Time |
| 15-19 | (4) Hannah Rae Finchamp* | Altadena, California | 3:11:02 |
| 20-24 | (2) Elizabeth Gruber | Redding, California | 3:29:13 |
| 25-29 | Kara Lapoint | Truckee, California | 3:28:24 |
| 30-34 | Debby Sullivan | Roseville, California | 3:37:46 |
| 35-39 | Jennifer Todd | Newbury Parks, California | 3:39:33 |
| 40-44 | (2) Mimi Stockton | Stevensville, | |
Michigan3:33:0945-49Kim BeckinsaleNoosa Heads, Australia3:28:3850-54(2) Anne GonzalesAspen, Colorado3:23:5355-59(2) Lucia ColbertCordova, Tennessee4:11:1660-64Beverly WatsonPriddis, Canada4:15:0565-69(7) Wendy MinorKamuela, Hawaii6:09:21  (#) titles won, *top amateurs
PRIME AWARD WINNERS
Asa Shaw and Lesley Paterson posted the fastest runs on the Leilani's Run Course, and each received $100 gift certificates.
Four other amateur competitors received $100 gift certificates to Leilani's for their running times: Mauricio Mendez (fastest amateur male), Hannah Rae Finchamp (fastest amateur female), Jefferson Oishi (fastest Maui resident male) and Kimberly Mufalli (fastest Maui resident female).
Mendez and Finchamp were also the winners of XTERRA Vortex full wetsuits for posting the fastest amateur swim times.
Winners of special back packs from Muscle Milk for the Muscle Milk U25 Prime were Mendez, Clement Briere and Arthur Serrieres for the males, and Finchamp, Elizabeth Gruber and Hannah Wells for females.
FLINTA, TAYLOR WIN OUTRIGGER HOTELS & RESORTS DOUBLE AWARDS
Martin Flinta from Sweden and Kathryn Taylor from Hawaii were the top amateurs in the Outrigger Hotels & Resorts "Double" award competition, given to the amateur man and woman with the fastest combined 2013 XTERRA World Championship and Ironman Hawaii Championship time. Flinta wins a 6-night stay at the Kapalua Villas and Taylor wins a 6-night stay at the Outrigger Napili Shores. Here's a look at all those who survived the "Double".
| | | | | | | |
| --- | --- | --- | --- | --- | --- | --- |
| First | Last | Country | Division | IM | XTERRA | Double |
| Martin | Flinta | Sweden | M40-44 | 9:30:45 | 2:58:27 | 12:29:12 |
| Pablo | Ureta | Argentina | M30-34 | 9:21:59 | 3:15:05 | 12:37:04 |
| Richard | Stoffel | Switzerland | M45-49 | 9:19:01 | 3:33:21 | 12:52:22 |
| Tim | Sheeper | USA | M50-54 | 9:45:13 | 3:13:38 | 12:58:51 |
| Andrew | Sellars | Canada | M40-44 | 9:41:41 | 3:17:26 | 12:59:07 |
| Leandro | Gonzalez | Argentina | M35-39 | 9:48:18 | 3:31:08 | 13:19:26 |
| Ricky | Simonsen | New Zealand | M45-49 | 9:59:43 | 3:28:37 | 13:28:20 |
| brent | lorenzen | USA | M40-44 | 10:03:37 | 3:30:45 | 13:34:22 |
| Randal | Walker | Canada | M55-59 | 10:22:28 | 3:33:18 | 13:55:46 |
| Kirk | Vandeweghe | Canada | M45-49 | 10:58:40 | 3:23:08 | 14:21:48 |
| Kathryn | Taylor | USA | F25-29 | 10:50:35 | 4:36:46 | 15:27:21 |
| Rudy | Becker | USA | M40-44 | 11:45:24 | 3:53:30 | 15:38:54 |
| Beverly | Watson | Canada | F60-64 | 11:50:41 | 4:15:05 | 16:05:46 |
| Uta | Knape | Germany | F40-44 | 12:26:54 | 4:16:47 | 16:43:41 |
| Eddie | Johnson | USA | M45-49 | 12:33:38 | 4:31:42 | 17:05:20 |
| Kimiko | Matsuda | Japan | F65-69 | 15:36:39 | 6:17:54 | 21:54:33 |
For more information on the XTERRA World Championship download the PDF of the XTERRA
Worlds press guide  complete with pro bios, previews, past results, and start lists.
The XTERRA World Championship is presented by Paul Mitchell, AVIA, Maui Visitors Bureau, The Ritz-Carlton, Kapalua, and Outrigger Hotels & Resorts, and sponsored by Muscle Milk, Kapalua Resort, Gatorade, PowerBar, Island Air, T S Restaurants, Hawaii Tourism Authority, LifeProof, Footbalance, Zorrel, Rudy Project, Kona Brewing Company, Rockwell Watches, XTERRA Wetsuits, and XTERRA Fitness.