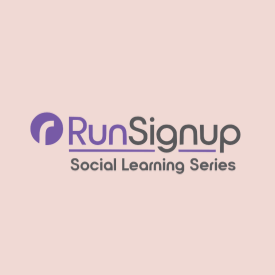 Learn how you can help your participants promote their race for you to family and friends
Following up on a great reception by the race director community, the RunSignup Social Learning Series of webinars is set to return to the Race Directors Hub on 26 March with a discussion on viral social marketing.
The webinar will focus on strategies all race directors can use to boost word-of-mouth, such as:
Using teams to incentivise referrals
Making the most of race swag as a marketing tool
Mastering email drip campaigns
Cross-promoting with other races to reach new audiences
The webinar will be presented by RunSignup's Bryan Jenkins and will be broadcast live on Tuesday 26 March at 11am ET in the Race Directors Hub group.
RunSignup Social Learning Series is an interactive series of educational webinars making use of RunSignup's industry expertise to deliver actionable insights to the race director community. The series is available exclusively through the Race Directors Hub group in partnership with Race Directors HQ.
You can register for the viral social marketing webinar here and also catch a recording of the first webinar in the series on growing your race in a flat market here.
About Race Directors Hub
With more than 3,600 active members, Race Directors Hub is the largest online community of race directors and race management professionals. The group offers race directors a place where they can network, share ideas and learn from each other, as well as access exclusive educational content provided by Race Directors HQ and our community partners, RunSignup.
About RunSignup
RunSignup is the leading all-in-one platform for endurance and fundraising events. More than 17,000 races, supporting over 7,000 nonprofits, use RunSignup's free and integrated solution to save time, grow their events, and raise more. Built on a powerful CRM, RunSignup delivers the art of technology to power the entire race cycle, with promotional tools, registration, a full fundraising platform, and a suite of RaceDay products – including the runner-tracking app RaceJoy and race timing software, RaceDay Scoring. For more information, visit www.runsignup.com