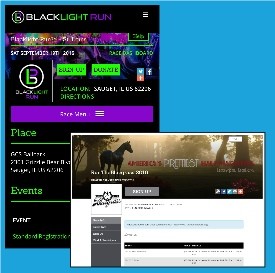 RunSignUp Offers Free Websites to Races
September 15, 2015 – RunSignUp has upgraded the online presence of their races with modern, comprehensive, and mobile-centric websites for all races on the site – for free.  Historically, races have had two options for a website: either build their own, or rely on a simple webpage from their registration provider. The first option is labor intensive and potentially expensive, the latter provides limited information and race branding.  With RunSignUp's new websites, Race Directors will have the flexibility to customize the look and content of their site, while improving their visibility and the strength of their web presence.
The Race Websites are created automatically when a Race Director uses the Race Wizard to set up their race, and can be customized or updated from the Race Director Dashboard at any time. Each site includes:
Native Mobile Race Website: RunSignUp's Mobile responsive design ensures optimal viewing for the 48% of runners who visit RunSignUp from their phones.
Custom Look: Add your race logo and Cover Photo (use your own, or pick from the RunSignUp collection), and customize all colors to match your brand.
Flexible Menu and Pages: Pages for common items like Race Info, SignUp, and Donations are automatically created; add custom pages for things like Course Map, Awards, Packet Pickup Info, etc. Menus can be rearranged and divided to have sub-tabs as needed.
Full Integration with RunSignUp Data: Updates to registration are instantly reflected on your website; for example, the "Find A Runner" option is always correct and price increases are immediately updated.
SEO optimization: RunSignUp's mobile-ready design is ranked highly by Google, and all sites are created with tags, URL combinations, and site maps that are optimized for searches.
Promotion Tools: Built in Google Analytics to track traffic and ecommerce sources, custom URL options, and automated social sharing on Facebook, Twitter, and more.
Facebook Integration: Your website is perfect for the new Facebook pages, with an easy setup to prompt registration directly from Facebook, with a clean look for web and mobile alike.
RunSignUp Founder Bob Bickel said about the new Website option "A web presence is so essential today, but it can take a lot of financial and technological resources to create and maintain your own site. We wanted all our races to have easy access to a real website that looks professional, is easy to edit and update, and contains all the pertinent information that runners are looking for."
Race Directors looking for more information on the free Race Websites can read more about the options at https://runsignup.com/websites, see examples of a Simple 5K Setup, an Advanced Half Marathon/10K Setup, or request of Demo of the RunSignUp System.
About RunSignUp
RunSignUp is the leading innovator of online tools for Races and Running Clubs. Services include RunSignUp for race registration, RunSignUp Go for Race Day, RunSignUp RD Go for Timers, RunSignUp Clubs to enable membership management, and RaceJoy for mobile race experiences. More than 4,000 race directors, timers, and running club officers use these services today, including leading organizations like the Boilermaker Road Race, Pittsburgh Three Rivers Marathon, Inc., Fifth Third River Bank Run, The Blacklight Run, The Glo Run, Leone Timing, and many more. Services are free except for processing fees when conducting monetary transactions such as race registration or club membership renewals. RunSignUp is founded by runners for runners, using technical capabilities to bring the power of cloud computing to benefit the running community. For more information, visit www.runsignup.com.