RunSignup Announces Alan Jones Timer Award Winner: Marc Roy
July 17, 2019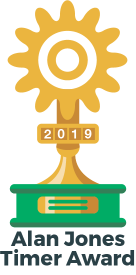 Awarded This Week at RunSignup's Summer Symposium
July 17, 2019 –Moorestown, NJ –RunSignup announces the inaugural Alan Jones Timer Award winner, Marc Roy, with Sportstats in Ottawa, Canada. RunSignup's introduction of a timer-focused award is intended to recognize race timers who have had a significant impact on the industry. As the backbone of the race industry, timers have the opportunity to guide race organizers toward innovation and to elevate the experience for participants and spectators. Selection of the award was based on nominations received by industry peers and demonstrated innovation. Roy is a prominent figure in the race industry with a history of successful entrepreneurship that includes leading the growth of now one of the largest timing organizations in the world. His innovative leadership has led to the unprecedented mass scalability of timing events across geographic international regions.
The annual Alan Jones Timer Award is named in honor of Alan Jones, who is a recognized innovator and is most known for his creation of the Jones Counter, age-based grading, and RunScore. Jones commented on Marc Roy's appointment of this year's award, "Marc Roy is known for his drive towards positive change and improvement. I met Marc in 1997 at a ChampionChip conference in Orlando, and at that time he displayed a method he had developed to help getting recovered chips sorted and ready for the next race. From that time to the present Marc continually strives to improve the experience for the runners and his timing crews. The ability for his organization to time more than 1,000 races a year all over the world is extraordinary. Marc offers true inspiration to the industry."
With 27 years in the race industry, Marc Roy is a well-known presence in the industry and highly regarded innovator. He acquired Sportstats in 1995 and has grown the company from timing 42 events to 1,300 events that take place in more than 40 countries around the world. Sportstats now has eight offices in Canada, the United States and Asia, and employs 160 employees. Roy's entrepreneurial career also includes the creation and eventually selling of a prosperous registration company now known as Events.com. He further demonstrates his extensive involvement in the race industry as the Co-Race Director for the Ironman Mont-Tremblant and Ironman 70.3 since 2012.
"We received many strong candidates of timers who are doing impressive things in the industry. Marc Roy was an easy decision for us and we know most will agree that he is an obvious choice. Marc Roy has broken industry barriers by expanding his customer base to extend across the globe. To do this means a deliberate, methodical, and innovative approach was adopted and by someone that has the passion to explore new territory and break down previous barriers. Many don't realize the tremendous effort and self-sacrifice timers, like Marc, make and the difference they can have on many facets of the race. I'm very pleased to shine the spotlight on such an exceptional role model and appreciate the support the industry has shown their fellow timers with the nominations we received," said Bob Bickel, Founder and CEO of RunSignup.
RunSignup is accepting nominations for 2020's Alan Jones Timer Award and will announce the award winner during its 2020 Summer Symposium.
About RunSignUp
RunSignUp's expertly crafted, all-in-one technology solution for endurance events powers the entire race lifecycle and elevates endurance and fundraising communities. The RunSignUp solution is built on a powerful, fully-integrated CRM and provides event organizers with the flexibility to create unique race experiences. RunSignUp products include promotional tools like email marketing and free race websites, a registration pathway, a full fundraising platform, management systems for clubs, volunteers, and sponsors, and a suite of RaceDay tools – including the runner-tracking app, RaceJoy, and the next generation race timing software, RaceDay Scoring. More than 16,000 races use RunSignUp to manage their events and register more than 4 million participants each year.  For more information, visit RunSignUp.com.
###