RunPage – The Finishers' Experience Platform by Pic2Go Reaches 50K Registered Runners
July 17, 2019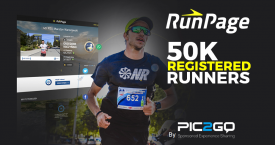 RunPage, the emerging platform for race finishers (by race photography provider Pic2Go) has reached 50K registered runners since its general availability announcement earlier this year!
Pic2Go – the global leader for Sponsored Race Photography has announced earlier this year making RunPage its new market standard. Since then, each race using Pic2Go's sponsored race photography solution can offer all finishers to get and share their branded race-day photos in a rich personal gallery on the RunPage platform.
Participants are then invited to sign-up to the platform to fully customize their personal gallery, as well as build their full Runner-Profile with all races they've finished. The platform has just reached 50K registered runners creating their runner-profiles, keeping and sharing their race photos, results and achievements.
Through the RunPage finisher galleries – Pic2Go offers a wide range of Race Experience Sharing and Digital Content Sponsorship opportunities, turning race photography into a most powerful Race Sponsorship platform.
"We are glad to offer race finishers the opportunity to keep and share their best moments in the RunPage platform, while at the same time races enjoy the opportunity to boost their sponsorship!" Says Eitan Hefetz – Pic2Go CEO.
"With the growing platform adoption we've also launched a Runners' Blog and Facebook community to support runners through their training, share knowledge and enable global networking among runners."
About Pic2Go
Established in 2010, Pic2Go is a worldwide solution provider for Sponsored Race Photography, providing endurance event participants with free branded photos and videos to share on social media, while boosting race sponsorship. Pic2Go's race photography technology is used by major events and sponsors in 40 countries. Recent events using Pic2Go in the U.S. include – Baltimore Running Festival,  Slacker Half Marathon, Sioux Falls Marathon, Oakland Marathon, Gran Fondo NJ and others.
Pic2Go is also the developer of the emerging Finishers Experience Platform – RunPage.
For more information about Pic2Go visit http://www1.pic2go.com