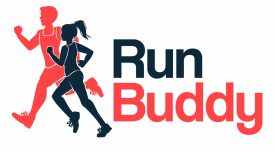 Worcester, MA – RunBuddy, a smartphone safety app designed specifically for walkers, runners, and cyclists, has made its debut.
A digital Panic Button is the key and unique feature of the app. When pressed, an alert is immediately sent to the user's "buddies" via an in-app messenger. Those buddies would then contact the user to make sure that they are OK.
"We didn't want the Panic Button to initiate a 911 call." said Ruthie Sutter, the lead designer and co-owner of RunBuddy. "Because we want people to use the button, rather than hesitate by pre-qualifying the situation."
RunBuddy also features two automatic alerts:
No/Low Speed Alert: Triggers in case the user is too injured or sick to communicate or is being attacked.
Over-speed Alert: If the user is suddenly traveling too fast, they are likely in a vehicle and may have been kidnapped.
Before they hit the road or trails, the user chooses their activity: Walking, Running, or Cycling. Each activity has its own tolerances as to when the automatic alerts will trigger.
RunBuddy was built by Petricore, a Worcester, Massachusetts-based software developer. "We were incredibly excited by the goal of RunBuddy to provide a sense of safety to runners across the country, and the technical challenge to make that possible. We are beyond proud to assist them in their mission to spread a feeling of safety and peace of mind to people. We're also excited they chose to work with Petricore, another Worcester local." said Ryan Canuel, Petricore's co-founder and CEO.
"As stewards of the distance running community, Ruthie and I are furious with the recent attacks on runners", said Scott Sutter, Ruthie's husband and co-owner. "But Ruthie has a saying: 'While there is an appropriate time for protest, nothing beats love and action.' RunBuddy is our love and action."
RunBuddy is currently available in both the Apple Store and Google Play.
####
About RunBuddy:
RunBuddy is a smartphone app that is uniquely designed to act as a "buddy" while the user is out for a walk, run, or ride.
RunBuddy is owned by Ruthie & Scott Sutter. Both Sutters are avid runners and business owners.
More info on SRT can be found at www.GetRunBuddy.app.
Email: scott@getrunbuddy.app.
About Petricore:
At Petricore we're a team of creatives working with clients to help them craft their digital experiences, whether that be applications, games, or kiosks for museums and trade shows.
You can learn more about us and see examples of our work by visiting https://petricoregames.com/.