Run & Ride Race Series Brings the Peanuts Gang to the Start Line
January 7, 2019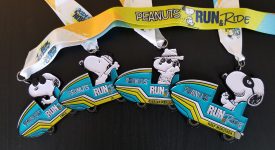 (Front Royal, VA) — Run & Ride Race Series, a running race series in and around several U.S.-based Cedar Fair Amusement Parks, today announced a rebranding to the Peanuts Run & Ride to include more of the Charles Schultz inspired Peanuts characters in the new logo, on the updated website, and on race day. 
Many of us grew up with Snoopy and the Peanuts Gang in comics, in books, and on TV and with trips to the amusement park. For race participants, the opportunity to run through the park brings back childhood memories of fun on the rides and with family. The Run & Ride's choices of race distances (half marathon, quarter marathon, 5K, and 1 mile) and option to participate in more than one event allows the nostalgia, energy, and fun to return—and to be shared with friends and family. 
Mark Harris, Peanuts Run & Ride race director, said, "We're excited to partner with the Peanuts brand to enhance the existing foundation we've been building with Cedar Fair and the Peanuts presence within the park. It's a perfect tie-in for our events, and the participants have made it clear they love anything Charlie Brown and Snoopy." 
Race participants can still expect to receive the same quality event, with a great behind-the-scenes course through the park, abundant swag (including a t-shirt and a ticket to the park), unique collectible and connectable finisher medals, excellent value, and friendly customer service—now with the added bonus of a lot more Peanuts flair. 
Peanuts Run & Ride brings half marathons, quarter marathons, 5Ks, and 1-mile fun runs with the best swag and post-race entertainment around—a run through amazing amusement parks with park admission included. The race series is directed by Adventure Enablers, a small family business in Virginia. Learn more at www.runandriderace.com and www.facebook.com/runandriderace.
For sponsorship or vendor opportunities, please contact Margo Harris at margo@adventureenablers.com.
Contact information: Margo Harris, margo@adventureenablers.com