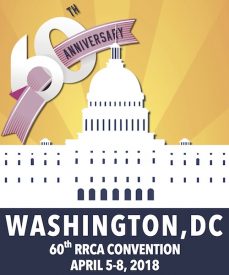 Olympians Meb Keflezighi and Deena Kastor will help celebrate 60 years of RRCA as luncheon keynote speakers
Arlington, VA – Since 1958, members and supporters of the Road Runners Club of America (RRCA), the oldest and largest organization dedicated to the promotion of distance running, have gathered in different cities around the country for the RRCA National Convention. This year, the RRCA National Convention will be held April 5-8, 2018 in Arlington, VA. The event concludes on Sunday April 8 with the Credit Union Cherry Blossom 10 Mile and 5K race, which serves as the 2018 RRCA National 10 Mile Championship Event.
The RRCA Convention consists of highly relevant education sessions for club leaders, event directors, coaches and running enthusiast volunteering and working in their local running communities.  Special keynotes speakers at the RRCA Convention luncheons include Olympians Meb Keflezighi and Deena Kastor.
The RRCA Convention is a great opportunity for running club leaders, race directors, fitness professionals, prospective and certified coaches, certified race directors, sponsors, running industry professionals, and runners to come together to share information, best practices, and contribute to the national mission of the RRCA.
On Saturday evening, the RRCA will host a special 60th Anniversary dinner to honor its incoming Hall of Fame members, its National Running Award winners, and its current Hall of Fame members that will be attending the dinner including: Gar Williams and Hal Higdon (RRCA founding members), Don Kardong, Jacqueline Hansen, Henley Gabeau (first RRCA executive director), Jeff Darman, Amby Burfoot, Doug Kurtis, Lisa Rainsberger, Deena Kastor, Meb Keflizighi, and Bob Larson, with more to be confirmed in the coming weeks.   At the event, the RRCA will present the big reveal of its custom designed birthday cake from Charm City Cakes – Baltimore from Food Network's Ace of Cakes fame.
Registration for the RRCA Convention is only $390 and includes three cocktail receptions, two breakfasts, two luncheons, 60th Anniversary dinner, great attendee swag, and a variety of education and networking opportunities. Details about the RRCA Convention, including registration, can be found at  www.RRCA.org/Convention/
About the RRCA:
The Road Runners Club of America (RRCA) is the oldest and largest national association of running organizations and runners dedicated to growing the sport since 1958. The RRCA champions the development of community-based running clubs and events that serve runners of all ages and abilities in pursuit of health and competition. The RRCA's vision is to see an organized running club established in every community in the U.S. To learn more, visit: www.RRCA.org