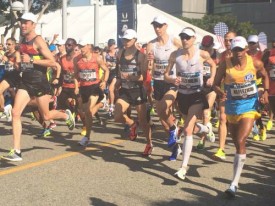 Fourteen male and seven female Roads Scholars finish the race under harsh weather conditions in Los Angeles
LOS ANGELES – On a brutally hot Saturday morning, fourteen male recipients of the RRCA's Roads Scholar grants gritted it out to complete the 2016 U.S. Olympic Marathon Trials. Finishing 4th, 5th and 6th in The City of Angels were Roads Scholars Luke Puskedra ('15 grantee), Tyler Pennel ('13 grantee) and Matt Llano ('14 grantee).
Since 1996, the Road Runners Club of America (RRCA) has awarded 112 grants totaling $510,000 through its Roads Scholar program to assist American post-collegiate road runners who show great promise to develop into national and world class road running athletes. In addition, RRCA provided 12 special athlete grants, totaling $32,000, tied to this Olympic Marathon Trials.
The first half of the race saw the two Roads Scholar "Tylers" setting the pace at the front of the pack. Leading early in the race was Tyler McCandless ('11 grantee) in a courageous attempt to break away from the field of Rio Olympic hopefuls. He would ultimately pull out of the race due to heat-related issues.
Tyler Pennel made a break-away effort near the 16-mile mark where both Galen Rupp and Meb Keflezighi, who would finish first and second, responded to his move.
"It was a nice change of pace to have the 4 minute [mile] guys go," noted Keflezighi at the post-race press conference.
The trio would run together until Pennel faded as the heat and pace took its toll, seeing him finish an impressive 5th overall.
The expression on Puskedra's face was that of disappointment as he crossed the line a minute behind defending USA Marathon champion Jared Ward, who bided his time in the race and moved when it mattered most – in the final miles – to secure the third and final Olympic team spot. Puskedra ran a conservative race and ultimately overtook the fading Pennel around mile 24, but he had too much ground to make up on Ward as they reached the final stretch. With his 4th place finish, Puskedra is the highest ranking Roads Scholar finisher at an Olympic Marathon Trials for the men, and moreover, he is the first men's alternate for the 2016 U.S. Olympic Marathon team.
The remaining Roads Scholar men in finish-order were: Patrick Smyth ('10), Sean Quigley ('15), Jeffery Eggleston ('10 and '15), Ethan Shaw ('14), Mike Morgan ('05 and '15), Daniel Tapia ('13) Craig Leon ('15), Scott Bauhs ('12), Stephan Shay ('10), Jon Grey ('12), Gabe Proctor ('13). RRCA RunPro Campers that finished included: Brogan Austin, Josh Dedering and Johnny Crain.
On the women's side, seven Roads Scholars finished the race along with three RunPro Campers. Esther Atkins ('14) was the top Roads Scholar finisher in 11th overall, clocking 2:37:56, followed by Heather Lieberg ('15) in 16th and Wendy Thomas ('15) in 17th to round out the top 20 finishers.
The remaining Roads Scholar women in finish-order were: Lauren Jimison ('15), Meghan Peyton ('11), Becky Wade ('15), and Emily Gordon ('14). RunPro Campers that finished included: Susanna Sullivan (20th overall), Nicole Dimercurio and Olivia Mickle.
To learn more about the Roads Scholar program including opportunities to donate to the program, go to: www.rrca.org/programs/roads-scholars/
About the RRCA:  
The Road Runners Club of America (RRCA) is the oldest and largest national association of running organizations and runners dedicated to growing the sport since 1958. The RRCA champions the development of community-based running clubs and events that serve runners of all ages and abilities in pursuit of health and competition. The RRCA's vision is to see organized and active running clubs and events in every community in the U.S. To learn more, visit: www.RRCA.org